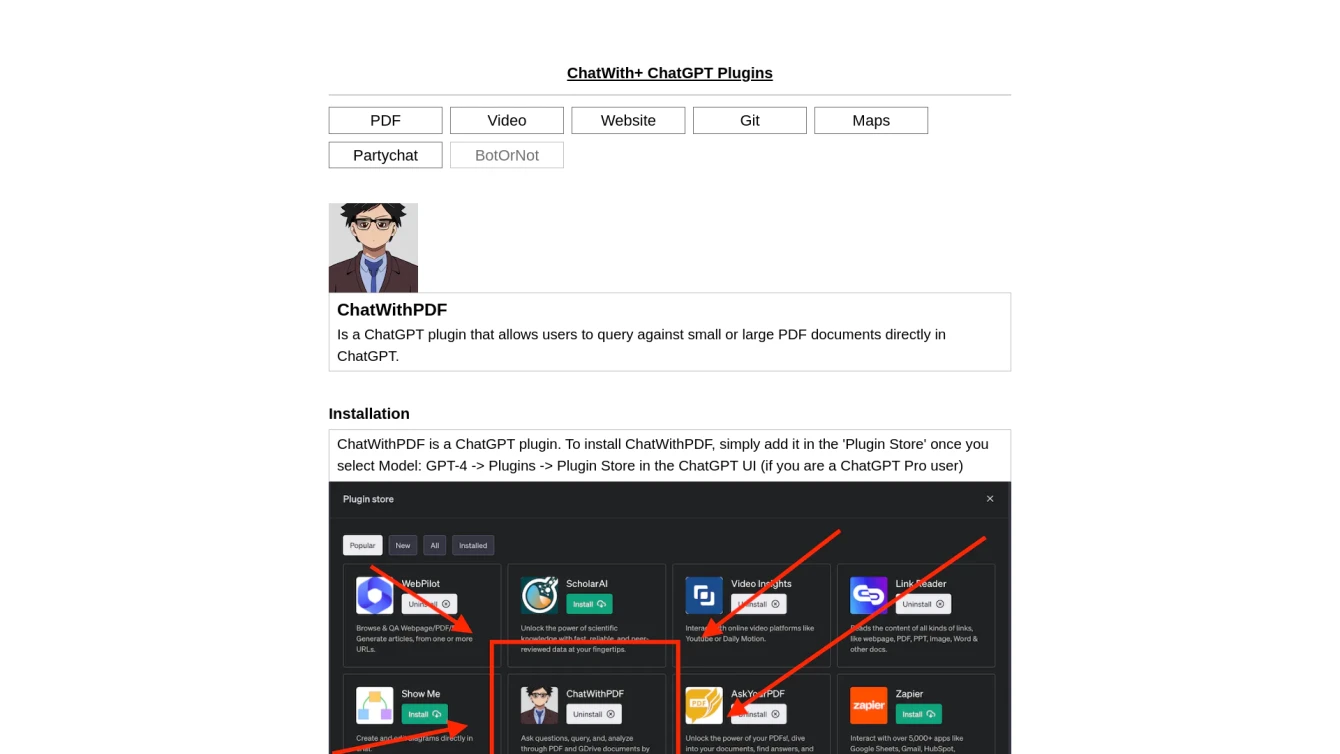 Revolutionize your PDF interactions with semantic search and AI.
Product information and features
Unlock the power of conversational AI with ChatWithPDF, an innovative plugin tool that integrates with ChatGPT. This AI tool expertly processes and queries PDF documents based on any question or search term you provide. All you need to do is supply a temporary URL for the PDF you want to explore, and this tool gets to work.
ChatWithPDF offers a unique way to perform semantic searches within PDF documents. It doesn't just find keywords, it understands your query, processes the PDF content, and delivers meaningful matches. It's a superior approach to document analysis that saves you time and effort.
Getting started with ChatWithPDF is a breeze. Simply go to the Plugin Store within the ChatGPT interface and add it as an unverified plugin. As it's a web-based tool, you won't have to worry about any installation processes. The tool is ready when you are, no matter where you are.
ChatWithPDF is designed with user privacy in mind. It doesn't permanently store any data. Your PDF documents are embedded temporarily, processed, and then immediately wiped from the system. Moreover, the same level of privacy applies to the embeddings, which are maintained with ChromaDB on the deployment server and wiped clean with every new deployment.
Whether you're looking for specific information in a lengthy report or want to quickly understand the content of a complex academic paper, ChatWithPDF is the tool you need. It processes PDFs, understands your queries, and delivers the most relevant information, all in a user-friendly way. It's a game-changer for anyone who frequently works with PDF documents.
In summary, ChatWithPDF is an AI tool that revolutionizes how you interact with PDF documents. It allows you to query and analyze documents, extract meaningful information, and do so in a secure and privacy-minded environment. Whether you're a researcher, a student, or a professional, ChatWithPDF can make your life easier.
Tell the world ChatWithPDF has been featured on NaNAI.tools:
ChatWithPDF Reviews
What's your experience with ChatWithPDF?
There are no reviews yet.
Related AI tools to ChatWithPDF