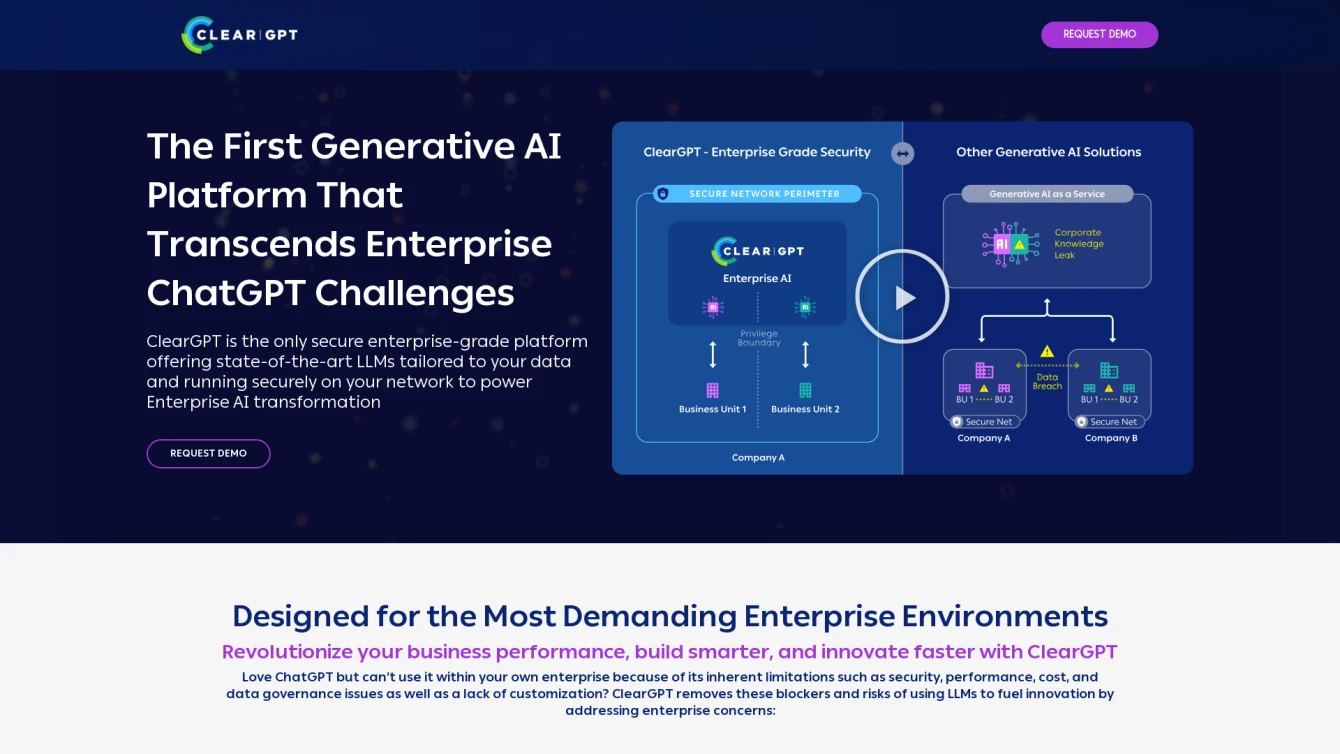 Harnessing the power of AI to enhance enterprise operations.
Product information and features
ClearGPT is an AI tool that provides a solution for enterprises that struggle with the inherent challenges of Large Language Models (LLMs) such as ChatGPT. This platform is designed to enhance your operations by leveraging AI to automate processes and improve the quality of your products.
ClearGPT is uniquely crafted to align with the distinct data requirements of your enterprise. It delivers superior security, unmatched model performance, customization options, and cost-effectiveness, offering you flexibility in managing your operations.
Unlike other AI tools, ClearGPT overcomes the common limitations of LLMs, addressing issues related to security, performance, cost, and data governance while offering a high degree of customization. It operates using a feedback loop mechanism, learning and adapting to the specific data needs of your business.
This platform is capable of deploying an enterprise chat agent that can respond to both internal and external queries. This feature allows decision-makers to utilize predictive business information more efficiently and intuitively.
ClearGPT's platform-agnostic nature makes it a cost-effective and time-saving solution for any business prioritizing data privacy, security, and innovative AI implementation across the organization.
Furthermore, ClearGPT ensures no data is leaked, keeping all information within the company while providing comprehensive control, privacy, and IP protection. This AI tool can enable your business to stay ahead of competition, create new AI-driven revenue streams, and drive innovation, productivity, and efficiency at scale.
In summary, ClearGPT is a comprehensive AI tool that addresses various challenges associated with Large Language Models. It offers numerous benefits such as improving productivity, enhancing product quality, and automating business processes. clear.ai is an all-in-one solution that guarantees to provide excellent security, customization, and reduced running costs. It's an efficient solution for businesses that prioritize data privacy and security.
Tell the world ClearGPT has been featured on NaNAI.tools:
ClearGPT Reviews
What's your experience with ClearGPT?
There are no reviews yet.
Related AI tools to ClearGPT