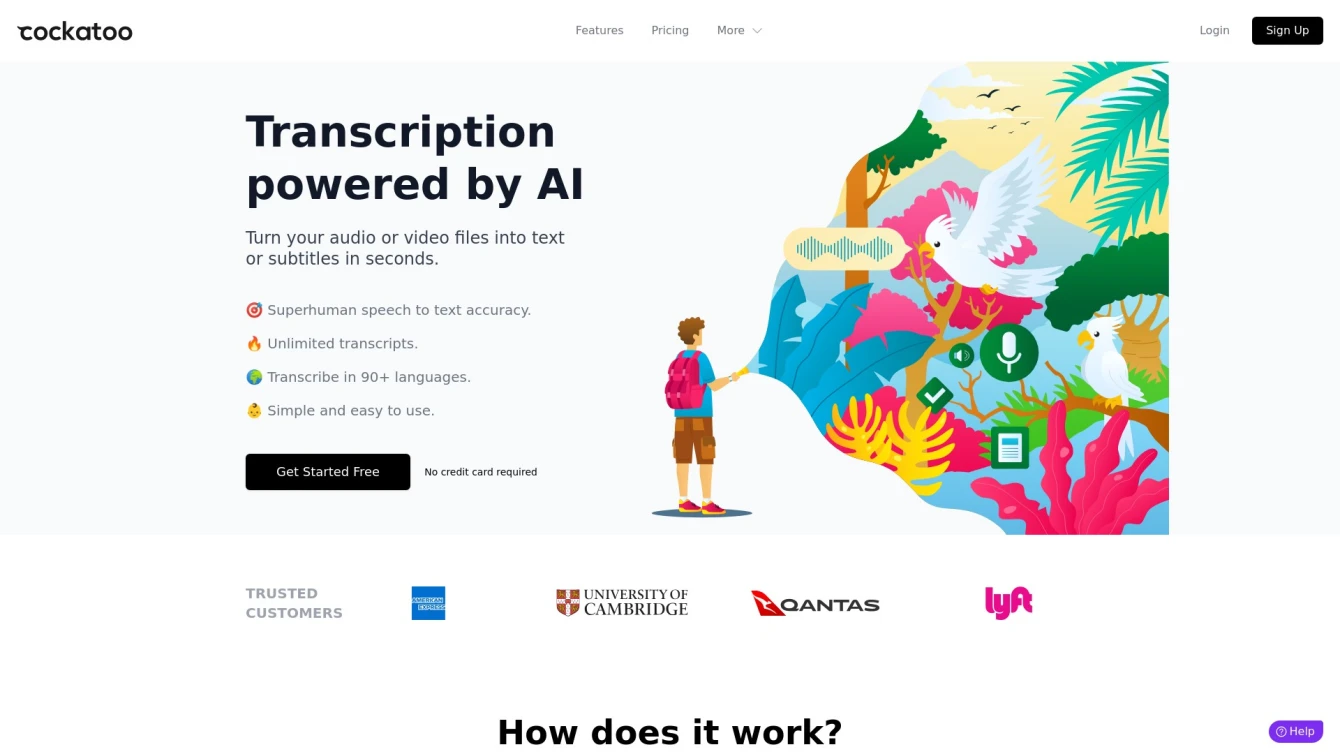 Converting your audio and video to text with unparalleled speed and accuracy.
Product information and features
Cockatoo, an AI tool, harnesses the power of artificial intelligence to transcribe audio and video files into text or subtitles with unbeatable speed and accuracy. It elevates transcription performance to a level that outperforms manual efforts, offering an effective solution for a wide spectrum of users.
Capable of supporting over 90 languages, cockatoo.com caters to users worldwide. It accepts a variety of audio and video file formats, allowing you to upload your files and expect accurate text transcripts in no time.
Forget the painstaking process of manual transcription. With Cockatoo, you can transcribe an hour of audio in just a matter of minutes, making it up to 30 times quicker than traditional methods. This speed does not compromise the quality of the transcripts, ensuring you get the best results every time.
Exporting your transcripts is a breeze, with several formats like srt, docx, pdf, or txt to choose from. Your data's security is a priority, and top-notch encryption technology is utilized to protect your information. With a range of pricing plans, you're sure to find one that suits your budget.
Enjoy the ease of uploading files with a simple drag-and-drop interface and a built-in text editor that makes editing and customization straightforward. Whether you're a documentary video producer, a content creator, or require accurate transcriptions for work or personal use, Cockatoo is your go-to solution.
To sum up, Cockatoo is a powerful AI tool that offers fast and accurate transcription services. With support for multiple languages and file formats, user-friendly interface, and robust data security, it's an all-in-one solution for your transcription needs. It's suitable for everyone, from professionals to individuals, and can significantly streamline your transcription process.
Tell the world Cockatoo has been featured on NaNAI.tools:
Cockatoo Reviews
What's your experience with Cockatoo?
There are no reviews yet.
Related AI tools to Cockatoo