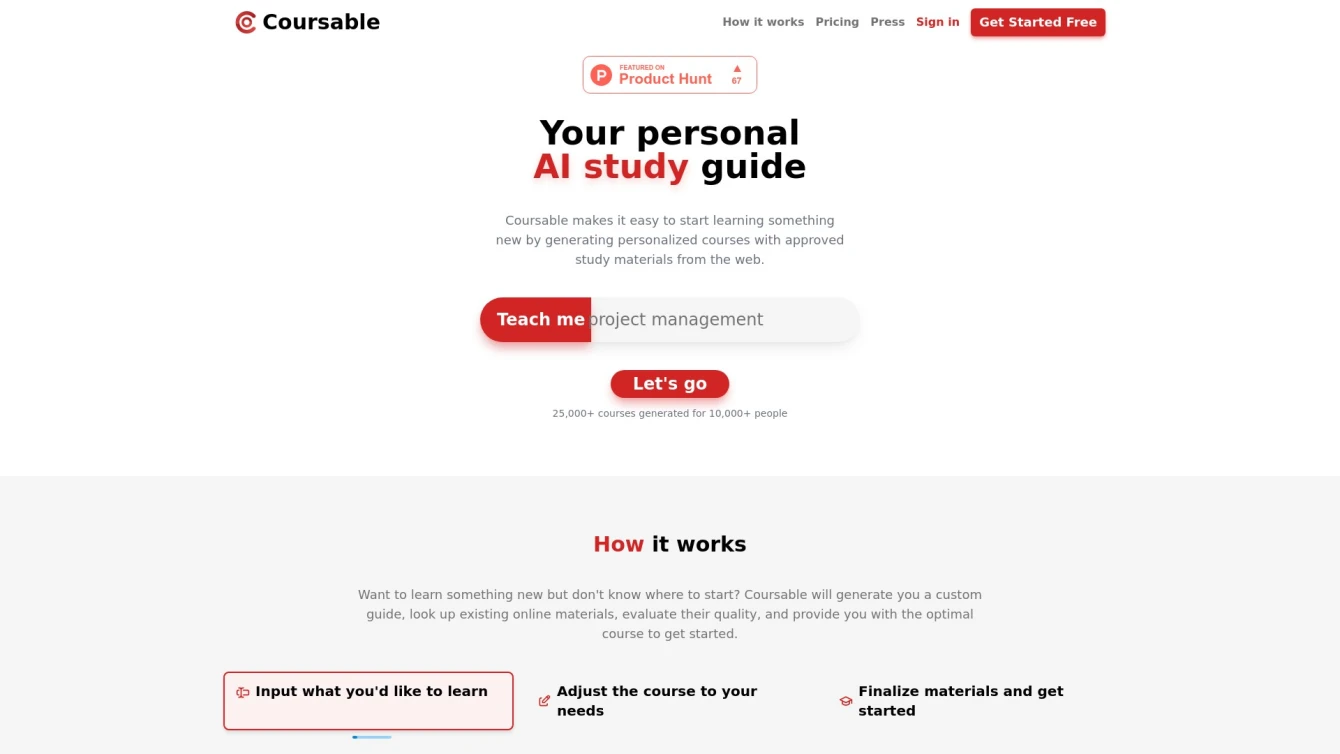 Kickstart your learning journey with personalized study guides.
Product information and features
Embark on your learning journey with Coursable, your personalized AI tool study guide. It's here to help you dive into new knowledge with ease by generating custom courses tailored to your interests and learning goals. You're just a topic away from starting your quest for knowledge.
With Coursable, you're not just getting a generic learning plan. The AI tool scours the internet, assessing and incorporating high-quality online materials into your course. The result is a learning guide fine-tuned to your specific requirements and preferences. This unique feature enables you to optimize and adjust your learning path, ensuring that it aligns with your goals and piques your interest.
While Coursable.io is an excellent starting point for your research and learning, it's not designed to replace professionally taught courses. Instead, it equips you with a solid understanding of your chosen subject, preparing you for more advanced online courses. With Coursable, you get more than just a study guide - you get a comprehensive overview of your chosen field.
Once you're pleased with the structure of your course, Coursable dives back into the web, finding and providing access to reputable online study materials. You can use the platform to navigate your course at your own pace, monitor your progress, or even share your course in PDF format with others.
To sum it up, Coursable is an AI tool that offers personalized study guides to kickstart your learning journey. By providing access to quality study materials and the ability to customize your own course, it offers a unique, tailored learning experience. Whether you're starting from scratch or looking to expand your knowledge, Coursable can help you on your path to enlightenment.
Tell the world Coursable has been featured on NaNAI.tools:
Coursable Reviews
What's your experience with Coursable?
There are no reviews yet.
Related AI tools to Coursable