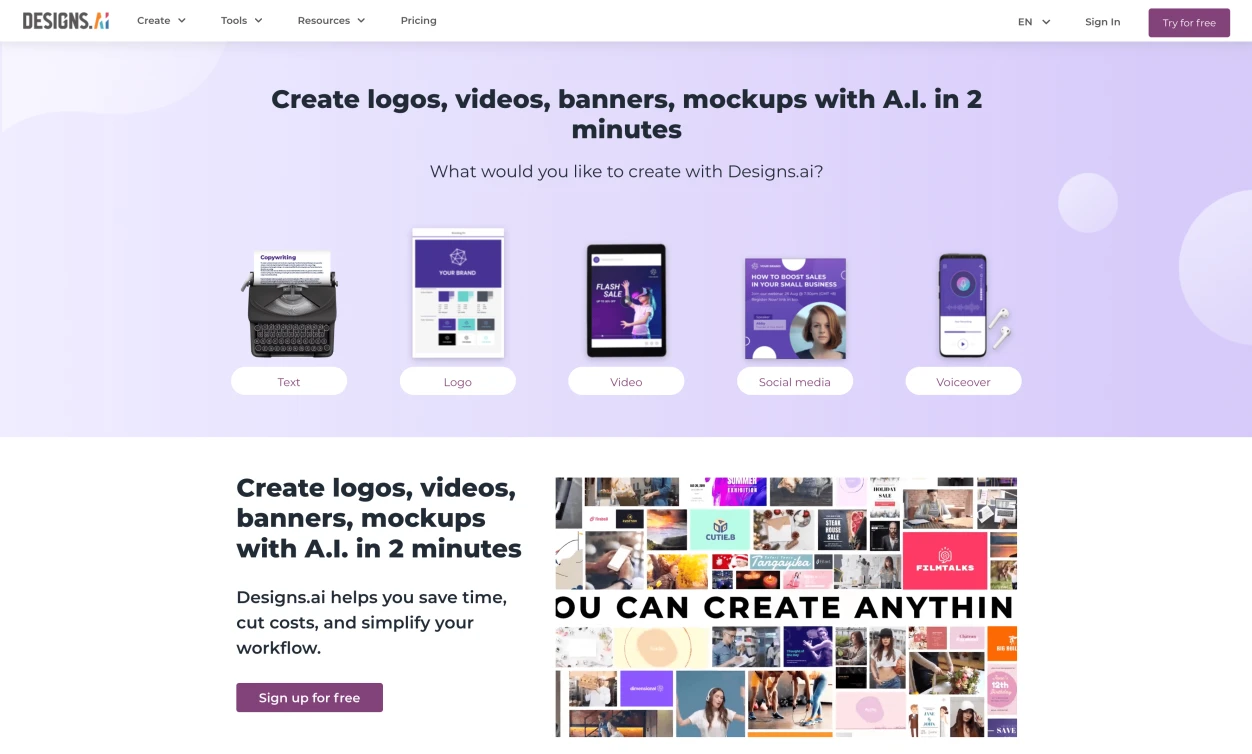 Streamlining content creation with the power of Artificial Intelligence.
Product information and features
Let's introduce Designs AI, an all-in-one platform that leverages the power of Artificial Intelligence (AI tool) to simplify content creation on a massive scale. Designs AI is a versatile platform that enables you to create various online content such as logos, videos, social media banners, business cards, flyers, and mockups in a matter of minutes.
Designs.ai equips you with a vast library of resources, including 10 million clips, 170 million images, 500,000 audio files, and 50 voices, all at your disposal to create the perfect content. The AI tool has been designed to save you time, reduce costs, and simplify your workflow.
But that's not all. Designs.ai offers a suite of intelligent tools, each with its unique functionality. The Color Matcher uses AI to generate the perfect color palette, while the Graphicmaker provides free SVG vectors with an in-browser editor. The Font Pairer helps you generate eye-catching font combinations, all powered by AI. Plus, there's also a Calendar featuring a collection of social holidays and events.
Whether you're an influencer, small business owner, startup, educator, or large enterprise, Designs.ai is the tool for you. It's smart, fast, and easy to use, with machine learning capabilities to simplify workflows. It offers quick creation times, an intuitive user experience, cloud storage, step-by-step processes, and fully-licensed assets. Designs.ai is truly a game-changer in the content creation landscape.
In summary, Designs.ai is a comprehensive AI tool that offers a wide range of features, making it perfect for various content creators. With its vast resource library, intelligent tools, and easy-to-use interface, Designs.ai can significantly simplify your content creation process, saving you both time and resources.
Tell the world Designs AI has been featured on NaNAI.tools:
Designs AI Reviews
What's your experience with Designs AI?
There are no reviews yet.
Related AI tools to Designs AI