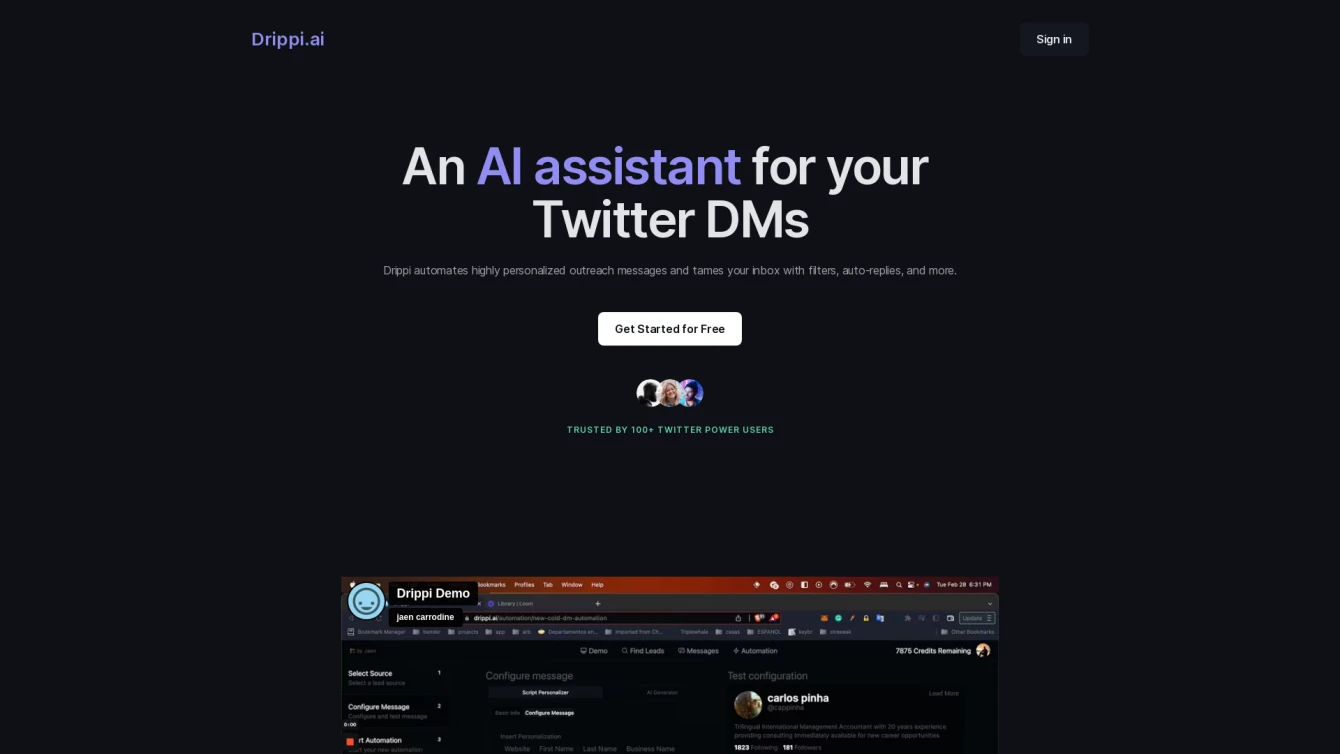 Automating Personalized Twitter DM Outreach and Enhancing Engagement.
Product information and features
Experience the power of personalization with Drippi.ai, an AI tool that automates your Twitter DM outreach messages while also offering comprehensive inbox management solutions. Using the sophisticated AI algorithm, ChatGPT, the tool scrutinizes each lead's profile to create tailored messages, resulting in enhanced engagement and increased reply rates.
With Drippi.ai, you don't just engage more, but you also search less. The tool's robust lead discovery solutions help you identify leads that align with your target audience's occupation, industry, and interests. The AI tool also has a message generator that uses Twitter profile information, recent tweets, and website data to customize messages, ensuring their relevance and appeal to your target audience.
Manage your inbox with efficiency using Drippi.ai's features such as filters, auto-replies, and quick responses. The tool also delivers detailed insights into your Twitter DM campaigns' performance, enabling you to make data-driven decisions for campaign improvement and ROI increase.
With Drippi.ai, you can manage up to three Twitter accounts under the Pro plan. You also have the option to sign up for private training. The pricing structure is straightforward, from a free basic plan with up to 50 messages per day to custom pricing for unlimited Twitter accounts with over 12,000 credits per month.
In summary, Drippi.ai is a powerful AI tool that automates personalized Twitter DM outreach messages, provides in-depth analytics, and offers efficient inbox management solutions. It's a tool that not only enhances your Twitter DM campaigns' performance but also provides lead discovery solutions and personalized messaging for better engagement and higher reply rates.
Tell the world Drippi.ai has been featured on NaNAI.tools:
Drippi.ai Reviews
What's your experience with Drippi.ai?
There are no reviews yet.
Related AI tools to Drippi.ai