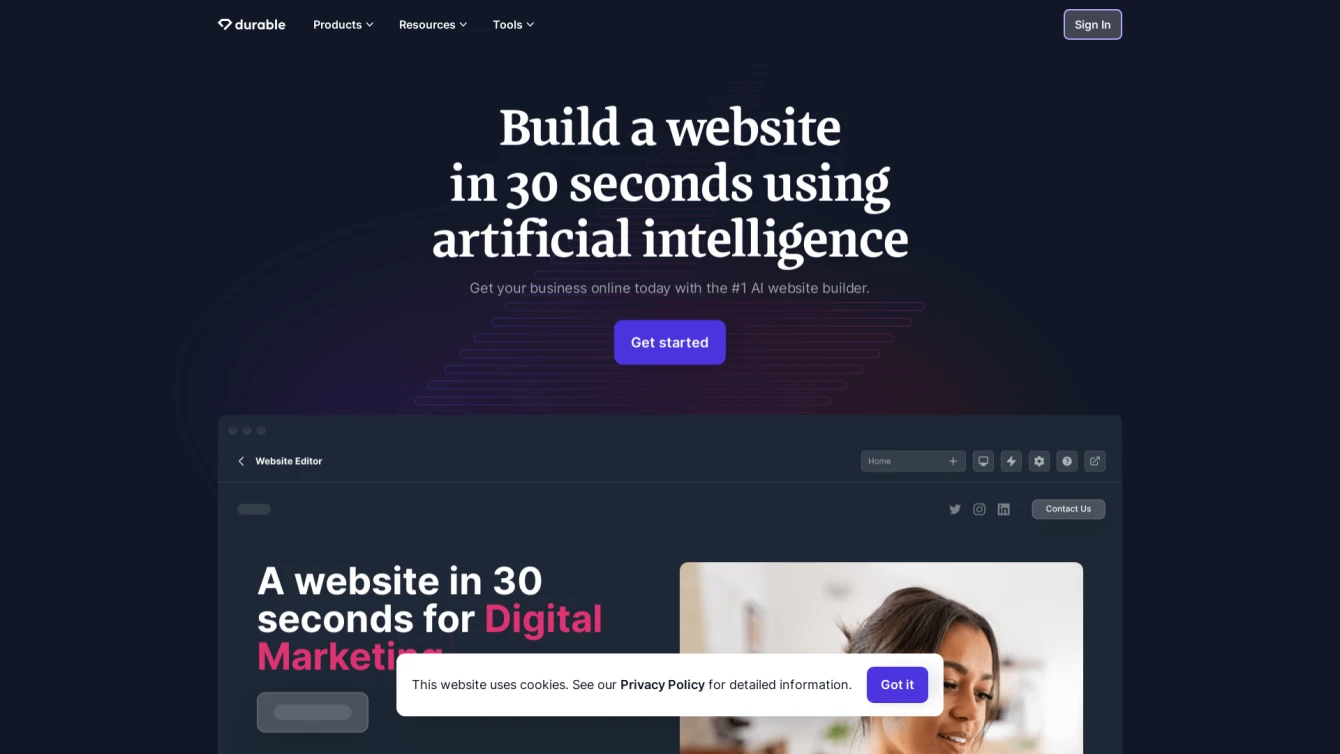 Quickly create professional websites with artificial intelligence.
Product information and features
Experience a new era of website creation with Durable AI Site Builder, a resourceful AI tool designed for entrepreneurs. This tool uses the power of artificial intelligence to expedite the process of designing professional websites.
With Durable AI Site Builder, you can bring your website to life in a mere 30 seconds. It offers AI-fueled features like a unique name generator, high-quality photographs, AI-composed content, and personalized domain names.
The built-in website editor allows you to customize your site further, by adding company logos, custom images, unique objects, and more. Moreover, Durable AI Site Builder extends its services beyond website creation. It provides additional features like customer relationship management tools, invoicing systems, and promotional content creation tools, all under one roof.
Durable AI Site Builder offers a free 30-day trial and affordable pricing plans starting at just $9 per month. Trusted by thousands and endorsed by reputable sources like BNN Bloomberg, Small Business Trends, and Business Insider, Durable AI Site Builder is a reliable choice for your website creation needs.
In summary, Durable AI Site Builder is an all-in-one solution for entrepreneurs who wish to quickly establish an online presence. The AI tool not only helps you design professional websites but also manages customer relationships, handles invoicing, and assists in promotional content creation. Through these features and benefits, Durable AI Site Builder empowers users to focus more on the profit-generating aspects of their business.
Tell the world Durable AI Site Builder has been featured on NaNAI.tools:
Durable AI Site Builder Reviews
What's your experience with Durable AI Site Builder?
There are no reviews yet.
Related AI tools to Durable AI Site Builder