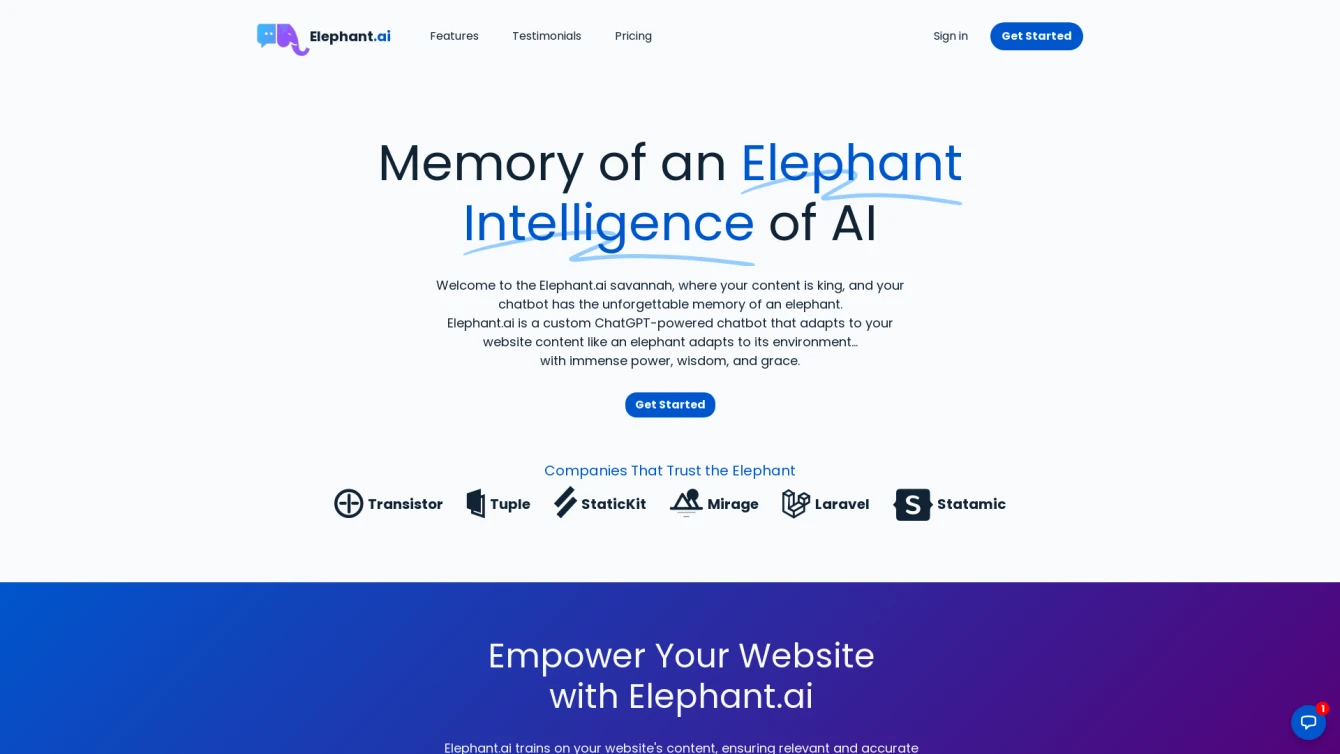 Boosting user engagement and customer satisfaction through AI-powered chatbot interaction.
Product information and features
As an AI tool, Elephant.ai specializes in enhancing user engagement, customer satisfaction, and brand representation. It leverages the power of adaptive learning to train itself based on your website content, thus ensuring accurate and contextually relevant responses to visitor inquiries.
Elephant.ai is known for its expansive customization offerings. You can tailor the chatbot to match your brand's unique voice and requirements, and it can echo the sensitivity of an elephant by understanding and responding to the emotional tone of your visitors. This feature helps make your website visitors feel valued and appreciated.
What sets Elephant.ai apart is the robust analytics tools that it offers. These tools can track the chatbot's performance and the impact it has on the website. Elephant.ai has been trusted by companies like Transistor, Tuple, StaticKit, Mirage, Laravel, and Statamic to provide a more engaging and personalized experience for their users.
One of the key benefits of Elephant.ai is the potential for substantial boosts in user engagement, ad revenue, content discovery, and SEO ranking. It achieves these benefits by answering visitor queries and offering personalized guidance, which results in longer visitor time spent on the website. Additionally, Elephant.ai can suggest related articles or content to visitors, leading to increased page exploration on your website.
Elephant.ai also enables the collection of visitor feedback and conversion of this feedback into actionable insights. This feature allows you to make data-driven decisions to enhance your website content.
In summary, as an AI tool, Elephant.ai is a valuable asset for internet publishers, digital marketers, and website owners who are aiming to expand their online presence. It can improve customer satisfaction through personalized, relevant, and empathetic conversations, thus making it an essential tool for your website.
Tell the world Elephant has been featured on NaNAI.tools:
Elephant Reviews
What's your experience with Elephant?
There are no reviews yet.
Related AI tools to Elephant