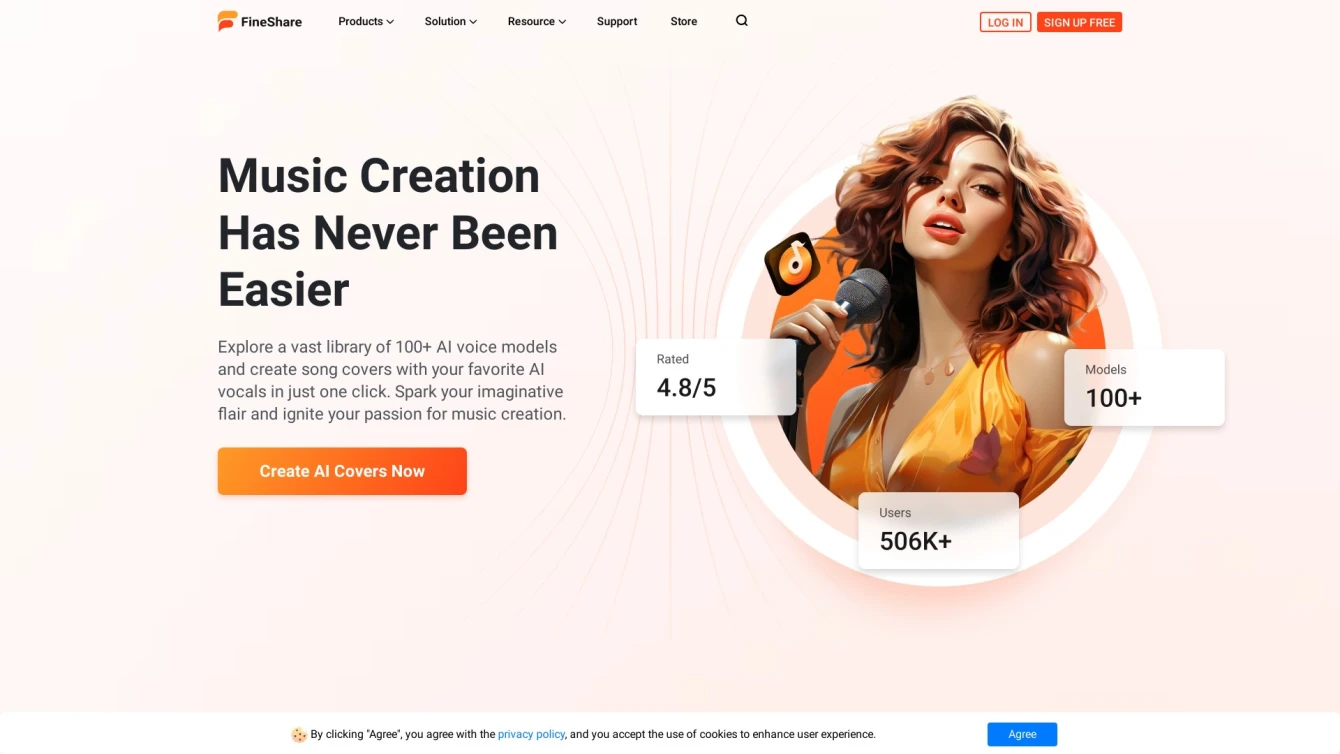 Creating song covers made easy and accessible.
Product information and features
Immerse yourself in the world of music creation with FineShare Singify, a state-of-the-art AI tool that redefines the experience of generating song covers. Offering a suite of features, this tool is designed to cater to your music needs, whether for creation, imitation, entertainment, nostalgia, or a blend of all. Singify.fineshare.com provides a smooth, user-friendly platform that makes music accessible to everyone.
Discover the three seamless ways of creating song covers - browsing through the song library, uploading audio files, or recording directly. With no skill threshold, it's as simple as a click, and you can start crafting music from anywhere, anytime. This tool is a perfect blend of diversity and convenience in music creation.
One of the most impressive features of FineShare Singify is its vast library of over 100 unique AI voice models, a collection that continues to expand regularly. From singers and rappers to celebrities, cartoon characters, and fictional figures, you'll find a voice that aligns with your creative vision. These models are meticulously trained to deliver high-quality, realistic song cover effects, giving you an audio quality that rivals the original.
Breaking down barriers in the music industry, FineShare Singify offers its AI Song Cover feature for free. This makes music creation accessible to all, enabling you to unleash your creativity and craft your own musical masterpieces. So, why wait? Start your journey into AI-powered music creation today.
To summarize, FineShare Singify brings to you an innovative solution for creating song covers. It's an AI tool that combines convenience and diversity, allowing you to create music in whatever way you prefer. With a vast library of AI voice models and a user-friendly interface, it empowers you to create, express, and entertain. This tool is a game-changer for any music enthusiast or creative mind.
Tell the world FineShare Singify has been featured on NaNAI.tools:
FineShare Singify Reviews
What's your experience with FineShare Singify?
There are no reviews yet.
Related AI tools to FineShare Singify