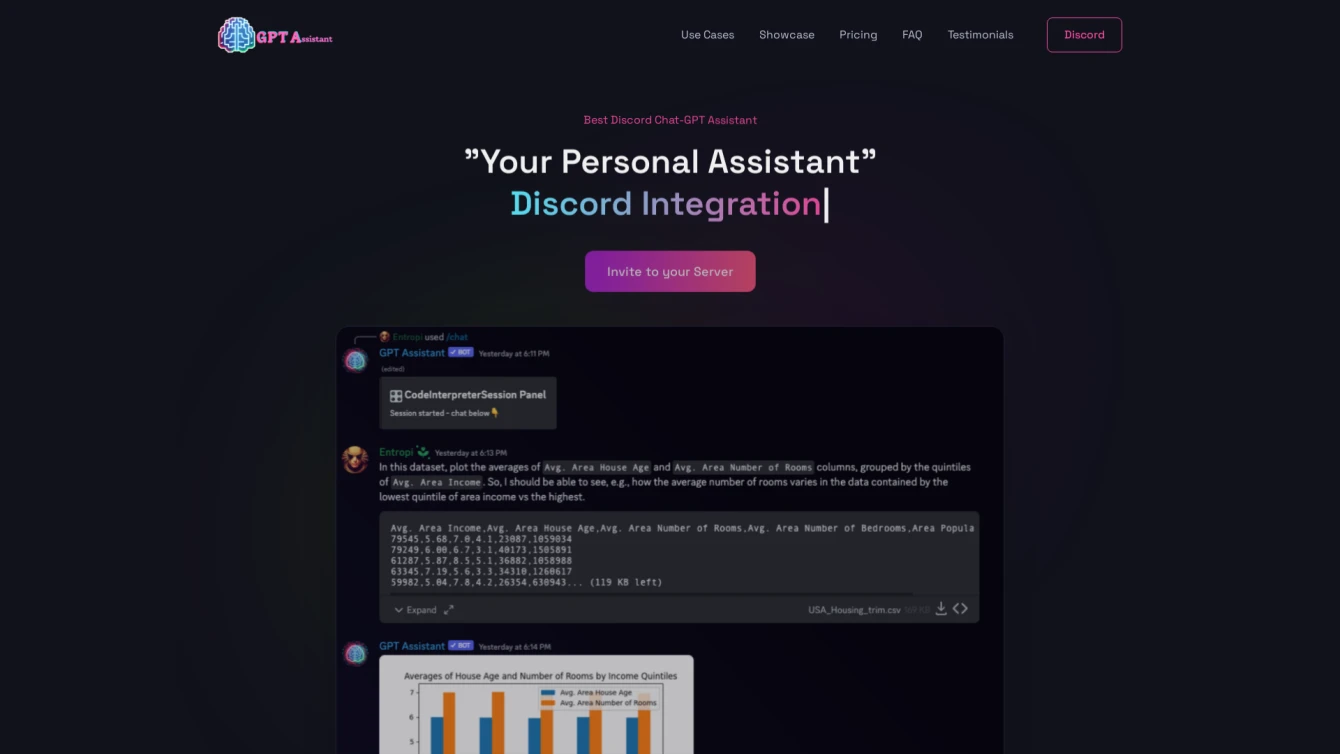 Revolutionizing Discord interactions with AI-powered assistance.
Product information and features
Experience the power of AI with GPTAssistant, a Discord bot that revolutionizes your communication experience. This AI tool brings you instantaneous and authentic AI responses, adding value to your Discord interactions. With its advanced Natural Language Processing capabilities and multi-channel integration, enjoy a new level of intelligent assistance right within your Discord platform.
Need assistance with PDFs? GPTAssistant has you covered. Ask it specific questions related to your PDF documents, and it will deliver in-depth analysis and key information extraction. This feature not only saves your time but also boosts your research efficiency. Moreover, GPTAssistant's in-built Python interpreter is a boon for coding enthusiasts, offering real-time coding assistance.
With GPTAssistant, enjoy enhanced collaboration thanks to its multi-user functionality and voice chat integration. The tool, powered by advanced GPT-4 technology, ensures that you don't need to juggle between different apps or platforms. All the assistance you need is available directly on Discord.
GPTAssistant is not just about advanced features, but also about accessibility. With a free pricing plan and the ability to set your own API key for unlimited access, it's a tool designed for everyone. GPTAssistant's dedicated support server and newsletter subscription ensure you always have the help you need. GPTAssistant's high user ratings are a testament to its effectiveness and popularity.
In summary, GPTAssistant is an advanced AI tool that enhances your Discord experience. It offers intelligent assistance with PDFs, real-time coding support, and facilitates engaging discussions. Whether you are an individual or part of a community, GPTAssistant fosters knowledge sharing, and makes your Discord interactions seamless and intuitive.
Tell the world GPTAssistant has been featured on NaNAI.tools:
GPTAssistant Reviews
What's your experience with GPTAssistant?
There are no reviews yet.
Related AI tools to GPTAssistant