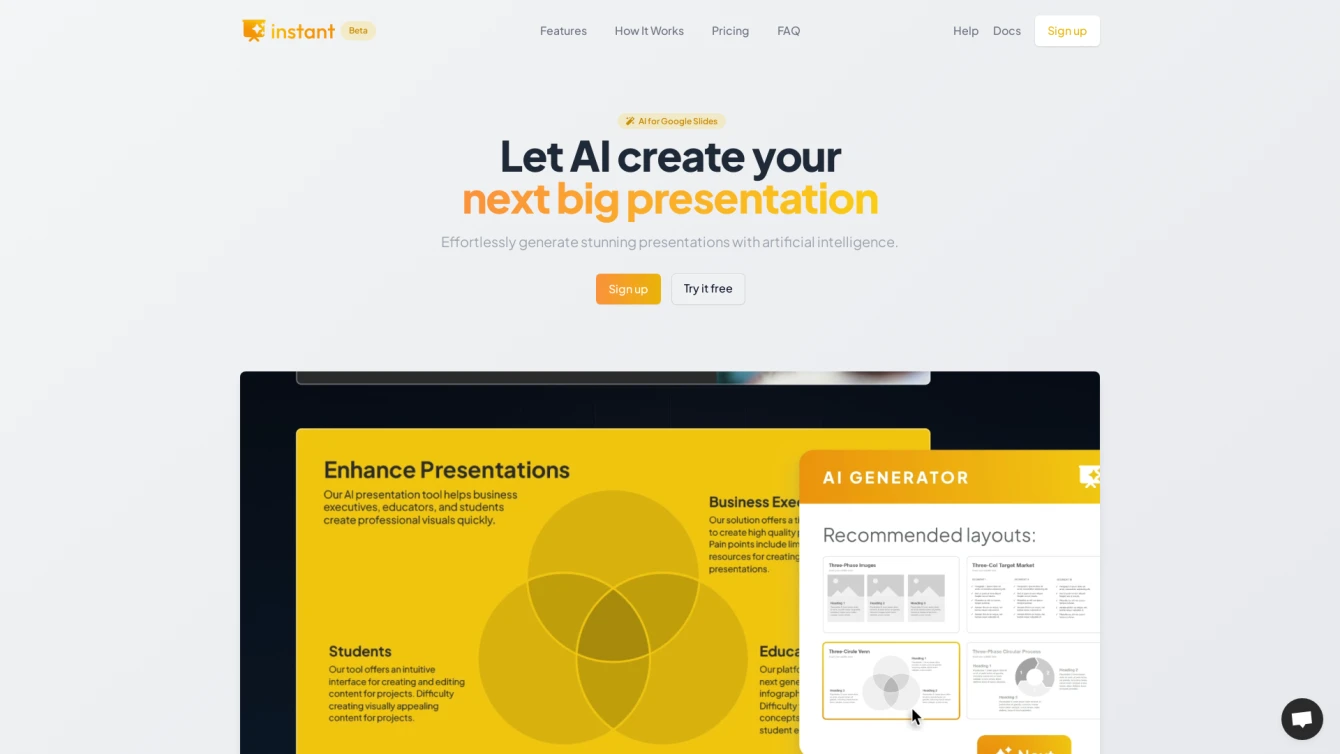 Effortless creation of visually appealing presentations with AI.
Product information and features
Instant is an AI tool that integrates with Google Slides, enabling users to create visually appealing presentations without the need for extensive knowledge of complex software. With a user-friendly interface, Instant allows for a quick and efficient process of generating presentations.
With hundreds of professional-grade templates at your disposal, creating compelling infographics and visuals has never been easier. Instant allows you to customize your slides' aesthetic according to your brand's colors and fonts. You can specify the desired presentation length and type, and provide a brief synopsis of the topic.
The AI technology behind Instant generates a presentation outline that you can adjust to suit your specific requirements. Afterwards, you can select from proposed layouts for each slide, and the AI tool will create the content accordingly. Instant.ai stands out among other AI tools due to its exceptional ability to generate visually striking slides.
By combining the power of AI with professionally designed templates, Instant creates high-quality slide decks that hold the attention of audiences. It supports various visualizations including flowcharts, infographics, and diagrams. In terms of subscriptions, Instant.ai offers a variety of plans to cater to unique needs.
Choose between a Pro plan that allows up to 150 auto-generated slides per month, or a Premium plan for unlimited slide and presentation creation. A free trial is also available, giving you access to a limited set of features and functionalities.
In summary, Instant is a reliable AI tool that simplifies the creation of captivating presentations. It's a fantastic choice for professionals and businesses alike, offering a range of features such as customizable templates, AI-generated outlines, and a variety of visual representation options.
Tell the world Instant has been featured on NaNAI.tools:
Instant Reviews
What's your experience with Instant?
There are no reviews yet.
Related AI tools to Instant