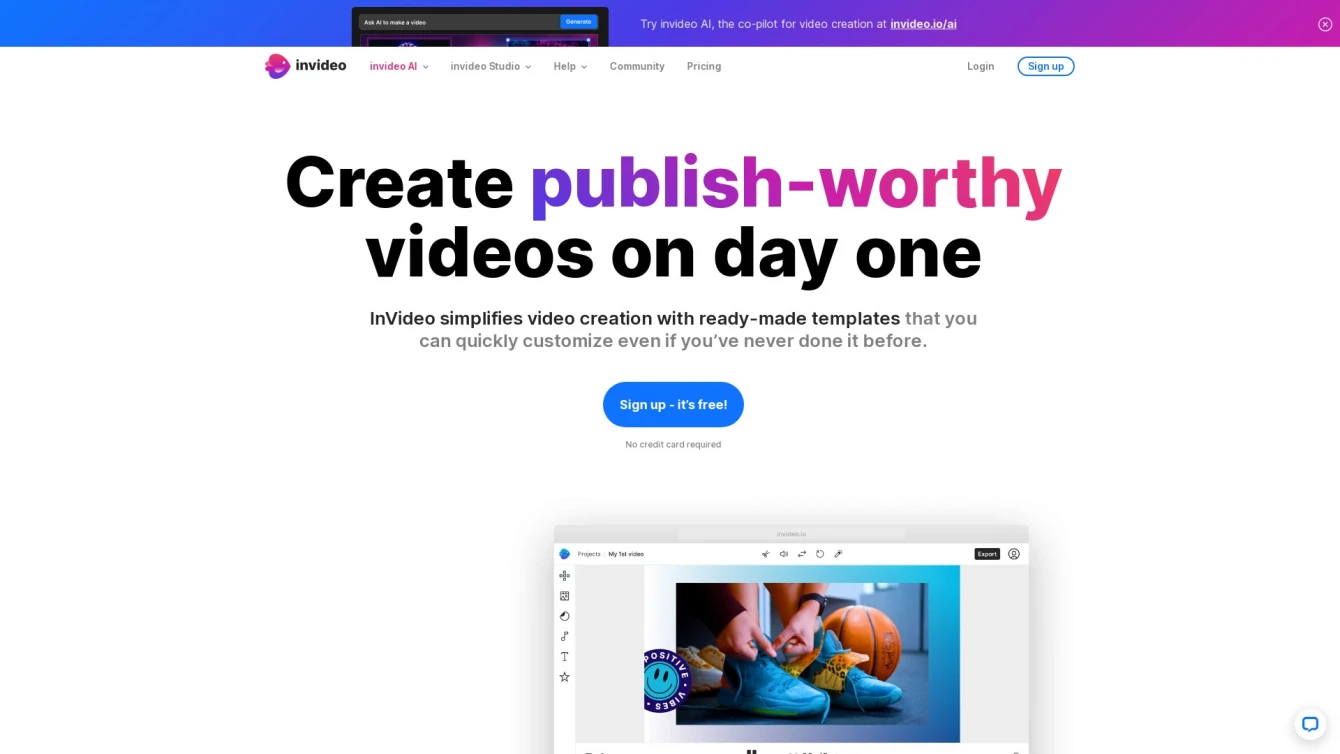 Crafting professional videos made easy and accessible.
Product information and features
Introducing InVideo, an internet tool that serves as your one-stop-shop for high-quality video editing. This AI tool aims to make the process of creating professional videos simple and accessible even for those with no prior video editing skills. Whether you're a beginner or a seasoned editor, InVideo has something for you.
With over 5,000 expertly-crafted templates at your disposal, you're spoiled for choice. Whether you're in the business, education, or entertainment industry, there's a template perfect for your needs. You can search via platform, industry, or content type, ensuring you find the right design every time.
InVideo's platform is all about customization. It has a user-friendly interface where you can drag-and-drop elements to personalize your videos. From your brand's colors and fonts to your logos, you have total control over how your videos look. But that's not all; the AI tool also provides tools that boost your productivity, including AI-generated scripts. You can transform articles or blogs into engaging videos using the text-to-video editor.
With InVideo, you have direct access to over 8 million stock media assets right within the editor. Whether you aim for social media success, brand growth, creating monetizable video assets, or increasing workflow efficiency, InVideo is your go-to AI tool.
And yes, the platform is not just about video editing. InVideo offers you a mobile app for editing videos on-the-go, and it comes with exclusive filters, effects, transitions, and access to royalty-free music. You can choose from various pricing plans, and you can count on its dedicated customer support team for round-the-clock assistance. From tutorials to courses and a community of creators, InVideo provides you with all the guidance and feedback you need.
Summing up, InVideo is a comprehensive online video editing AI tool suitable for a variety of use cases. It prioritizes usability, customization, and efficiency, offering a wide range of templates, an intuitive editing interface, and AI-powered productivity tools. Whether you're seeking to grow your brand, create monetizable video content, or streamline your workflow, InVideo has got you covered.
Tell the world InVideo has been featured on NaNAI.tools:
InVideo Reviews
What's your experience with InVideo?
There are no reviews yet.
Related AI tools to InVideo