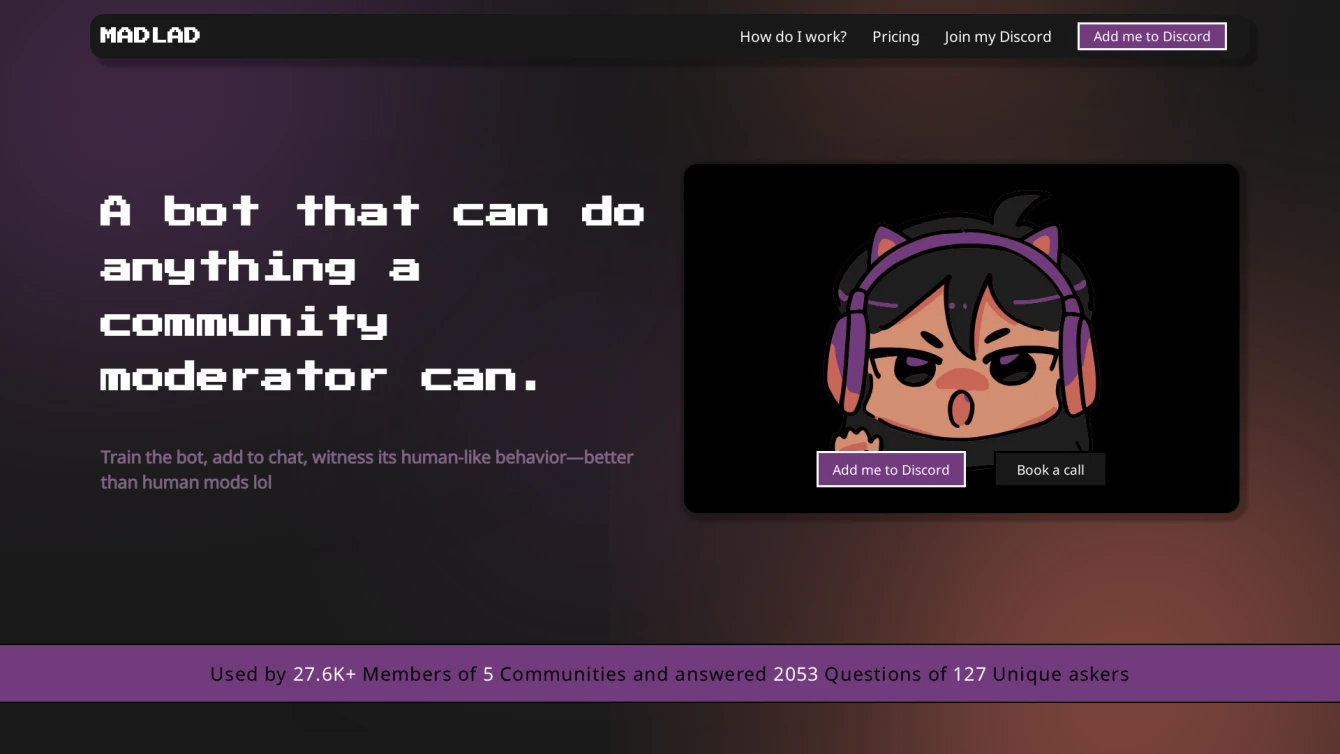 Revolutionizing Discord community moderation with AI.
Product information and features
Envision a world where you have an AI tool, like Madlad, to manage your Discord communities effectively. This AI-powered bot functions as an adept community moderator, giving you a hands-off experience.
Madlad allows you to train it with specific information or links, enabling it to interact with your community members and respond to their queries in a human-like manner. With just a few clicks, you can invite this bot into your Discord chat rooms and watch it perform tasks that would normally require human intervention.
To cater to varied community needs, Madlad offers multiple pricing plans. These plans offer different levels of question-asking capabilities and webpage training options, ranging from limited to unlimited access. However, as the pricing details are subject to change, it is recommended to check the most current information on madlad.ai.
Madlad aims to provide a 24/7 personalized community moderation experience, turning out to be a robust alternative to manual moderation. It touts a quick setup process that promises to deliver a unique, personalized community bot in less than 15 minutes.
For additional details, demos, or customer support, you can visit the Madlad's website, follow them on Twitter, join their Discord server, or reach out to their dedicated support team. Created by Rajat and Anushka, this tool is poised to revolutionize community moderation.
In summary, Madlad is an AI tool designed for effective community moderation on Discord. It offers customizable pricing plans, quick setup, and human-like responsiveness. Whether you need a bot for a small community or a larger one, Madlad can be a valuable ally, ensuring streamlined communication and interaction within your community.
Tell the world Madlad has been featured on NaNAI.tools:
Madlad Reviews
What's your experience with Madlad?
There are no reviews yet.
Related AI tools to Madlad