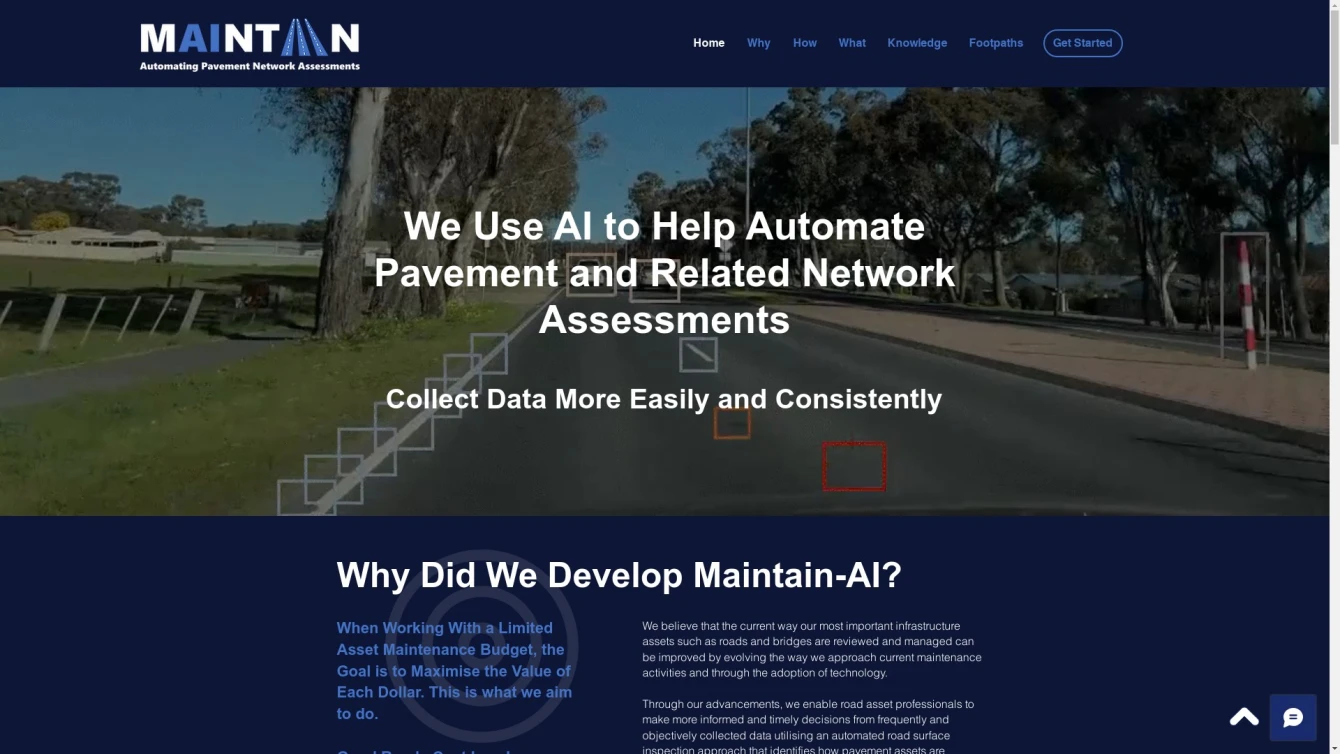 Revolutionizing Road Infrastructure Management Through AI.
Product information and features
Introducing Maintain-AI, an AI tool designed to streamline and automate the inspection, analysis, and reporting processes for pavement and related infrastructure within a road network. This advanced tool optimizes maintenance costs by providing a swift, cost-effective method to gather data, thus facilitating better-informed decisions.
By leveraging computer vision and machine learning, Maintain-AI can accurately detect various defect types, identify the severity of distresses, and assess numerous associated infrastructure elements through collected road images. It's not just an AI tool but a comprehensive solution for consistent road inspections, offering improved data collection times, reduced subjectivity, enhanced network visualization, and a clear understanding of cost impacts.
Guided by the philosophy that 'Good Roads Should Cost Less', Maintain-AI is committed to assisting road asset professionals. By offering frequently collected and objective data, this AI tool provides an automated approach to road surface inspections, allowing professionals to gauge pavement performance accurately.
With Maintain-AI, users responsible for road network asset management can utilize their funding more efficiently, communicate funding needs more effectively, and assess the entire pavement network more objectively. Additionally, the tool improves the efficiency of other, more expensive systems.
Maintain-AI is also committed to collaborations with like-minded organizations. The tool presents flexible options for partnerships, with or without long-term commitments, to collectively support the infrastructure and transport sectors in improving asset inspection, analysis, and management procedures.
In summary, Maintain-AI is an innovative AI tool that revolutionizes the way road network infrastructures are inspected and maintained. It provides an efficient, cost-effective solution for defect detection, distress severity identification, and infrastructure element assessment. It's the ideal AI tool for road network asset managers seeking to optimize funding use, improve communication, and enhance the overall management of their pavement networks.
Tell the world Maintain-AI has been featured on NaNAI.tools:
Maintain-AI Reviews
What's your experience with Maintain-AI?
There are no reviews yet.
Related AI tools to Maintain-AI