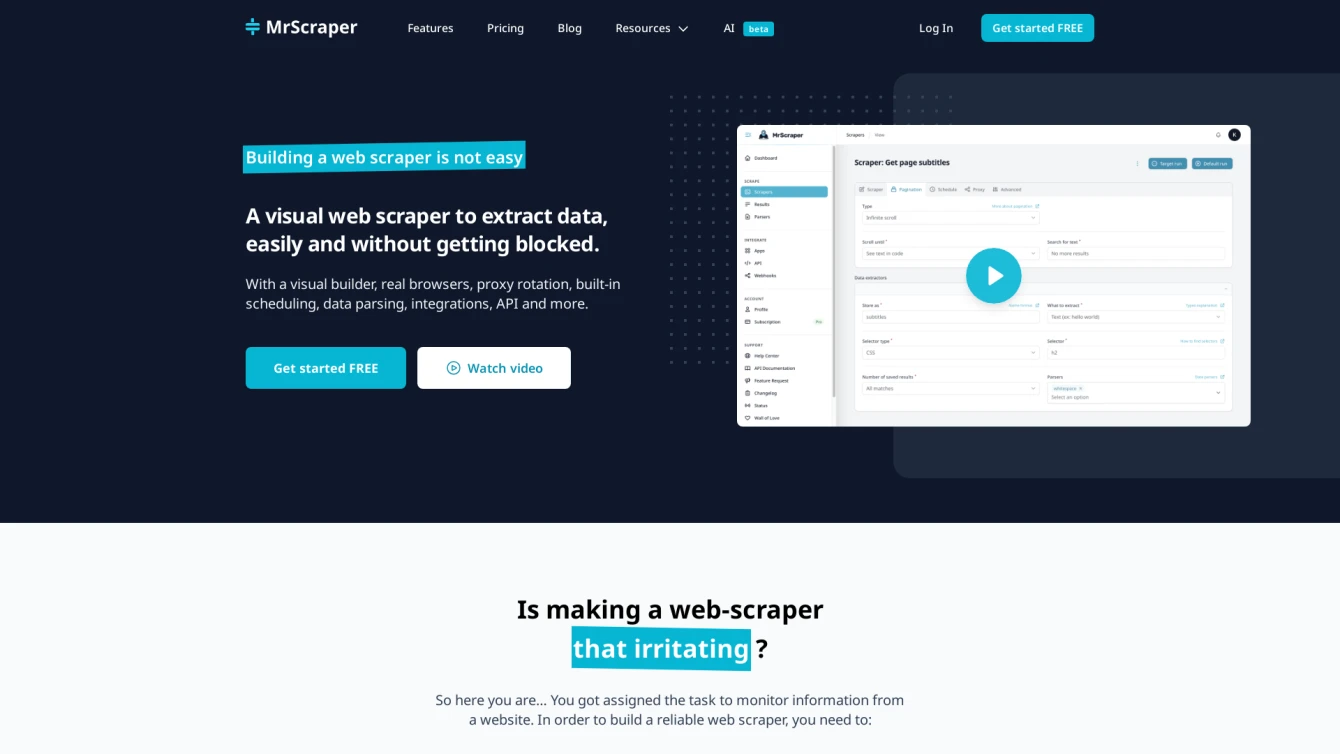 Revolutionizing web scraping with AI.
Product information and features
Welcome to the world of MrScraper, a revolutionary AI tool that harnesses the power of artificial intelligence to scrape data from web pages, eliminating the need for code selectors. This tool is not just efficient, but also robust enough to handle large, intricate pages with ease. Notable features such as automatic proxy rotation and pagination support significantly reduce the chances of being blocked by websites, thereby ensuring a smooth and uninterrupted data extraction process.
The built-in scheduler is another key feature of MrScraper, empowering you to set up recurring scraping jobs. This allows for thorough data extraction without requiring your constant attention or manual intervention. MrScraper.com further enhances its efficiency by using real browsers with JavaScript rendering and automatic captcha solutions.
While MrScraper is currently in the beta testing phase, it's expected to be available for use soon. Users will receive a notification when it's ready. Although this AI tool can be accessed via the web, there are plans for a downloadable macOS app and API endpoint for added security and convenience.
While the app is free, using it requires a MrScraper account (either free or paid) and an OpenAI token. What sets MrScraper apart from other AI web scrapers is its unique combination of AI language models and traditional scraping techniques. This blend not only reduces the likelihood of website blocks but also facilitates more comprehensive data extraction from various types of pages.
In summary, MrScraper is a revolutionary AI tool that combines traditional scraping techniques with advanced AI-based language models. Its main features include automatic proxy rotation, pagination support, a built-in scheduler, and real browser use with JavaScript rendering. Its use cases range from scraping large, complex websites to setting up recurring data extraction jobs. With its unique approach, it ensures a smooth, efficient, and comprehensive data extraction process.
Tell the world MrScraper has been featured on NaNAI.tools:
MrScraper Reviews
What's your experience with MrScraper?
Related AI tools to MrScraper