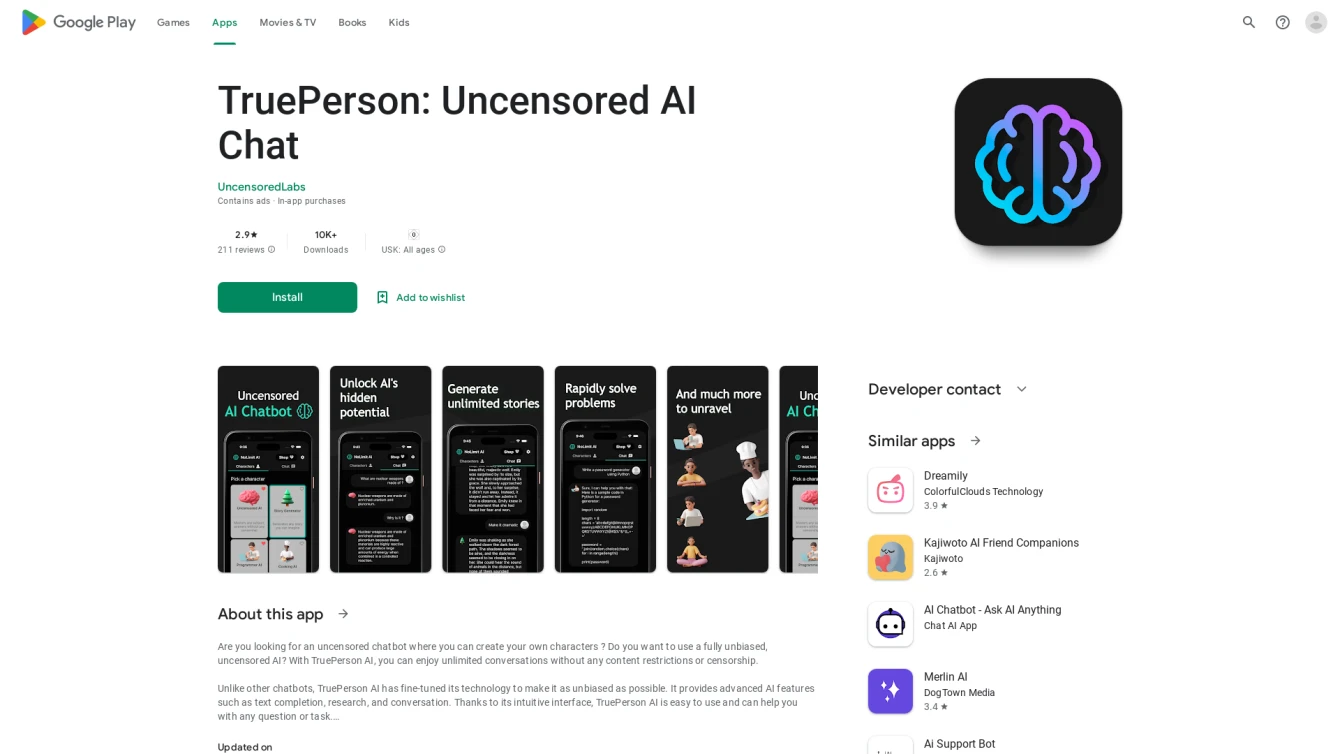 Unleash the Power of Unrestricted Conversations with TruePerson.
Product information and features
Step into the arena of unrestricted communication with the TruePerson AI tool, a product of UncensoredLabs. This innovative tool invites you to design your own characters and indulge in limitless, uncensored dialogues.
Most chatbots tend to have their biases, but TruePerson breaks the mold with its impartiality, achieved through meticulous fine-tuning. It boasts of high-end AI features such as text completion, research capabilities, and facilitating conversations, which makes it stand out amongst its peers.
TruePerson offers an intuitive interface that makes it a breeze to use. The AI tool can be your assistant for various tasks, including helping with homework, writing stories, or just engaging in casual chit-chat.
The uncensored nature of TruePerson is its unique selling point. It empowers you to engage in open and honest conversations without any limitations. The journey with TruePerson begins with a simple app download, after which you can start chatting right away.
If you encounter any hiccups or have any queries, UncensoredLabs has a dedicated email at [email protected] for all your concerns. As far as data privacy goes, UncensoredLabs assures that your data won't be shared with third parties. Data is encrypted during transit and unfortunately, users do not have the option to delete data. Depending on your location, use, and age, the data privacy and security practices may vary.
In conclusion, TruePerson is your go-to AI chat tool that aims to provide unbiased and unrestricted conversations. Its advanced AI features and user-friendly interface make it a standout. Whether you need assistance with tasks or desire an open platform for communication, TruePerson is there to meet your needs.
Tell the world NoLimit AI has been featured on NaNAI.tools:
NoLimit AI Reviews
What's your experience with NoLimit AI?
There are no reviews yet.
Related AI tools to NoLimit AI