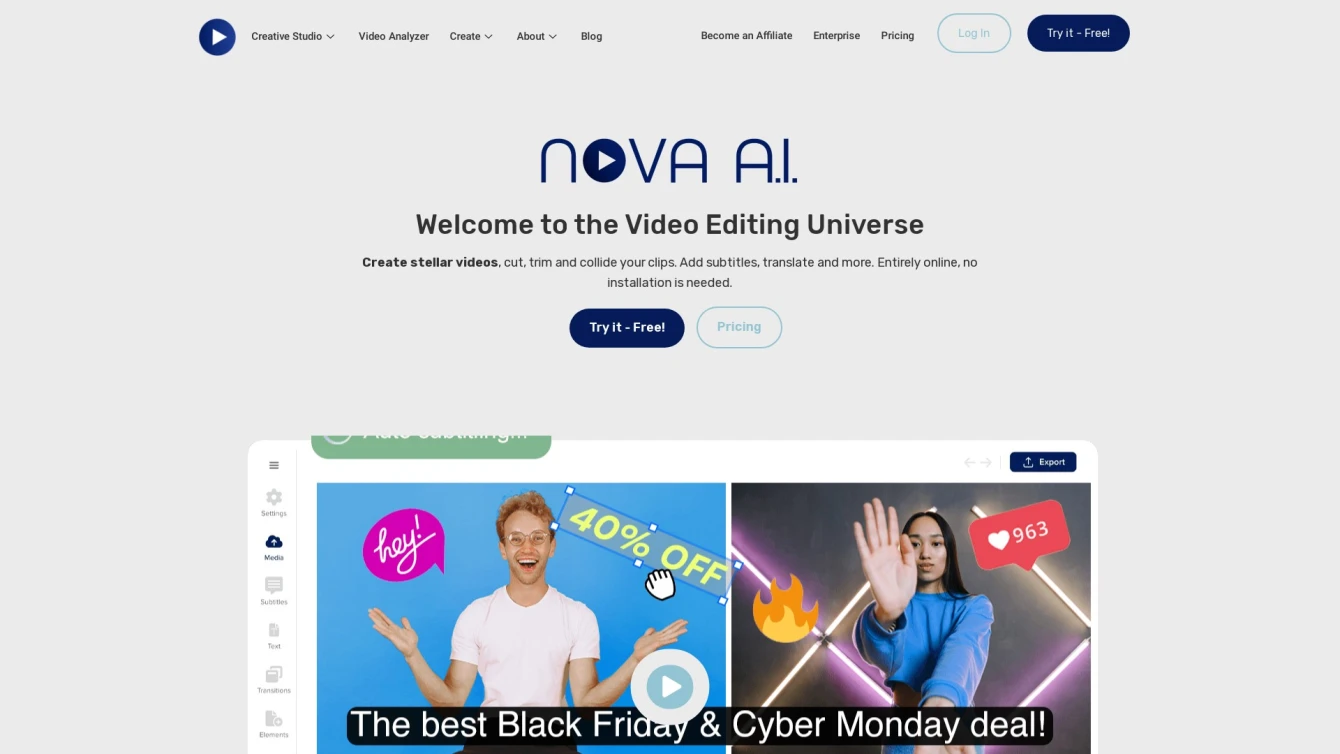 Shaping the future of video editing with artificial intelligence.
Product information and features
Experience the future of video editing with the Nova AI, an online video editing and logging AI tool. It makes the editing process an effortless endeavor by offering a plethora of video editing tools and features, including video trimming, merging, cropping, and cutting capabilities.
Its core strength lies in its computer vision video search engine, which enables users to swiftly search for and modify video footage. The software also boasts of additional features like subtitle generation, text-to-speech, video speed controllers, and YouTube and TikTok cutters, all designed to make the process streamlined and efficient.
What makes Nova AI stand out is its advanced features, such as video/audio translators and podcast/video transcript generators. You can also add basic video effects, including filters, transitions, elements, and emojis, to your videos to make them more appealing. wearenova.ai is an AI tool that caters to a wide array of purposes, from creating engaging social media videos to effective corporate training material.
Regardless of whether you're creating content for Facebook, Instagram, TikTok, Twitter, LinkedIn, or YouTube, Nova AI makes it a breeze. It's user-friendly, offers a variety of pricing options, and even provides training videos to help you learn the ropes. It's an AI tool that enhances the video editing experience for both beginners and professionals alike.
In summary, Nova AI is a powerful, versatile, and efficient online video editing software. With its wide range of tools and features, it can cater to various needs and use cases, making video editing an easy and enjoyable task for all.
Tell the world Nova AI has been featured on NaNAI.tools:
Nova AI Reviews
What's your experience with Nova AI?
There are no reviews yet.
Related AI tools to Nova AI