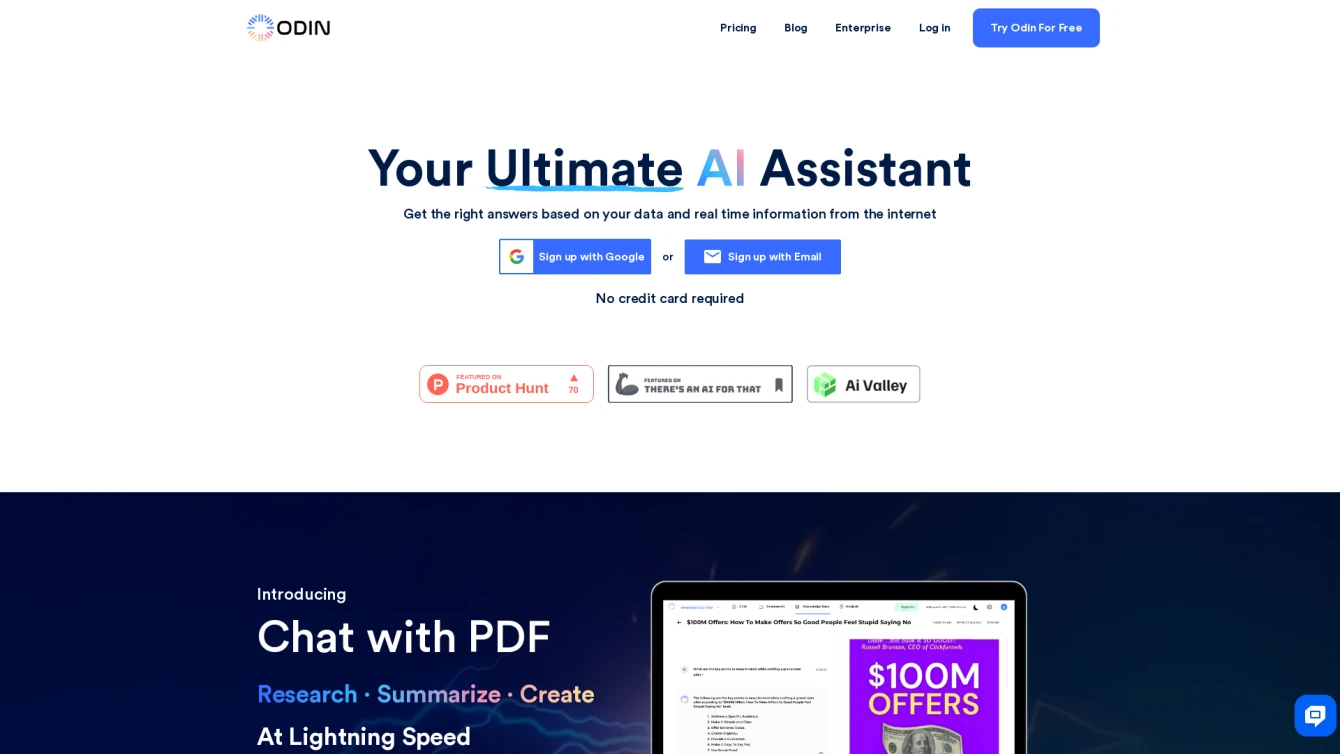 Unlocking Potential with Advanced AI Assistance.
Product information and features
Experience a new level of productivity and potential unlocking with the advanced Odin AI tool. Designed for both professionals and enterprises, this AI assistant offers continuous access to real-time, fact-based information, setting you on a course for enhanced efficiency.
Unlike traditional chatbots, Odin goes a step further in its natural language processing capabilities, standing out with its ability to identify, collate, and present key metrics from chat conversations. The resulting document offers valuable insights, further enhancing its utility. Its knowledge base is customizable, supports real-time internet connectivity, and is equipped with an AI detection tool, collaborative features, and a document editor.
Apart from the powerful features, Odin is mobile-ready, ensuring that you enjoy all its features without compromise, wherever you are. It sources reliable and up-to-date data from the internet, contextualizing it to deliver personalized results right at your fingertips.
Odin offers a free trial for new users, including access to 1,000 words and a 14-day trial period, with no credit card required. Already trusted by individuals and organizations such as Michelle Harvey, Johannes Sensei, and JanineAndreax, it stands as a trusted AI tool in the market.
In summary, Odin provides an unparalleled level of functionality, personalization, and ease-of-use. It truly understands what the user needs and delivers it promptly. Whether you're an individual or an organization, this AI tool is designed to meet your unique needs, offering a level of service that's unmatched in the AI industry.
Tell the world Odin has been featured on NaNAI.tools:
Odin Reviews
What's your experience with Odin?
There are no reviews yet.