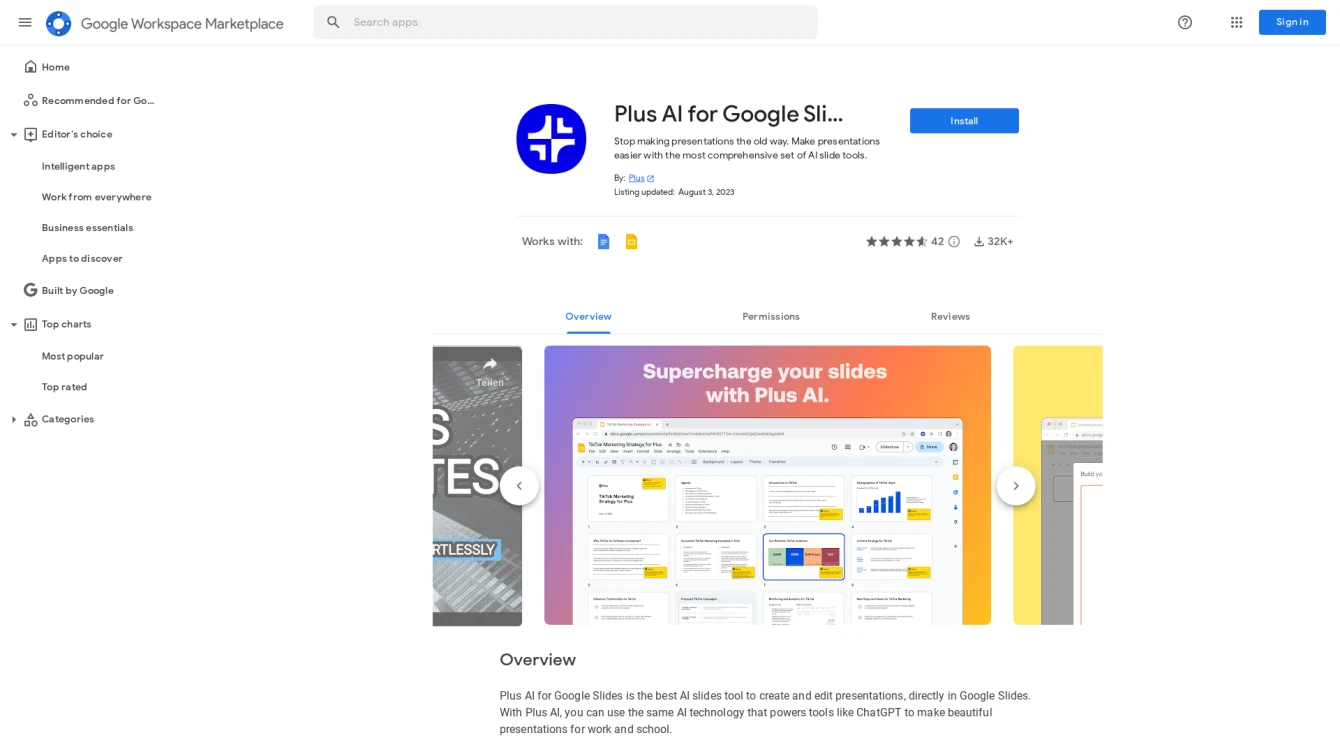 Simplifying content creation and data presentation with AI integration.
Product information and features
Meet Plus AI, an AI tool that seamlessly integrates with Google Docs and Slides to produce curated content rapidly and with ease. By leveraging artificial intelligence, it creates a presentation outline from a concise user description, which can be modified and scrutinized as necessary.
Plus AI automatically crafts the slides, enabling you to add substance and instantly present. In addition, it offers a unique Plus Snapshot feature, which lets users take snapshots from websites, applications, and dashboards and incorporate them into their Docs and Slides.
These snapshots can be updated with fresh data at a single click. Plus AI is a time-saver, automating the creation of presentations and reports, streamlining weekly team meetings, and automating metrics and OKR reporting.
You can use Plus AI to design dashboards for teams, partners, and clients without any coding knowledge. It's compatible with various collaboration tools like Notion, Coda, Confluence, Canva, and others, facilitating information sharing across multiple platforms.
Plus AI offers smart features such as content search within screenshots using OCR, accessing all historical versions of a snapshot, setting up automated alerts for changes, and much more. The tool is free and requires access to your Google account to manage documents, presentations, and connect to external services.
In summary, Plus AI is a dynamic AI tool that offers automation and integration features for creating presentations, capturing and updating snapshots, and designing dashboards. It's a versatile tool that can simplify team meetings, automate reporting, and facilitate information sharing across various platforms. It's an excellent aid for individuals and teams looking to enhance their productivity and efficiency in managing and presenting data.
Tell the world Plus AI has been featured on NaNAI.tools:
Plus AI Reviews
What's your experience with Plus AI?
There are no reviews yet.
Related AI tools to Plus AI