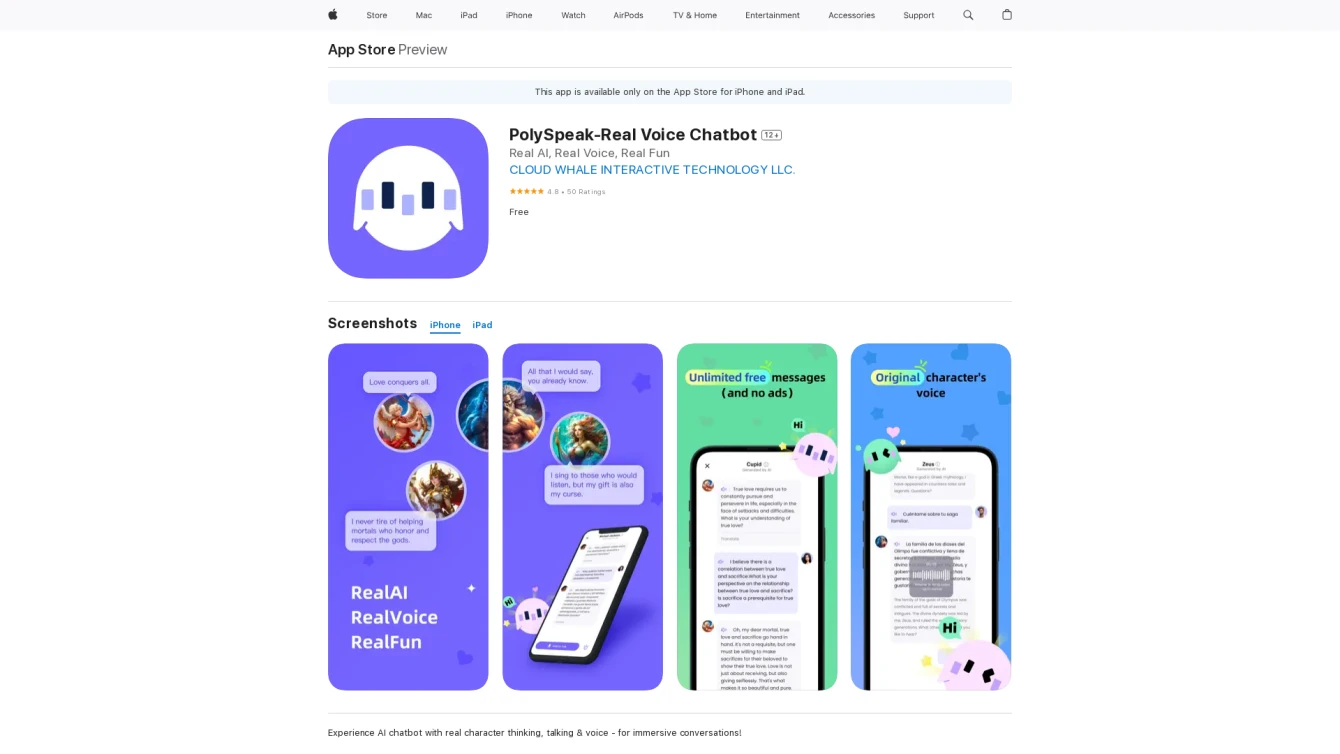 Engage in lifelike conversations with an advanced voice-based AI chatbot.
Product information and features
Get ready to engage in voice-based interactions with an advanced AI tool, PolySpeak-Real Voice Chatbot. This app, available on the App Store for iPhone, iPad, and iPod touch, enables users to enjoy natural and interactive discussions with a chatbot utilizing state-of-the-art language processing algorithms. Polyspeak.com has designed the tool to provide lifelike conversation experiences, powered by sophisticated speech recognition and generation technologies.
The PolySpeak-Real Voice Chatbot app presents users with an intuitive and user-friendly interface. It allows individuals to communicate with the chatbot using their voice effortlessly. Covering a broad spectrum of topics, the AI tool provides insightful and relevant responses to user inquiries. Furthermore, the app integrates machine learning capabilities, enabling the chatbot to refine its understanding and responses based on user interactions continuously.
Experience personalization like never before as PolySpeak-Real Voice Chatbot adapts to user preferences and recalls previous conversations. The app serves as a convenient and accessible platform to gather information, seek assistance, or engage in entertaining conversations. With its blend of cutting-edge voice recognition and natural language understanding technologies, this AI tool delivers a chatbot experience that closely mimics human conversation.
In a nutshell, PolySpeak-Real Voice Chatbot is a trailblazer in voice-based AI tools. It offers users an innovative way to interact with AI, covering a wide range of topics, and providing personalized experiences. Its impressive machine learning and natural language processing capabilities make it a valuable tool for obtaining information and assistance, or simply enjoying engaging conversations.
Tell the world PolySpeak has been featured on NaNAI.tools:
PolySpeak Reviews
What's your experience with PolySpeak?
There are no reviews yet.
Related AI tools to PolySpeak