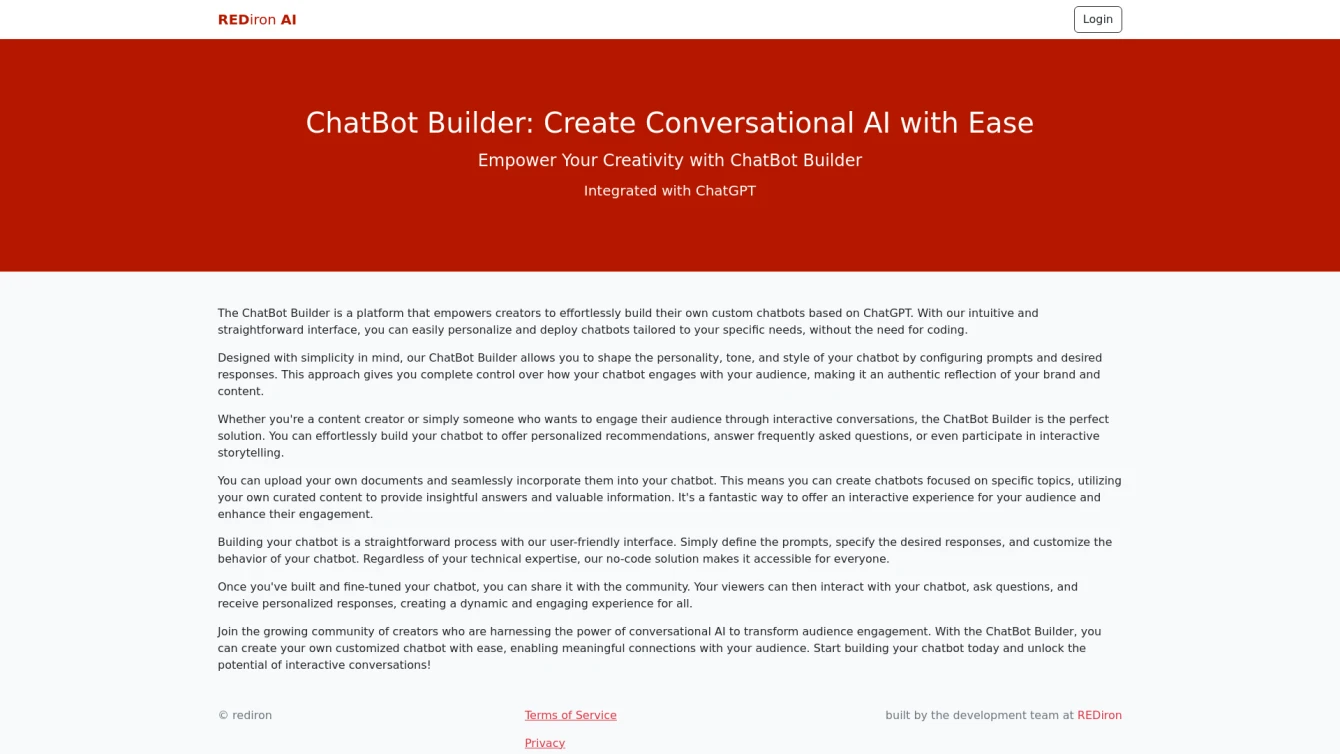 Creating engaging, personalized chatbots with no coding needed.
Product information and features
If you're seeking a no-code platform to craft custom chatbots, look no further than Rediron. This AI tool uses the ChatGPT model, offering an intuitive interface where you can customize your chatbot's personality, tone, and style by setting up specific prompts and responses.
Rediron empowers you to provide personalized recommendations, insightful answers, and a highly interactive experience for your audience. It's not just for tech-savvy individuals; this AI tool eliminates the need for coding and complex technical skills. Its user-friendly interface ensures that anyone can use it, regardless of their technical background.
One of the unique features of Rediron is the ability to upload your own documents and incorporate curated content into your chatbots. This makes it an excellent choice for content creators or anyone aiming to engage their audience via interactive conversations.
After creating and fine-tuning your chatbots, you can share them with the community, leading to a growing network of interactive chatbots. Rediron significantly transforms audience engagement and enhances your creative abilities, allowing you to build customized chatbots that truly represent your brand and content.
Rediron, which is the brainchild of the team at rediron.ai, is dedicated to developing powerful AI tools that revolutionize user experiences. It's designed with simplicity in mind, offering a no-code solution for you to create chatbots in a straightforward process.
In summary, Rediron is a versatile AI tool that allows you to build custom chatbots with ease. Its main features include an intuitive interface, no-code solutions, and the ability to include curated content. Whether you're a content creator looking to engage your audience or a business owner aiming to enhance customer service, Rediron can help you achieve your goals.
Tell the world Rediron has been featured on NaNAI.tools:
Rediron Reviews
What's your experience with Rediron?
There are no reviews yet.
Related AI tools to Rediron