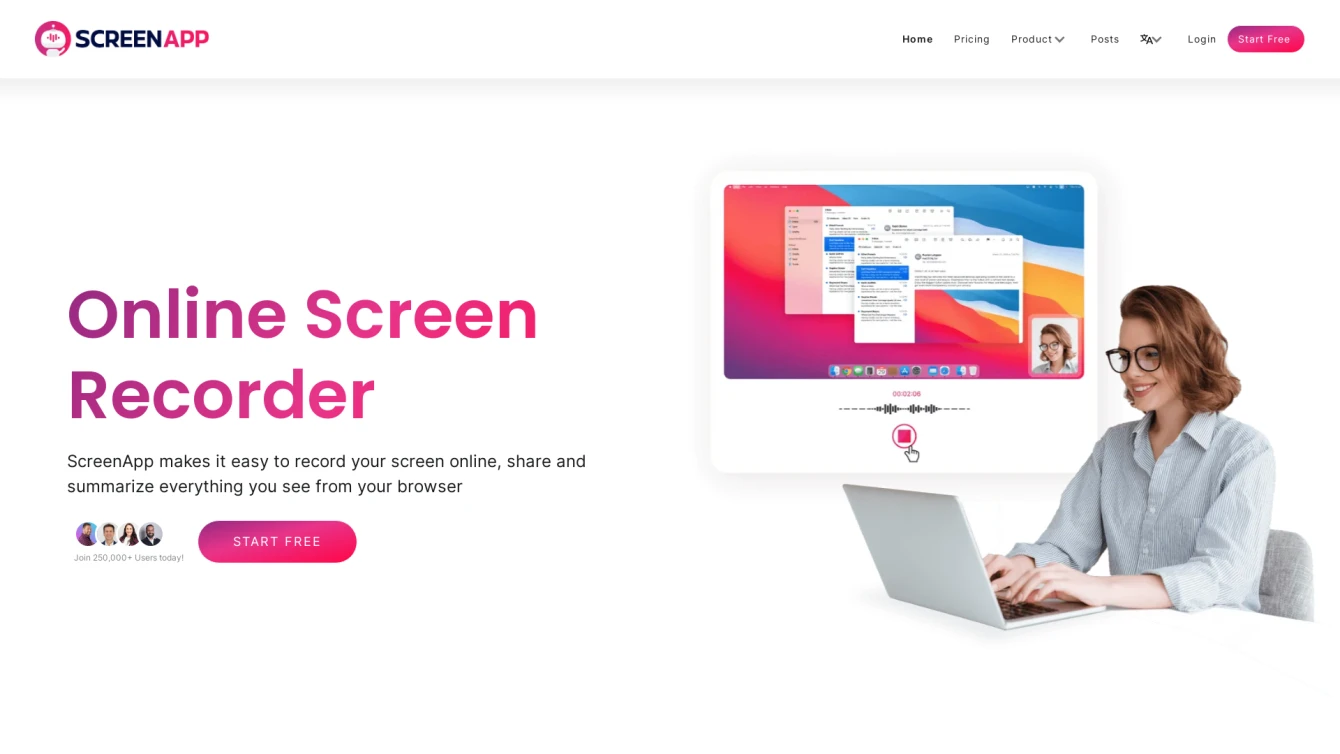 Capture, transcribe, share: Effortless screen recording and collaboration.
Product information and features
Discover ScreenApp, an online tool that's reshaping the way you capture your screen activities. This service is versatile, supporting a wide range of operating systems including Windows, MAC, and Ubuntu. Whether you need to document the entire screen, a particular application window, or a browser tab, ScreenApp has got you covered. You can also choose to include webcam footage in your recordings.
ScreenApp is not just a screen recording tool. With its AI tool, it can transcribe your recordings into written documents. This feature simplifies the process of referencing instructional videos, presentations, webinars, and meetings. By creating a written record of your discussions, ScreenApp makes it easier to review and search for specific information.
With ScreenApp, you don't have to worry about the security of your recordings. The tool allows you to store your recordings securely and share them with colleagues. The recordings can be accessed from any device, and with the owner's permission, collaborators can edit them. ScreenApp.io ensures that your recordings are always within your reach.
ScreenApp can be used for multiple purposes like tech tutorials, training sessions, meetings, and presentations. It leverages state-of-the-art GPT AI technology to summarize, simplify, compare, and gather insights from recorded content. You can download your recordings to your PC or save them in the cloud, ensuring the safety of your recordings and making collaboration easier with shareable links.
ScreenApp is a reliable tool, trusted by over 250,000 users, including big names like Nike, Deloitte, Tesla, and Foodpanda. It's user-friendly interface and AI capabilities make it a powerful tool for recording, transcribing, and sharing videos, thereby enhancing communication, knowledge transfer, and collaboration among users.
In summary, ScreenApp is a comprehensive screen recording and transcription tool that is designed to facilitate easy documentation, review, and sharing of your screen activities. Its main features include screen recording, AI-powered transcription, secure storage and sharing of recordings. Whether for tech tutorials, training sessions, or presentations, ScreenApp can significantly streamline your workflow and improve collaboration.
Tell the world ScreenApp has been featured on NaNAI.tools:
ScreenApp Reviews
What's your experience with ScreenApp?
There are no reviews yet.
Related AI tools to ScreenApp