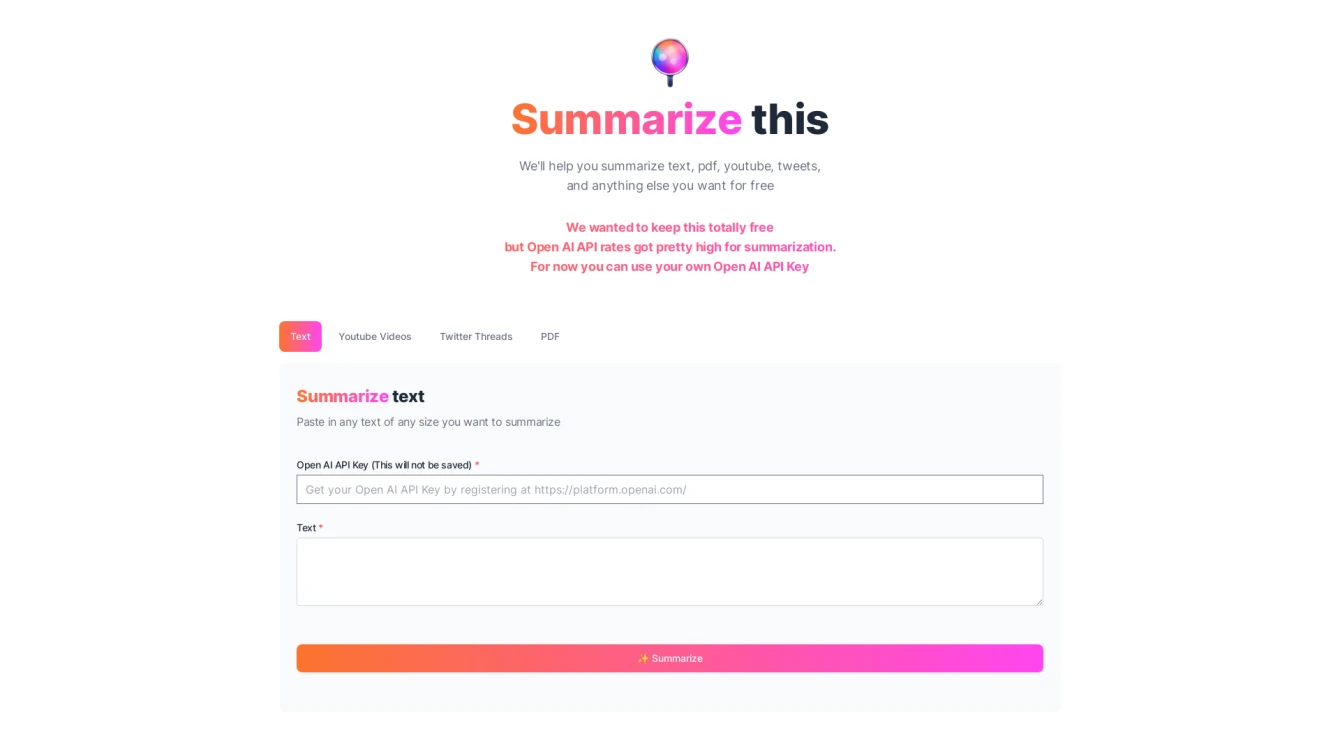 Summarize any content swiftly and accurately with SummarizeThis.
Product information and features
Imagine a world where you could quickly summarize lengthy content, whether it be text, PDFs, videos, or even Twitter threads. This is precisely what the AI tool SummarizeThis offers. This marvel of technology, available at no cost, does require an Open AI API Key to harness its full potential.
SummarizeThis shines when it comes to condensing any text, irrespective of its length. This gives you a succinct version of long articles or documents, saving you precious time. But that's not all, it even works with YouTube videos that carry captions, allowing you to distill key points from extensive video content swiftly.
Want to summarize an intriguing Twitter thread? Just paste the thread's URL and watch SummarizeThis work its magic. The ability to upload PDF files and receive concise summaries enhances its versatility. Nonetheless, some corrupted PDFs might pose a challenge. As summarizethis.com was developed by @maail, all rights are reserved.
It's worth mentioning that Open AI API rates are subject to change, but SummarizeThis is dedicated to keeping its service free despite any potential shifts in API cost.
In conclusion, SummarizeThis is an indispensable tool for those looking to save time and get quick, accurate summaries of long-form content. Its main features include summarizing text, PDFs, videos and Twitter threads. It's a perfect fit for students, researchers, or anyone who wants to extract key points from extensive content quickly and efficiently.
Tell the world Summarizethis has been featured on NaNAI.tools:
Summarizethis Reviews
What's your experience with Summarizethis?
There are no reviews yet.
Related AI tools to Summarizethis