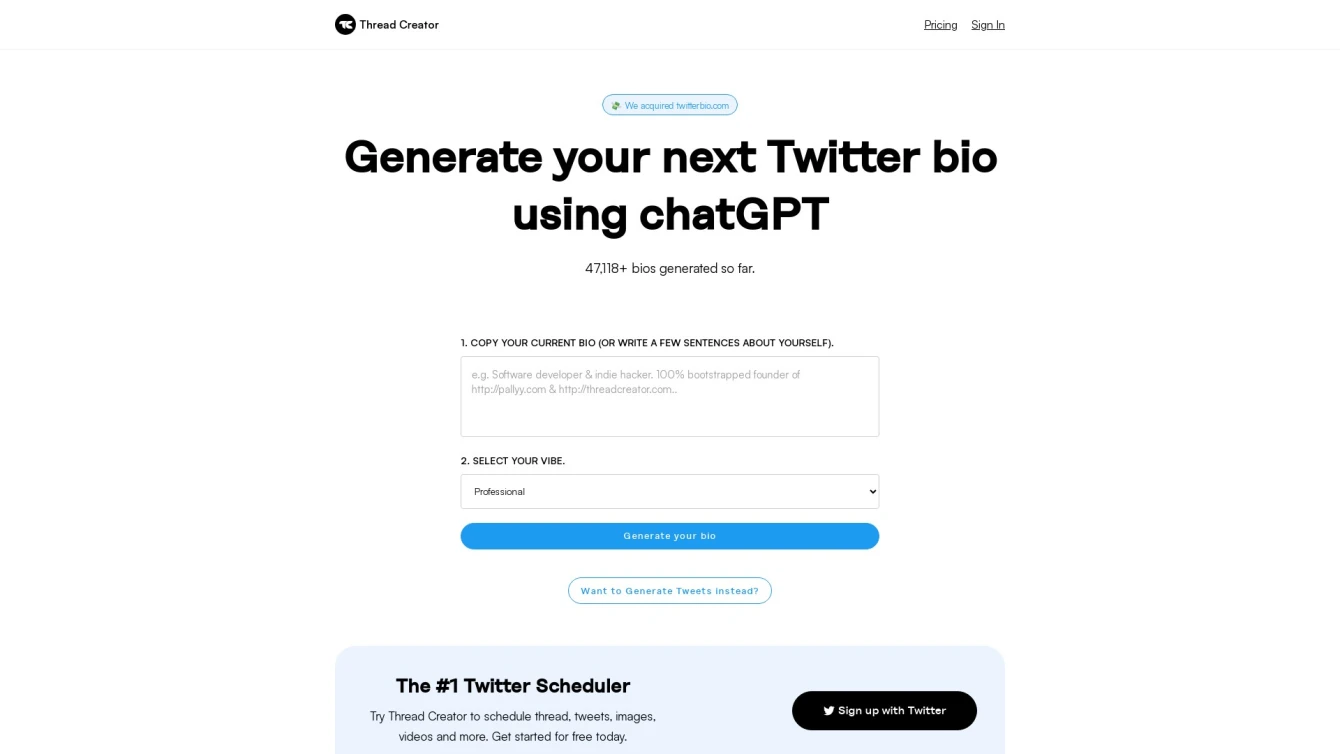 Crafting compelling, personalized Twitter bios at your fingertips.
Product information and features
Unlock your Twitter profile's potential with Twitter Bio Generator with ChatGPT, an impressive AI tool designed by OpenAI and Vercel Edge Functions. Hosted on threadcreator.com/tools/twitter-bio-generator, this dynamic tool enables you to craft an alluring and personalized Twitter bio that truly reflects who you are.
Whether you want to revamp your existing bio or start from scratch, this tool has got you covered. It provides an intuitive interface where you can write a few sentences about yourself and select the desired tone for your bio, be it professional or casual. Once your preferences are set, just hit the 'generate' button and watch as your customized Twitter bio comes to life.
With over 18,167 bios already crafted, the Twitter Bio Generator with ChatGPT's popularity is testament to its effectiveness and user-friendly design. Furthermore, the tool is open-source, with its code readily available on GitHub for anyone interested in exploring its underlying mechanisms or even contributing to its development.
This AI tool is not just about convenience, it's about empowering you to present yourself in the best light on Twitter. So, why wait? Start crafting your perfect Twitter bio today with the Twitter Bio Generator with ChatGPT.
In summary, the Twitter Bio Generator with ChatGPT is a powerful and intuitive tool for creating personalized and attractive Twitter bios. It offers a range of bio tones to choose from and generates your bio instantly. It's an excellent resource for anyone looking to enhance their Twitter presence, whether they're a professional, a student, or simply someone who wants to make the most of their Twitter profile.
Tell the world Twitter Bio Generator with ChatGPT has been featured on NaNAI.tools:
Twitter Bio Generator with ChatGPT Reviews
What's your experience with Twitter Bio Generator with ChatGPT?
There are no reviews yet.
Related AI tools to Twitter Bio Generator with ChatGPT