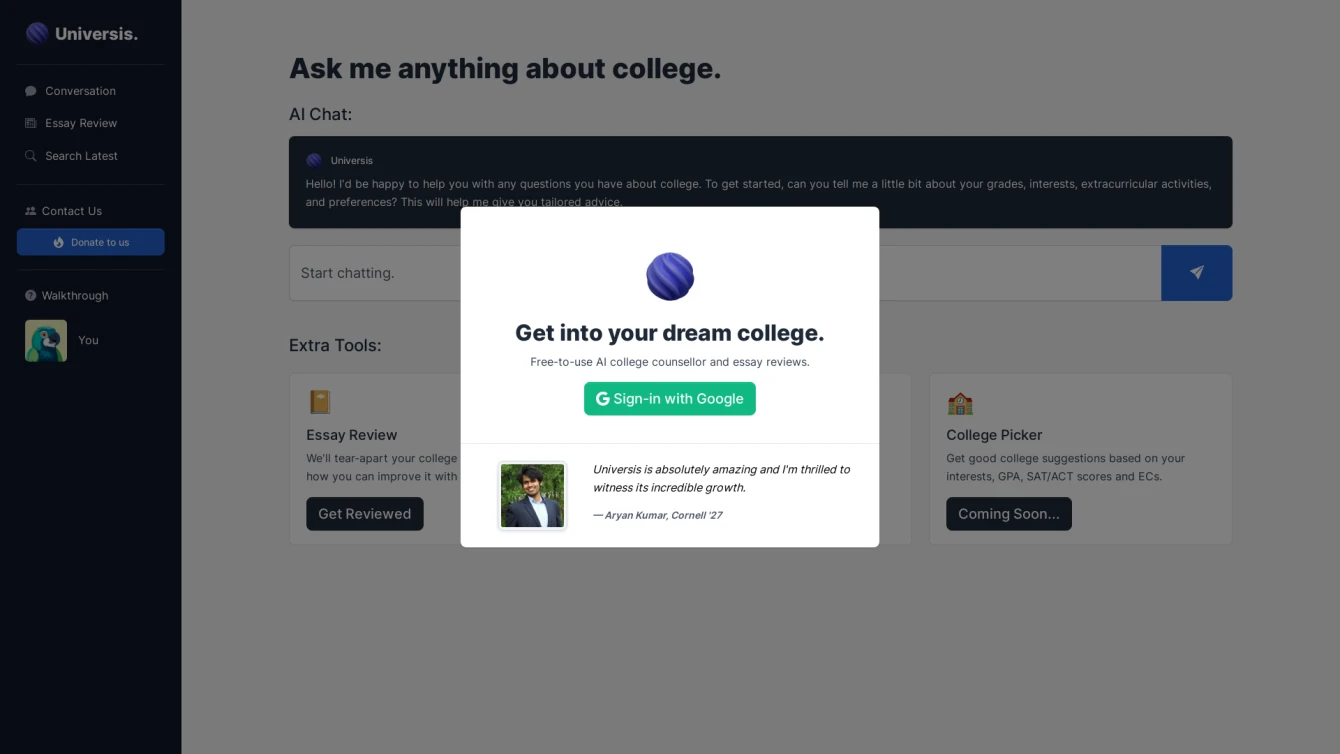 Transforming the College Admission Process through Personalized AI Guidance.
Product information and features
Introducing Universis, an AI tool designed to revolutionize the college admission process. Universis, a cost-free tool, is equipped with a myriad of features aimed at supporting students on their journey towards college.
The cornerstone feature of Universis is its AI college counselor. This unique AI tool engages students in a conversational format, addressing their questions about college. It considers various aspects such as students' grades, interests, extracurricular activities, and preferences to provide personalized advice and guidance.
Universis is more than just an AI chat tool. It extends its support through additional features like Essay Review. This tool helps students enhance their writing by analyzing their college essays and providing feedback. Another noteworthy feature is the Search Latest feature. This allows students to stay updated on application deadlines, testing dates, and the latest college requirements.
While the College Picker feature is not yet available, it's on the horizon, making Universis a constantly evolving and improving tool. Universis's growth and excellence are evident in the positive testimonials from its users, such as Aryan Kumar, a student at Cornell.
In summary, Universis is a comprehensive AI tool that is transforming the college admission process. Its personalized guidance, essay improvement tools, and up-to-date college information can make a significant difference to students navigating their college journey.
Tell the world Universis has been featured on NaNAI.tools:
Universis Reviews
What's your experience with Universis?
There are no reviews yet.
Related AI tools to Universis