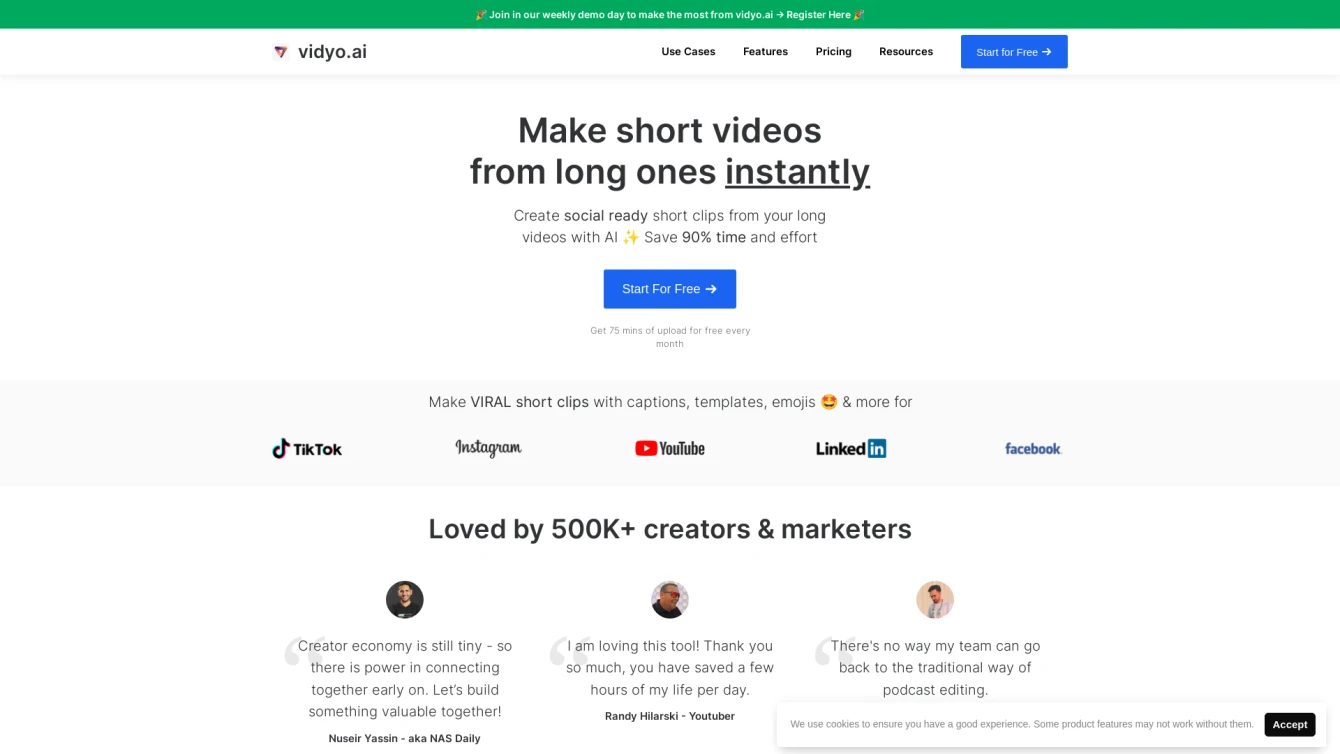 Transforming long-form content into shareable snippets effortlessly.
Product information and features
Explore the capabilities of Vidyo.ai, an AI tool that serves as a content repurposing hub. It's designed to transform in-depth podcasts and lengthy videos into bite-sized, shareable snippets tailored for various social media channels like TikTok, Reels, and Shorts.
Vidyo.ai simplifies the entire repurposing process with features such as AI Captions, video resizing, video clipping, auto video chapters, and a range of social media templates. These functionalities help content creators to save their precious time and boost their online presence significantly by repurposing their content for multiple platforms.
Furthermore, Vidyo.ai offers a plethora of templates and resources to assist users in crafting high-performing, visually captivating videos. The platform's AI technology enhances user experience by automatically selecting, editing, and captioning the most engaging moments from their videos. Users also have the freedom to customize their videos by adjusting colors, fonts, subtitles, and more. Additionally, Vidyo.ai provides 1080P downloads for superior quality content.
vidyo.ai is a versatile tool that empowers content creators to maximize their content reach. It's an ideal solution for content marketers, video creators, podcasters, and agencies aiming to rapidly and efficiently expand their online presence.
In summary, Vidyo.ai is an AI tool that makes content repurposing simple and efficient. It offers a variety of features like AI Captions, video resizing, and video clipping. It's a great asset for content creators looking to increase their online presence by repurposing their content across different platforms. With its AI capabilities, it can automatically select and edit top moments from videos, making it an invaluable tool for content creators.
Tell the world Vidyo has been featured on NaNAI.tools:
Vidyo Reviews
What's your experience with Vidyo?
There are no reviews yet.
Related AI tools to Vidyo