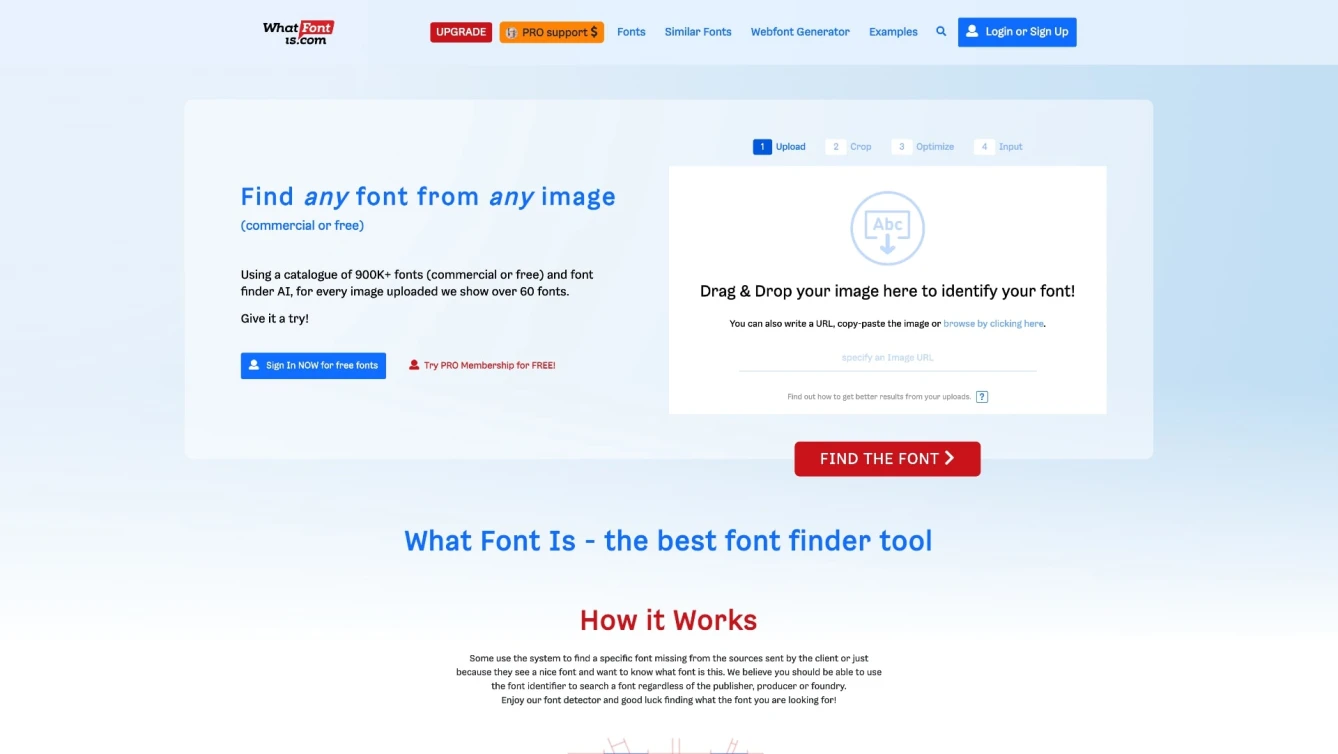 Uncover the identity of fonts from any image with ease.
Product information and features
Discover the mystery behind each font with the Font Finder tool by What Font Is. This AI tool is your secret weapon to uncover the identity of fonts from any image. With its extensive catalogue of over 900,000 indexed fonts, both commercial and free, finding the perfect match becomes a breeze.
Just by uploading an image and choosing the desired font, the What font is Font Finder AI springs into action, offering more than 60 similar fonts available for download or purchase. The advanced AI technology ensures a 90% success rate in font recognition. The remaining 10% usually falls short due to low-quality images.
Regardless of the publisher, producer, or foundry, this AI tool can detect fonts, making it effortless to locate a specific font from a client's supplied sources or identify an eye-catching font from an image. The user-friendly interface allows for image cropping, optimization, and then inputs to fetch results.
Font Finder also boasts unique features such as a web font generator and an image editor for letter splitting and brightness adjustment. Not to forget, it also offers a search-by-price function to help you filter fonts based on your budget.
Whether you are a designer, a marketer, or anyone regularly dealing with fonts and needing a reliable way to identify them, Font Finder is your go-to tool. With its large font database and advanced AI capabilities, it stands as one of the top choices for font identification.
In summary, the What font is tool is a powerful AI tool that provides a comprehensive solution for font identification from images. It is not just its extensive font catalogue that makes it a standout, but also its user-friendly interface, advanced features like search-by-price, and superior AI capabilities. No matter the use case, be it for design work or marketing needs, this tool can prove to be an invaluable asset. Is this the perfect font finder?
What the Font?
Tell the world Font Finder by What Font is has been featured on NaNAI.tools:
Font Finder by What Font is Reviews
What's your experience with Font Finder by What Font is?
There are no reviews yet.
Related AI tools to Font Finder by What Font is