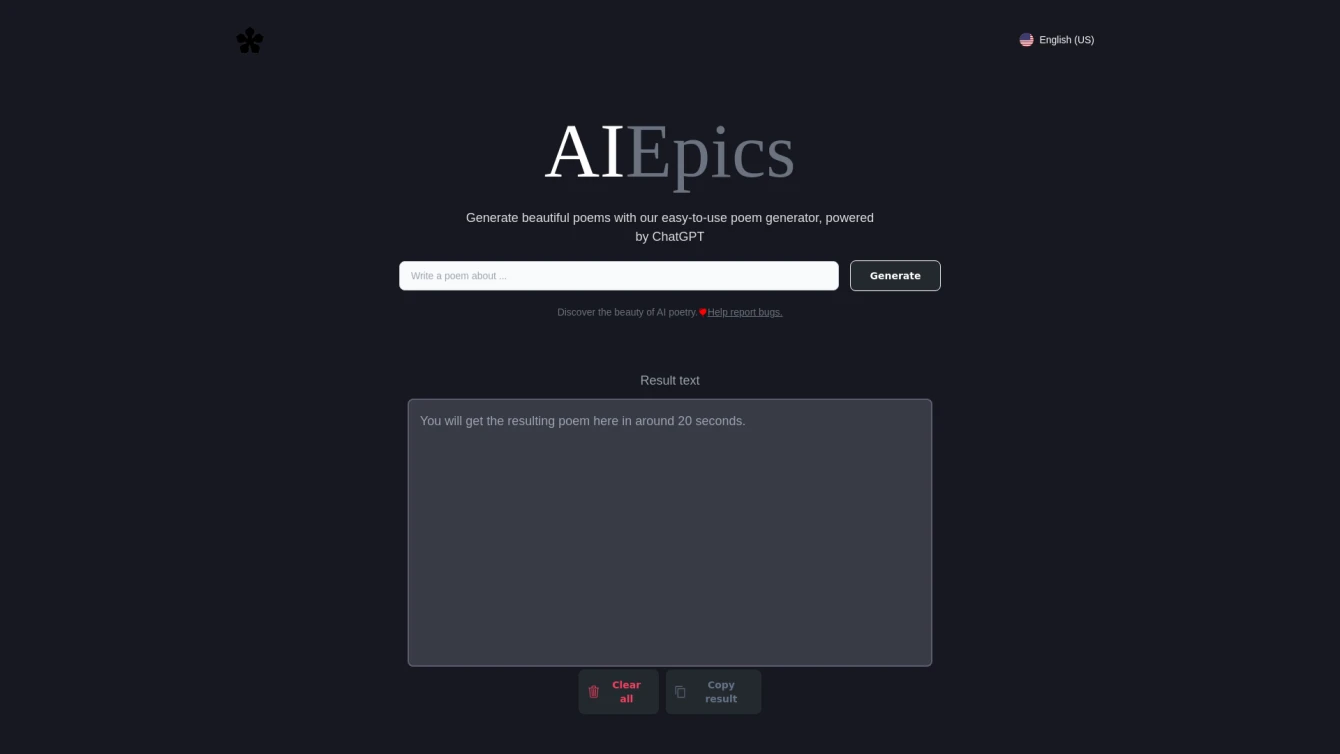 Crafting Unique, Copyright-free Poems with the Power of AI.
Product information and features
Introducing AIEpics, an AI tool that revolutionizes the realm of poetry creation. This AI tool crafts unique and copyright-free poems by harnessing the power of OpenAI's ChatGPT model, trained meticulously on a specialized poetry dataset.
Simply input your desired subject or keywords and watch as AIEpics transforms them into a captivating, rhyme-laden poem. The best part? No login is required, and access to this phenomenal resource is completely free. Driven by a commitment to advancing writing with AI technology, AIEpics aims to make this tool accessible to all.
With every poem created by AIEpics, you can be assured of its uniqueness. Each piece of verse is an authentic, AI-generated creation, not a reproduction or a plagiarized version of an existing work. As such, they are devoid of copyright constraints and can be utilized for both commercial and non-commercial purposes.
AIEpics also encourages users to report any glitches experienced while using the tool, ensuring a constantly improving user experience. AIEpics provides a convenient and efficient pathway for you to generate original poems.
In summary, AIEpics, utilizing AI technology, offers a fresh take on poetry creation while ensuring plagiarism-free and copyright-free content. Whether you are looking for a unique piece of verse for a special occasion or generating content for commercial use, AIEpics can help you create something truly unique and personal.
Tell the world AIEpics has been featured on NaNAI.tools:
AIEpics Reviews
What's your experience with AIEpics?
There are no reviews yet.
Related AI tools to AIEpics