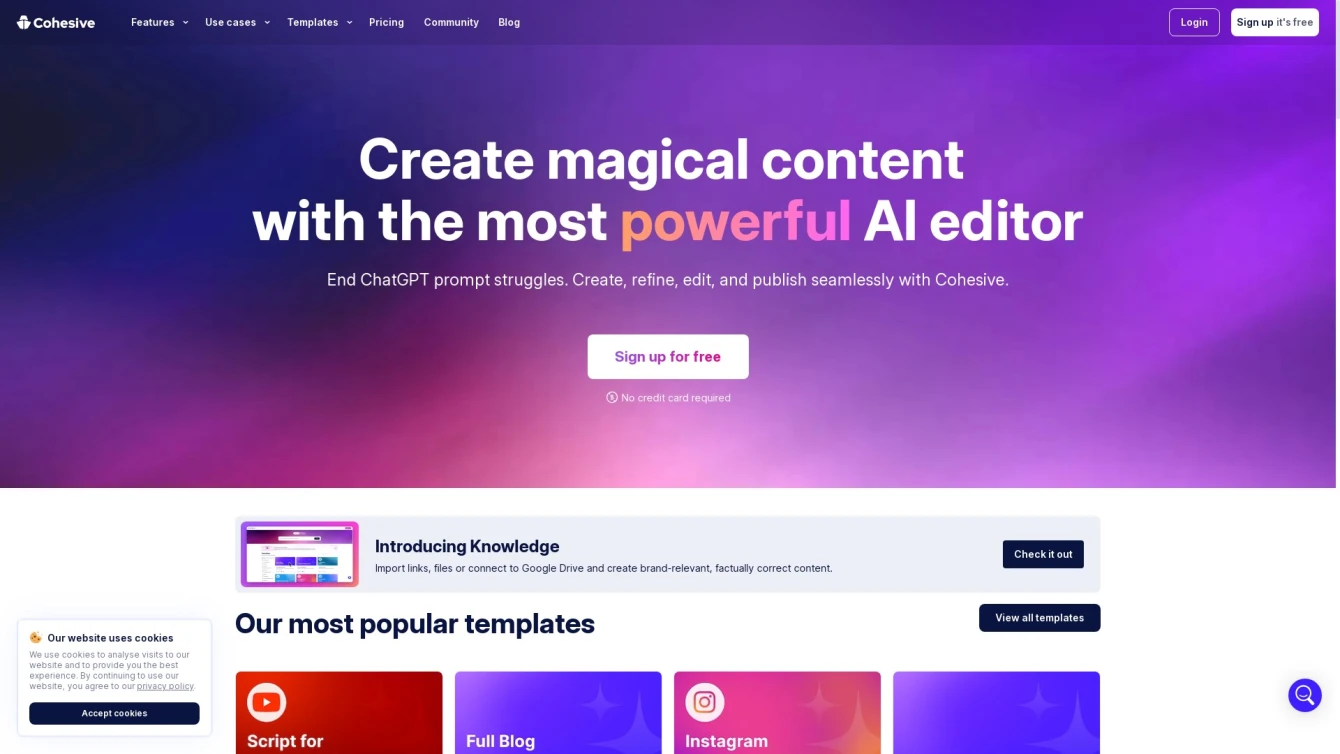 Accelerating Content Creation with Advanced AI Capabilities.
Product information and features
Unleashing your creativity and accelerating your content creation process becomes easier with Cohesive, an AI tool. With more than 50 templates available, you can create a wide array of content ranging from SEO-focused blogs, engaging LinkedIn posts, compelling Instagram captions to crisp Twitter tweets and effective presentation slides.
The AI tool developed by cohesive.so ensures you produce top-notch content 13 times faster than traditional methods. It does not just help in drafting but also refining and editing your work, ensuring precision and engagement. The tool's integrated AI editor assists with text edits, image selection, and language translations, optimizing your content for maximum conversion.
Collaboration has never been easier. Cohesive supports real-time teamwork, allowing alignment and adherence to timelines, ensuring no missed deadlines. This makes it an invaluable asset for teams, especially in a remote work setup.
What's more, Cohesive seamlessly integrates with well-known platforms such as Gmail, Twitter, LinkedIn, and Medium. This feature allows you to work without restrictions, making it an extremely flexible tool.
Cohesive is not confined to a single field. Whether it's marketing, sales, customer support, or personal use, this AI tool can be utilized effectively. It guarantees superior AI-generated content that optimizes marketing ROI, boosts sales performance, and enables swift customer support through AI-driven conversations.
In summary, Cohesive is a comprehensive AI tool designed to simplify and accelerate the content creation process. With its advanced editing, seamless collaboration, and integrated features, it promotes a productive and efficient creative process. Regardless of the field or platform, Cohesive ensures the delivery of high-quality content that stands out.
Tell the world Cohesive has been featured on NaNAI.tools:
Cohesive Reviews
What's your experience with Cohesive?
There are no reviews yet.
Related AI tools to Cohesive