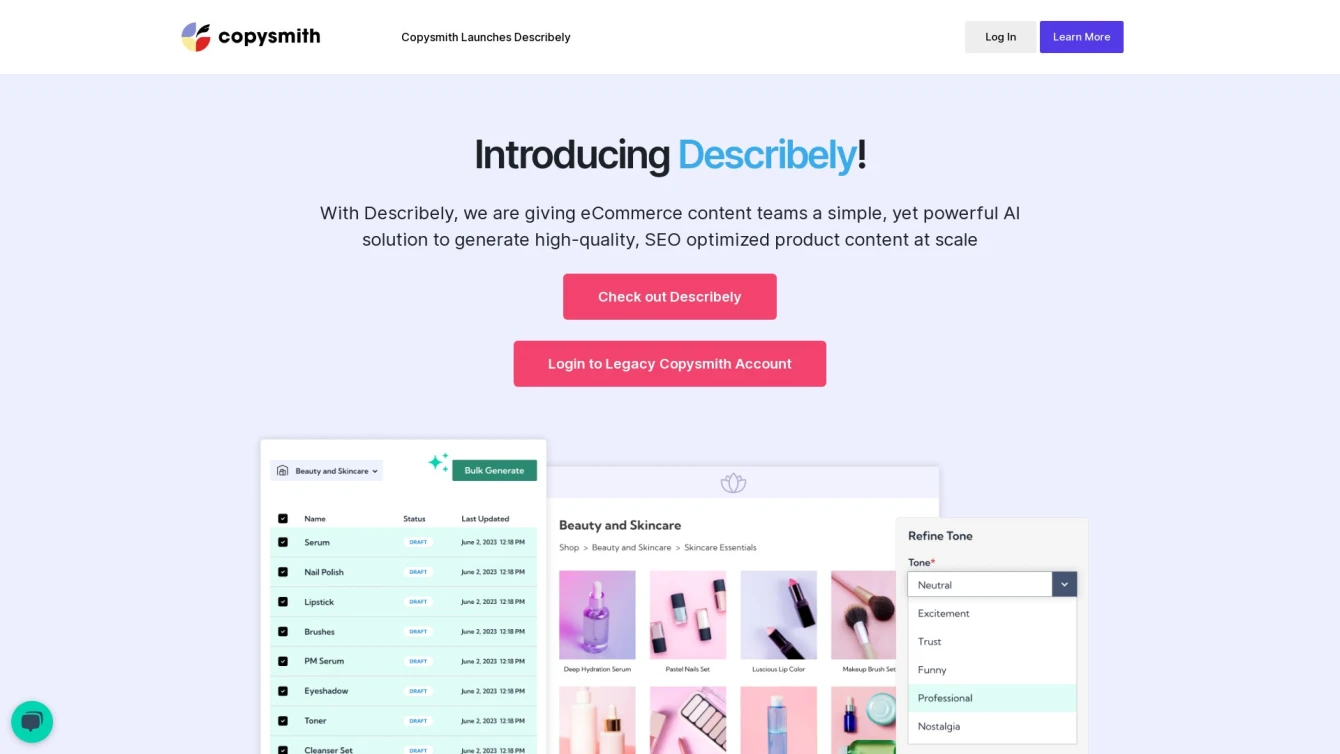 Revolutionizing content creation with AI for enterprise and ecommerce businesses.
Product information and features
Meet Copysmith, an AI tool crafted to serve the needs of both enterprise and ecommerce businesses in boosting their online visibility. It comes loaded with an array of features tailored to ramp up your online revenue generation capabilities.
copysmith.ai provides an easily integrated API and a Chrome Extension, making it a breeze to incorporate into your existing systems. It stands out with its bulk content and product description generation functionality, ensuring quick and efficient content creation for your business.
Apart from text, the tool also delivers in the visual content department with its AI image generator. It's equipped with a campaign builder, further enabling your business to create appealing visuals that complement your content.
This AI tool offers a variety of use cases, including product descriptions, content enhancement, ads and social media, blog templates, and brainstorming. These features are designed with a singular focus - to help you create compelling content effortlessly and rapidly, freeing up your time to concentrate on other crucial aspects of your business.
With a well-structured pricing page, a dedicated customers' page, and a regularly updated blog page, Copysmith ensures that you have all the information you need at your fingertips.
In summary, Copysmith is a comprehensive AI tool designed to meet all your content creation needs. It simplifies the process of generating product descriptions, enhancing content, creating ads, and brainstorming ideas. Its easy integration, quick content generation, and ability to create visually appealing content make it a valuable asset for any enterprise or ecommerce business.
Tell the world Copysmith has been featured on NaNAI.tools:
Copysmith Reviews
What's your experience with Copysmith?
There are no reviews yet.
Related AI tools to Copysmith