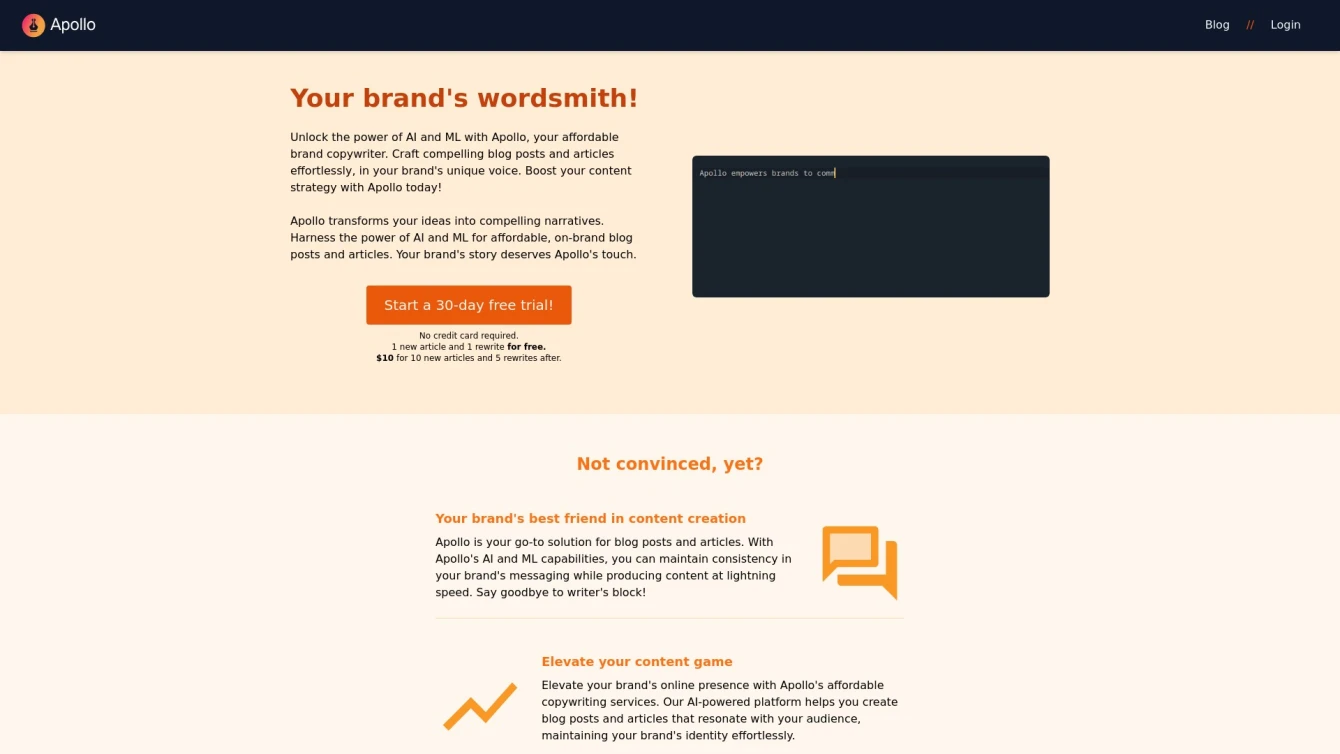 Crafting compelling brand narratives with the power of AI.
Product information and features
Immerse yourself in the power of AI with Apollo Writes, an AI tool that provides cost-effective copywriting services suited for your brand's blog posts and articles. This tool harnesses the strength of artificial intelligence and machine learning to craft content that embodies your brand's unique voice swiftly and easily.
apollowrites.com empowers your brand to communicate effectively, boosting your online presence through captivating stories. The tool ensures the preservation of your brand's consistent messaging, offering a solution to the dreaded writer's block and enabling the production of content at an unprecedented speed.
With Apollo Writes, the process of creating blog posts and articles becomes a breeze. This AI tool allows you to channel your energy into the substance and creativity of your brand's message. Use the 30-day free trial, complete with a new article and a rewrite, without any credit card requirements.
Once the trial period ends, you can continue to enjoy Apollo Writes services at a rate of $10 for 10 new articles and 5 rewrites. These content pieces vary from 600 to 1200 words each. The tool is dedicated to preserving your brand's voice and identity throughout the content creation process.
In addition to these features, Apollo Writes offers access to terms and privacy information, as well as a status page for technical updates and support. This AI tool is more than just a writing service, it's a partner in crafting compelling and on-brand blog posts and articles.
In summary, Apollo Writes is an AI tool that provides affordable copywriting services. It aids in maintaining brand consistency while creating engaging blog posts and articles at high speed. This tool can be invaluable in elevating your brand's online presence and effectively communicating your brand's message.
Tell the world Apollo Writes has been featured on NaNAI.tools:
Apollo Writes Reviews
What's your experience with Apollo Writes?
There are no reviews yet.
Related AI tools to Apollo Writes