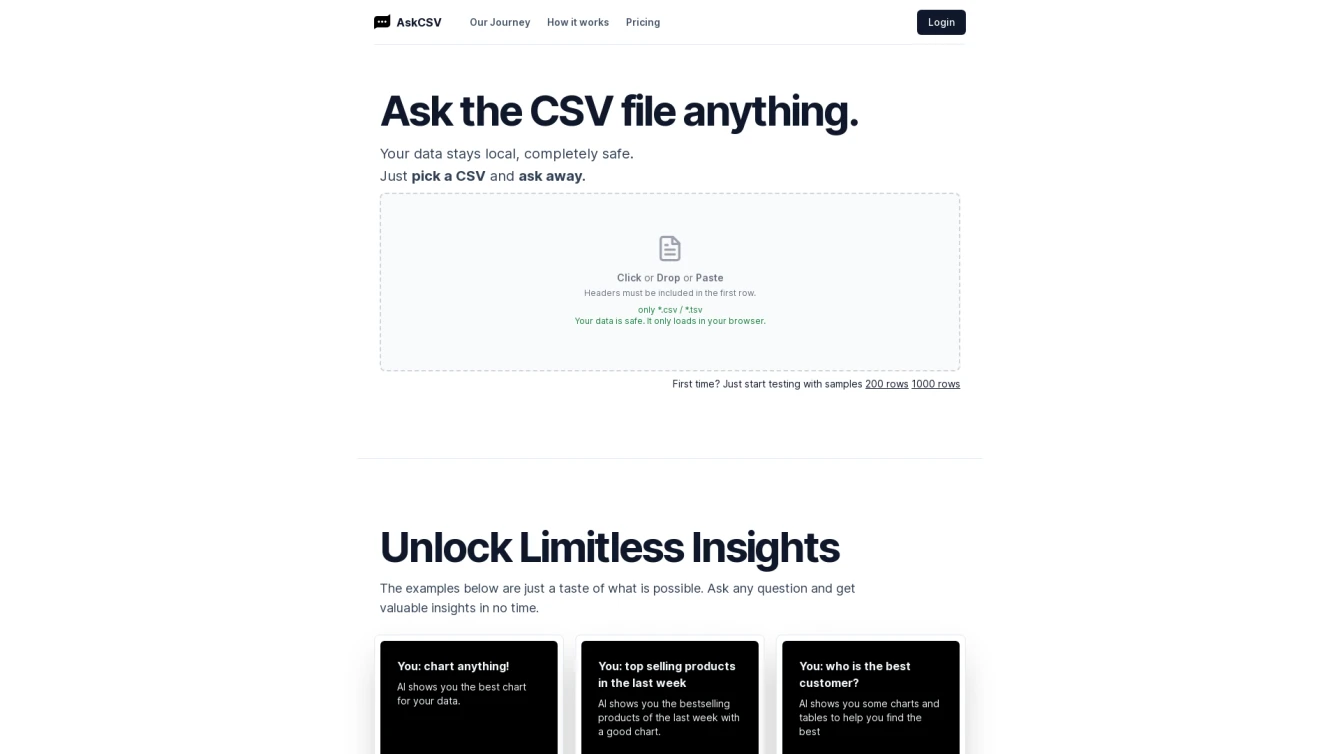 Effortlessly Explore and Visualize Your Data.
Product information and features
Unleash the power of data analysis with the AskCSV AI tool. This tool empowers you to examine data contained in CSV or TSV files effortlessly. With its intuitive interface and straightforward instructions, you can delve into your data and gain insights in mere moments, regardless of your level of expertise.
AskCSV.com enables you to execute a wide range of data analyses. Discover your top-selling products, identify frequently purchased items, or determine the efficacy of various marketing campaigns by comparing their return on investment (ROI). The possibilities are endless and only limited by your data.
The AI tool does more than just crunch numbers. It aids in identifying the optimal chart for your data, simplifying the process of data visualization. Additionally, AskCSV takes data privacy seriously, processing CSV files directly in your browser's memory to avoid unnecessary server uploads.
Designed with robust safeguards, AskCSV ensures data and privacy protection, preventing unauthorized access or misuse of your data. It's an ideal solution for anyone looking to delve into data analysis without the need for extensive time or effort investment.
A unique feature of AskCSV is its broad compatibility. It works with any browser and is compatible with CSV and TSV files, making it a universally accessible solution. In summary, AskCSV is a user-friendly, secure, and efficient AI tool that facilitates in-depth data analysis and visualization. It can be used for a variety of purposes, from business analytics to personal data examination. It's designed to help you find answers to your pressing questions and make data-driven decisions with ease.
Tell the world AskCSV has been featured on NaNAI.tools:
AskCSV Reviews
What's your experience with AskCSV?
There are no reviews yet.
Related AI tools to AskCSV