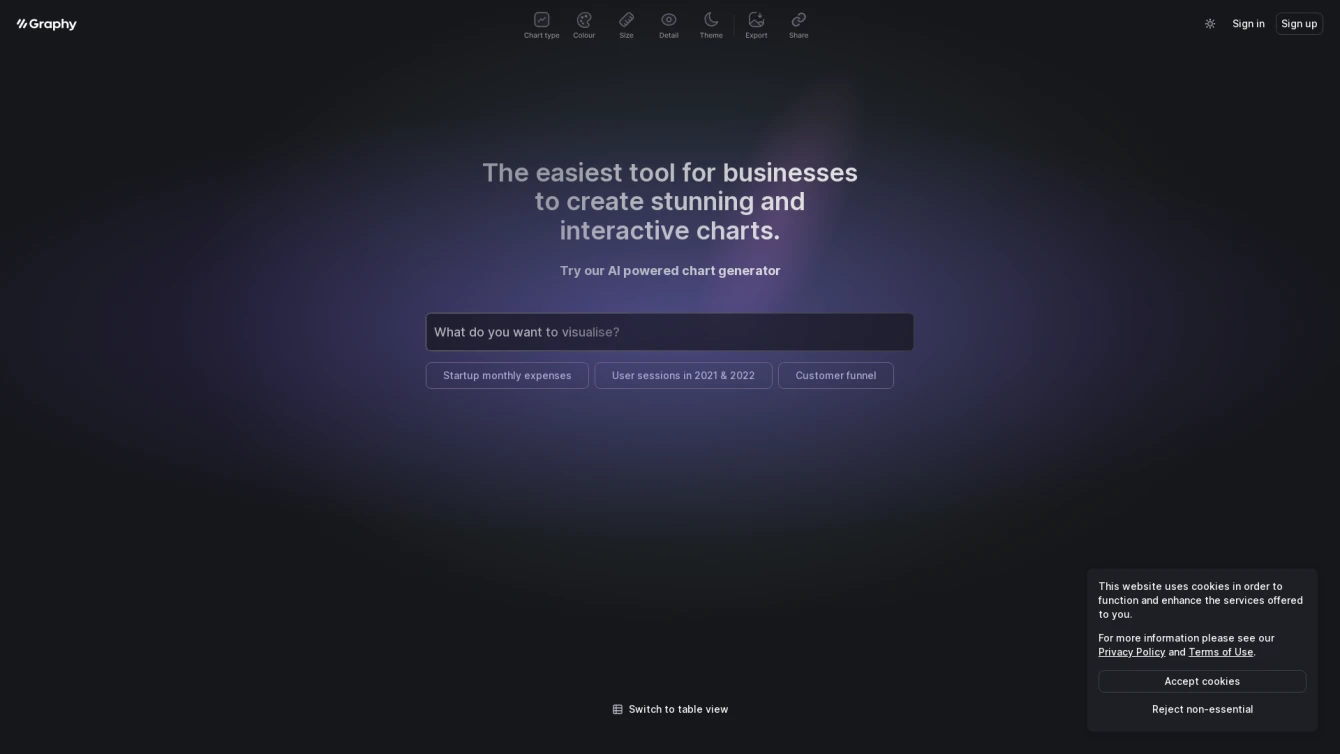 Transforming data into visually engaging charts with ease.
Product information and features
Experience the power of data visualization with the AI tool, Graphy. This free chart-making solution empowers businesses to generate engaging, interactive, and aesthetic data visuals with ease. You don't need to be a tech guru to use this tool, thanks to its intuitive interface and user-friendly design.
From Graphy, you can easily embed your charts into various platforms, including Notion and your favorite applications. This feature enables you to present your data in a visually captivating way, enhancing communication and understanding within your business.
With Graphy, you get a wide array of chart options to perfectly suit your data type. Whether it's startup monthly costs, user sessions over specific periods, or customer funnel analysis, this tool has got you covered. It even offers a table view option for a more straightforward data representation.
Graphy prioritizes your convenience, allowing you to save time and resources that would otherwise be spent on manual chart creation or hiring specialized personnel. Its AI capabilities assist in generating charts swiftly and accurately, ensuring you get the best results every time.
Summarily, Graphy is a highly efficient and user-friendly data visualization tool. Its main features include a range of chart options, an intuitive interface, and AI-powered capabilities. It's perfect for businesses looking to present their data effectively, glean insights, and make data-driven decisions. Graphy is your go-to tool for creating visually impactful data visualizations that speak volumes.
Tell the world Graphy has been featured on NaNAI.tools:
Graphy Reviews
What's your experience with Graphy?
Related AI tools to Graphy