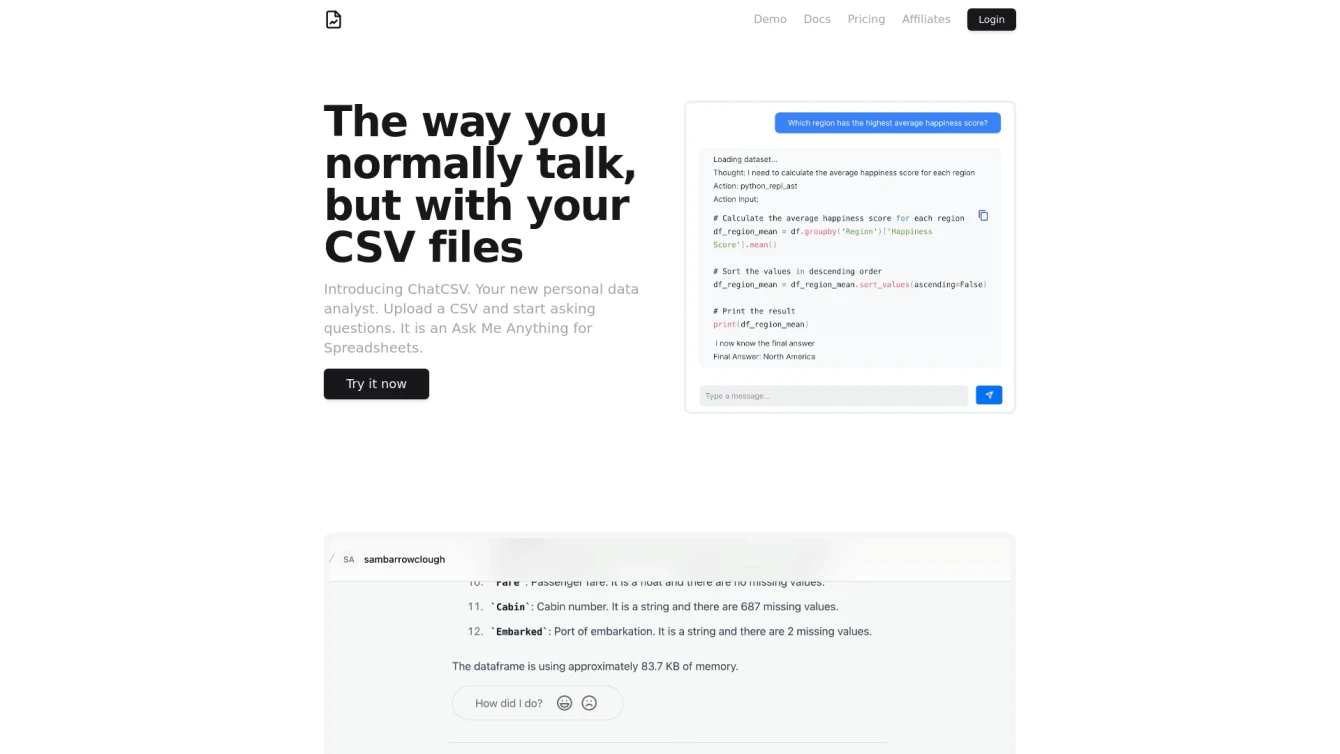 Converse with your CSV data, gain insights effortlessly.
Product information and features
Unlock the potential of your CSV files with the ChatCSV AI tool. It's an interactive platform designed to help you derive insights from your CSV files. By allowing you to ask questions directly to your data, it brings a new layer of accessibility to your data analysis process.
Upload CSV files directly from your device, or via URL, and begin a dialogue with your data. To streamline your analysis, ChatCSV.com generates commonly asked questions related to your data set. Visual responses in the form of charts further simplify your data interpretation, providing you with valuable insights at a glance.
With ChatCSV, you can keep track of your past conversations with your data. This feature enables you to manage your discussions effectively, offering options to rename, delete, or share them. It's a versatile tool that finds applications in various sectors including retail, finance, and marketing.
Users across these industries leverage ChatCSV to understand trends, analyze customer behavior, manage inventory, evaluate financial transactions, scrutinize marketing campaigns, and much more. ChatCSV is lauded for its user-friendly interface and robust features that simplify data analysis.
The tool also offers a free plan and a flexible subscription plan that you can cancel anytime, making it a cost-effective solution for your data analysis needs. Although it's not mentioned whether a white-label option is available, it's worth exploring.
In summary, ChatCSV is an intuitive, conversational AI tool that takes the complexity out of understanding your CSV data. It's packed with features that enable you to converse with your data, track your conversations, and share insights with your team. Try the demo today and see how ChatCSV can elevate your data analysis process.
Tell the world ChatCSV has been featured on NaNAI.tools:
ChatCSV Reviews
What's your experience with ChatCSV?
There are no reviews yet.
Related AI tools to ChatCSV