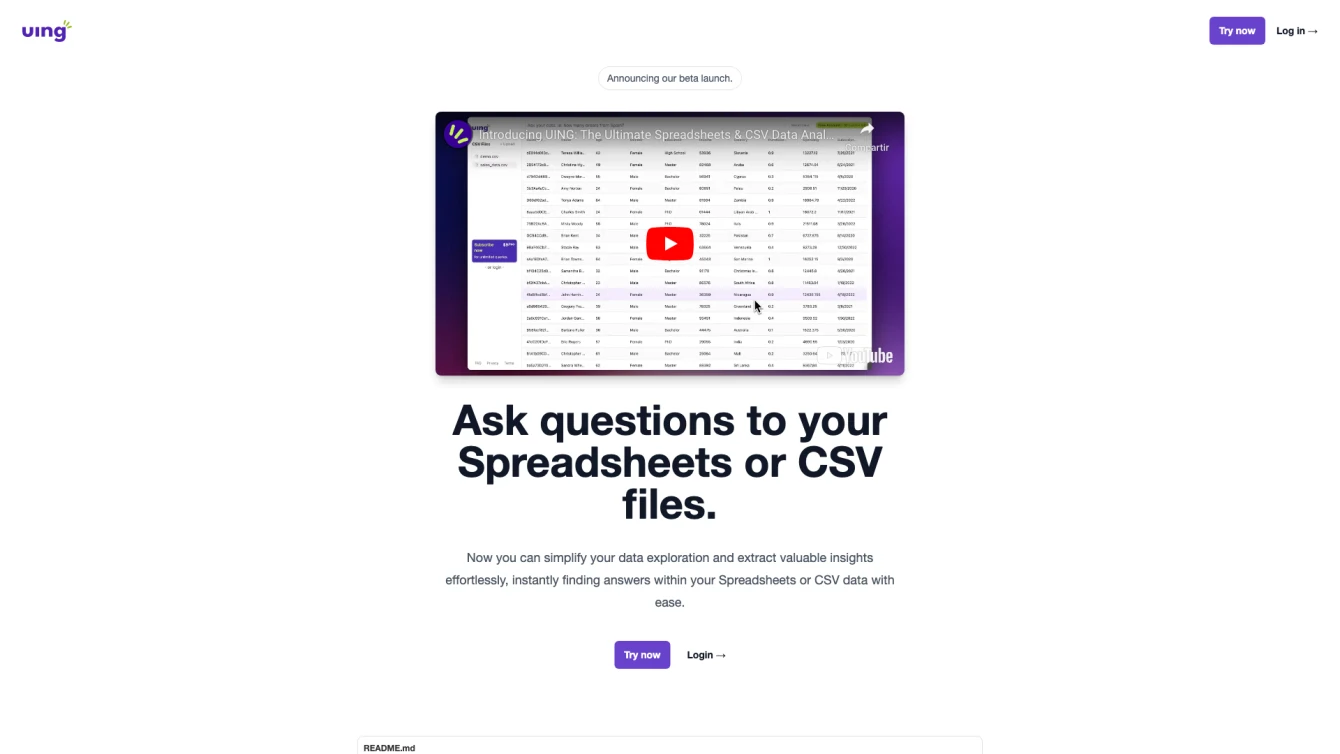 Simplifying CSV data analysis with intuitive AI.
Product information and features
Optimize your data analysis process with Uing, an AI tool that specializes in interpreting CSV data. Uing.com allows you to delve deep into your data and uncover valuable insights without the necessity of manual manipulation. This tool is designed to answer your data-related queries in plain English, thus removing the complexities typically associated with data analysis.
With Uing, you get an intuitive interface that simplifies the process of finding answers within your CSV data. The AI tool is equipped with a host of features to ensure an enhanced user experience. The login feature ensures personalized access to your data, while the comprehensive FAQ section provides answers to all your data analysis queries. The crystal-clear privacy policy and terms of service ensure that you are fully informed about how your data is handled and the tool's usage guidelines.
In its beta launch phase, Uing is actively seeking feedback from users to further refine its features and functions, displaying its commitment towards continuous improvement and user satisfaction. The AI tool aims to be a user-friendly solution that simplifies CSV data analysis and provides valuable insights effortlessly.
In summary, Uing is a versatile AI tool that simplifies CSV data analysis. It provides an intuitive interface, personalized data access, and clear guidelines, ensuring that you understand your data better and make informed decisions. Whether you need to explore data trends, generate reports, or just want to understand your data, Uing is your go-to solution.
Tell the world Uing has been featured on NaNAI.tools:
Uing Reviews
What's your experience with Uing?
There are no reviews yet.