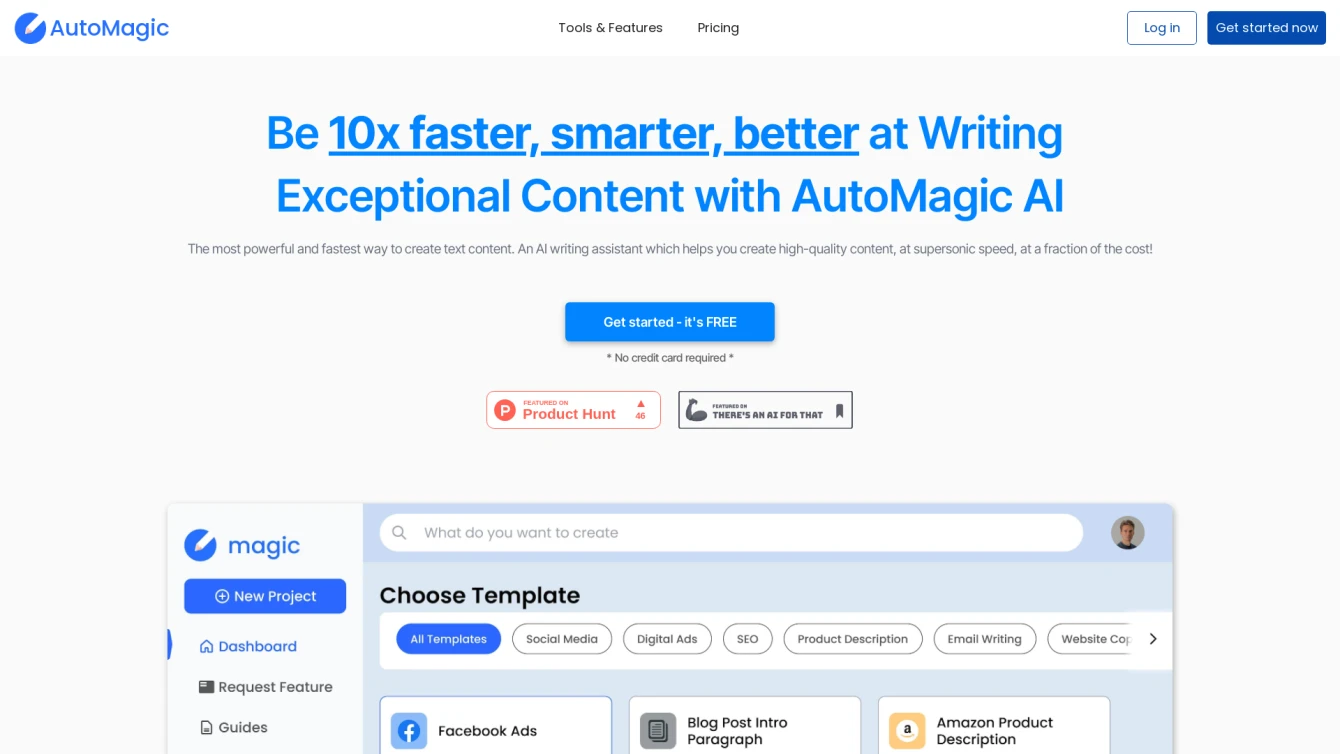 Revolutionizing Content Creation with AI Power.
Product information and features
Meet AutoMagic, an AI tool designed to revolutionize the way you create diverse content. This AI tool simplifies your work by enabling you to produce top-notch, captivating content such as text, pitch decks, and transcriptions without breaking a sweat.
AutoMagic aims to make life easier for bloggers, marketers, entrepreneurs, and business professionals. Imagine being able to generate innovative content ideas, optimize your web pages, and create compelling social media ads in a blink of an eye. AutoMagic has an array of features that allow you to do just that.
The AI Writing Assistant delivers SEO-friendly, captivating content. If you're looking to create a succinct, eye-catching elevator pitch, the Startup Pitch Maker has got you covered. Furthermore, AutoMagic's Content Workflow maps out your blogs, social media posts, essays, and more, providing a clear, efficient content creation path.
As a writer, you'll appreciate the Blog Topic Maker, Bullet Point to Paragraph Transformer, and Blog Writer. Within minutes, you can churn out engaging, reader-friendly, SEO-friendly blog posts. For entrepreneurs, AutoMagic offers a variety of tools, including the Elevator Pitch Deck Writer, Job Description Writer, and Press Release Script Writer.
For the e-commerce world, AutoMagic offers the Product Name Maker, Product Description Writer, Product Feature Writer, and Product Review Writer. These tools are designed to help you craft appealing product names, descriptions, features, and reviews.
In summary, AutoMagic is a robust AI tool that makes content creation easy. Its reliable AI algorithms and workflows are a game-changer for anyone looking to simplify their content creation process. Whether you're a blogger, marketer, or entrepreneur, AutoMagic has the tools you need to create compelling, unique content that converts and stands out.
Tell the world AutoMagic has been featured on NaNAI.tools:
AutoMagic Reviews
What's your experience with AutoMagic?
There are no reviews yet.
Related AI tools to AutoMagic