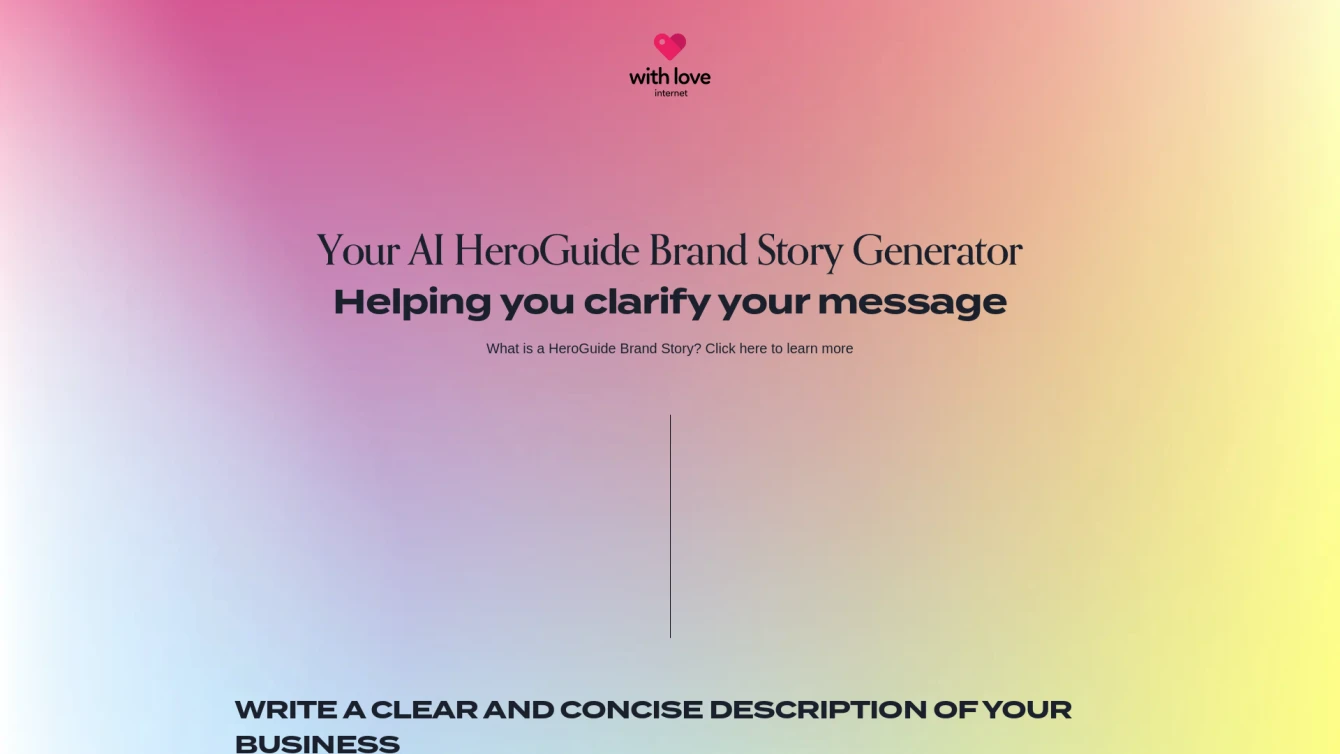 Crafting your brand's story, one script at a time.
Product information and features
Unveil the power of a precise and compelling message with AI HeroGuide BrandScript Generator, an AI tool developed by With Love Internet LTD. This unique platform guides you to create and refine your brand's voice using the StoryBrand methodology, allowing your business to effectively convey its unique value proposition to your audience.
Despite using the StoryBrand methodology, it's important to note that this AI tool isn't affiliated with, connected to, or partnered with StoryBrand or Donald Miller Words, LLC. The utilization of the StoryBrand name is solely for reference and identification purposes.
The BrandScript Generator offers a user-friendly interface, enabling you to craft a clear, concise brand description. Whether you're a startup struggling with your initial message or an established business looking to rebrand, this tool is designed to simplify that process for you.
With Love Internet LTD, the creator of this tool, operates the brandscriptgenerator.com platform, ensuring a seamless user experience. They've developed this tool with the intention of providing businesses with an invaluable resource to enhance their messaging strategy.
In summary, the BrandScript Generator is an AI tool that assists businesses in articulating their brand message by generating a StoryBrand BrandScript. It empowers businesses to communicate their unique value proposition effectively, making it an essential asset for any business aiming to refine their brand messaging.
Tell the world BrandScript Generator has been featured on NaNAI.tools:
BrandScript Generator Reviews
What's your experience with BrandScript Generator?
There are no reviews yet.
Related AI tools to BrandScript Generator