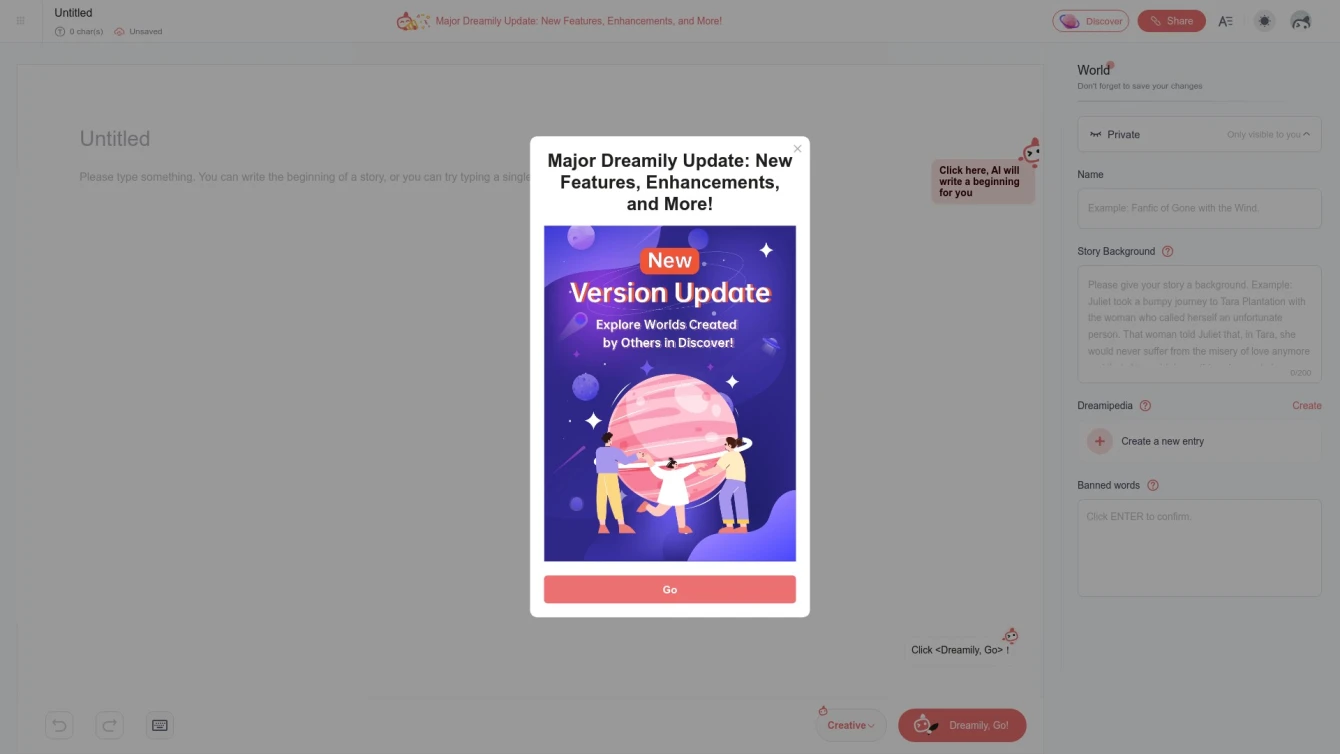 Simplifying Story Creation with AI-powered Assistance.
Product information and features
Immerse yourself in the world of story creation with the Dreamily, an AI tool designed to streamline your writing process. This tool effortlessly assists in the construction of narratives, allowing you to control the length of each step by defining the word count. You also have the option to enable or disable the AI's sentence completion feature, providing you with the flexibility to fine-tune your story as you see fit.
The AI tool's unique feature, Dreamipedia, acts as a database for your characters, documenting their genders, life states, and relationships. This feature ensures you maintain consistency throughout your narrative. Moreover, the Banned Words feature allows you to exclude certain words from the AI's text generation, giving you more control over your story's language use.
Dreamily also allows prompt switching between different cards like 'Unsupported Language' or 'Server Error' to ensure compliance with online content regulations. While the tool takes a few moments to compose, it significantly simplifies the story-crafting process, making it a valuable resource for any writer.
In summary, Dreamily is a versatile AI tool that offers a range of features to support and enhance your writing process. The ability to control word count, manage character information, exclude certain words, and ensure content compliance makes it a comprehensive solution for writers. Whether you are a novice or an experienced writer, Dreamily can help streamline your writing process, allowing you to focus more on the creative aspect of your story.
Tell the world Dreamily has been featured on NaNAI.tools:
Dreamily Reviews
What's your experience with Dreamily?
There are no reviews yet.
Related AI tools to Dreamily