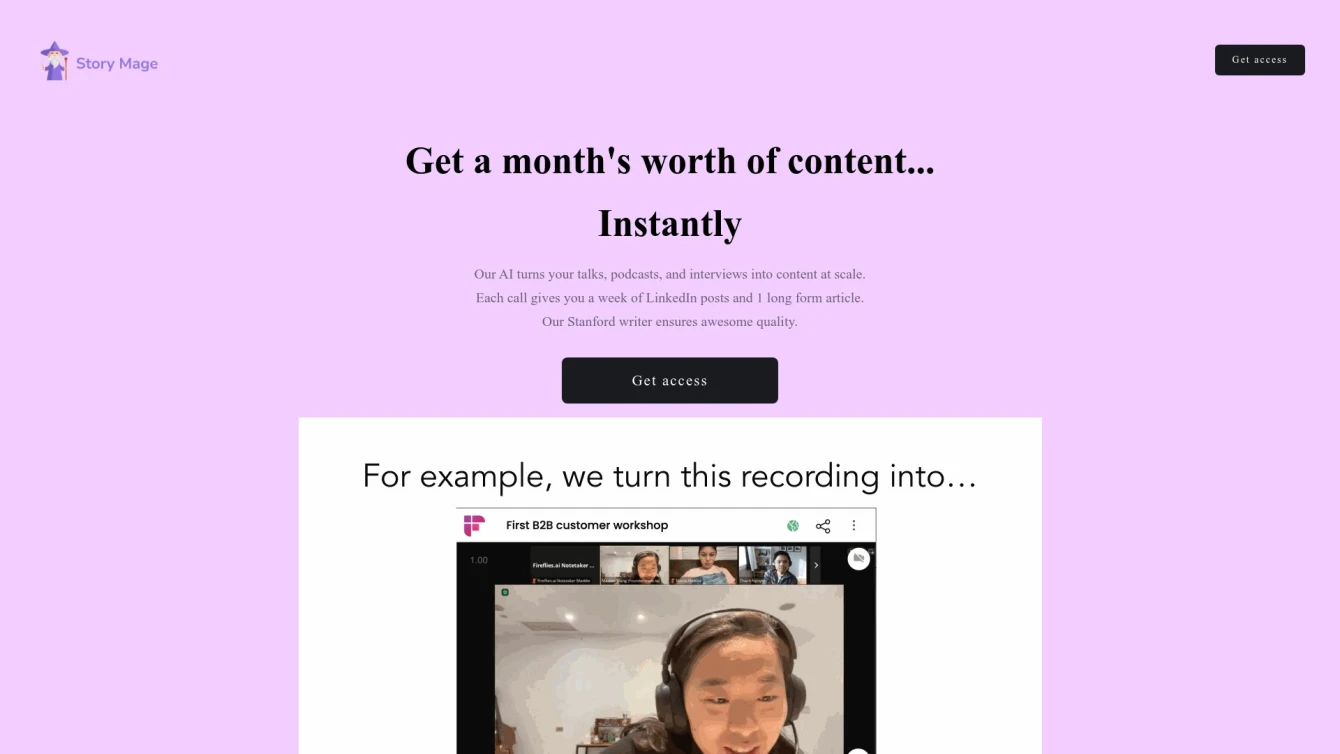 Transforming audio recordings into engaging written content.
Product information and features
Meet Story Mage, the AI tool that transforms audio recordings into engaging written content. Designed to cater to podcasters, agencies, VCs, and coaches, it excels at converting conversations and interviews into LinkedIn posts and blog articles. It's all about increasing your visibility and attracting more inbound leads, and it's made possible by Story Mage's proprietary AI technology.
storymage.ai takes a three-step approach to content creation. It starts by crafting real stories from your recordings. Then, it scales up this process with the power of AI, before a professional writer from Stanford University steps in to add the final touches. The result is a steady stream of high-quality content for your daily posts.
Professionals from various fields, including top podcasters and coaches, are already leveraging Story Mage to their benefit. Not only does it simplify content creation, but it also results in a two to three-fold increase in inbound leads. The tool even comes with a refund guarantee during the first month if you're not satisfied with its performance.
Story Mage was the brainchild of Maddie Wang, founder of Founders Cafe. Originally built to address her own content creation challenges, it has since grown to collaborate with Pear VC, Contrary Capital, and several founder coaches. Its mission is to help professionals who have a backlog of conversations transform them into engaging and informative written content.
In summary, Story Mage is an AI tool that transforms audio recordings into valuable written content for LinkedIn posts and blog articles. By employing AI and a Stanford writer, it ensures the quality of the content. It's an excellent solution for professionals wanting to turn their conversations into written content to enhance engagement and lead generation.
Tell the world Story Mage has been featured on NaNAI.tools:
Story Mage Reviews
What's your experience with Story Mage?
There are no reviews yet.
Related AI tools to Story Mage