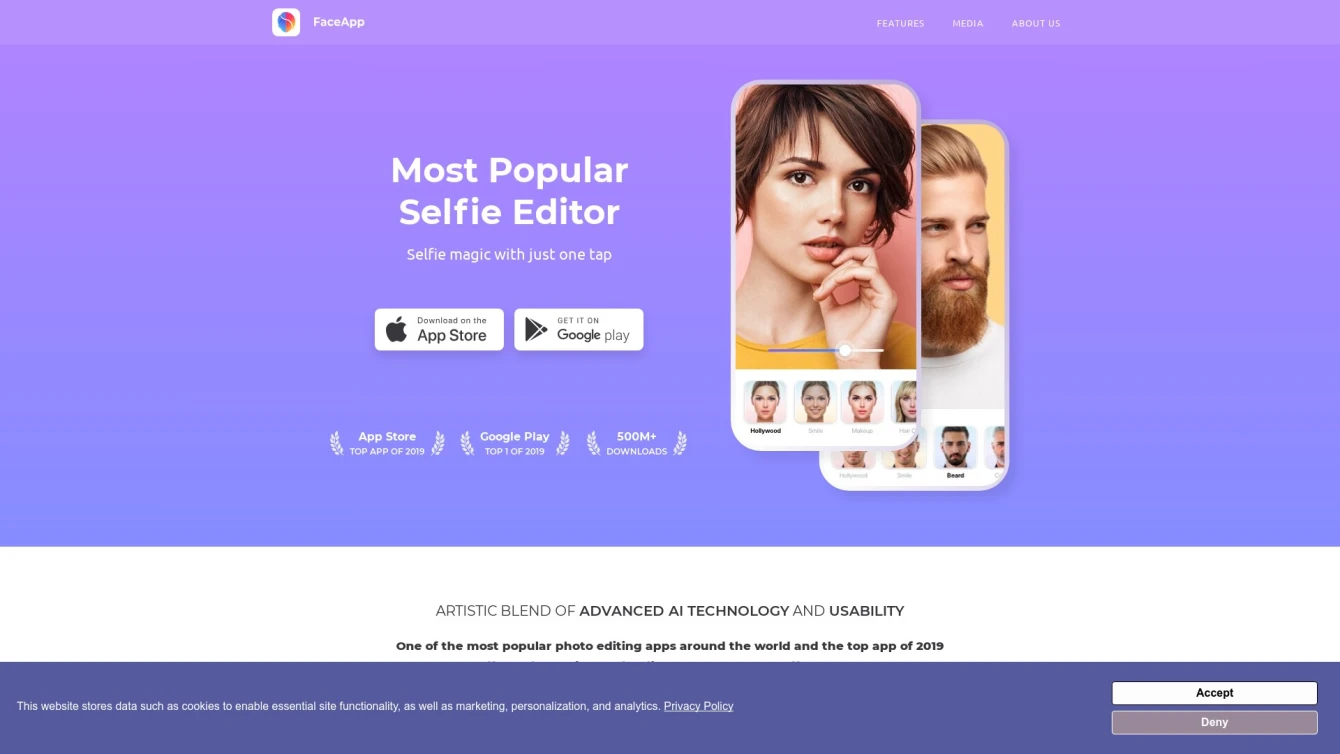 Transforming Photo Editing with Advanced AI Technology.
Product information and features
Experience the power of artificial intelligence with FaceApp, an AI tool that's transforming the world of photo editing. This app, available on both the App Store and Google Play, offers over 60 filters to effortlessly edit portraits. Boasting a staggering 500M+ downloads, it's clear that users globally are enjoying the seamless editing experience that FaceApp provides.
FaceApp's commanding presence in the app market is demonstrated by its ranking as the #1 free iPhone app in 154 countries and the top Google Play app in 99 out of 101 countries in 2019. The AI tool offers a plethora of features that allow users to transform their faces in a variety of ways. Whether it's enhancing attractiveness, providing realistic makeovers, or aging faces, FaceApp does it all with just one tap.
What sets FaceApp apart is its innovative use of advanced AI technology, perfectly blended with user-friendly design for quick and easy editing. The app also offers a range of novelty filters, adding an element of fun to the photo editing process. This has made FaceApp the go-to choice for many users, resulting in its widespread popularity in 2019.
FaceApp's commendable features and unique approach to photo editing have caught the attention of numerous publications such as Forbes, Vogue, and The New York Times, further cementing its status as a leader in the realm of photo editing apps. Users also have access to a support page and contact information via the FaceApp website, faceapp.com, ensuring complete transparency and assistance whenever required.
In summary, FaceApp is a versatile AI tool that offers a plethora of features for transforming and enhancing photos. It's a great option for users looking for quick, easy, and realistic photo editing. With its combination of advanced AI technology and user-friendly design, FaceApp is revolutionizing the photo editing experience.
Tell the world FaceApp has been featured on NaNAI.tools:
FaceApp Reviews
What's your experience with FaceApp?
There are no reviews yet.
Related AI tools to FaceApp