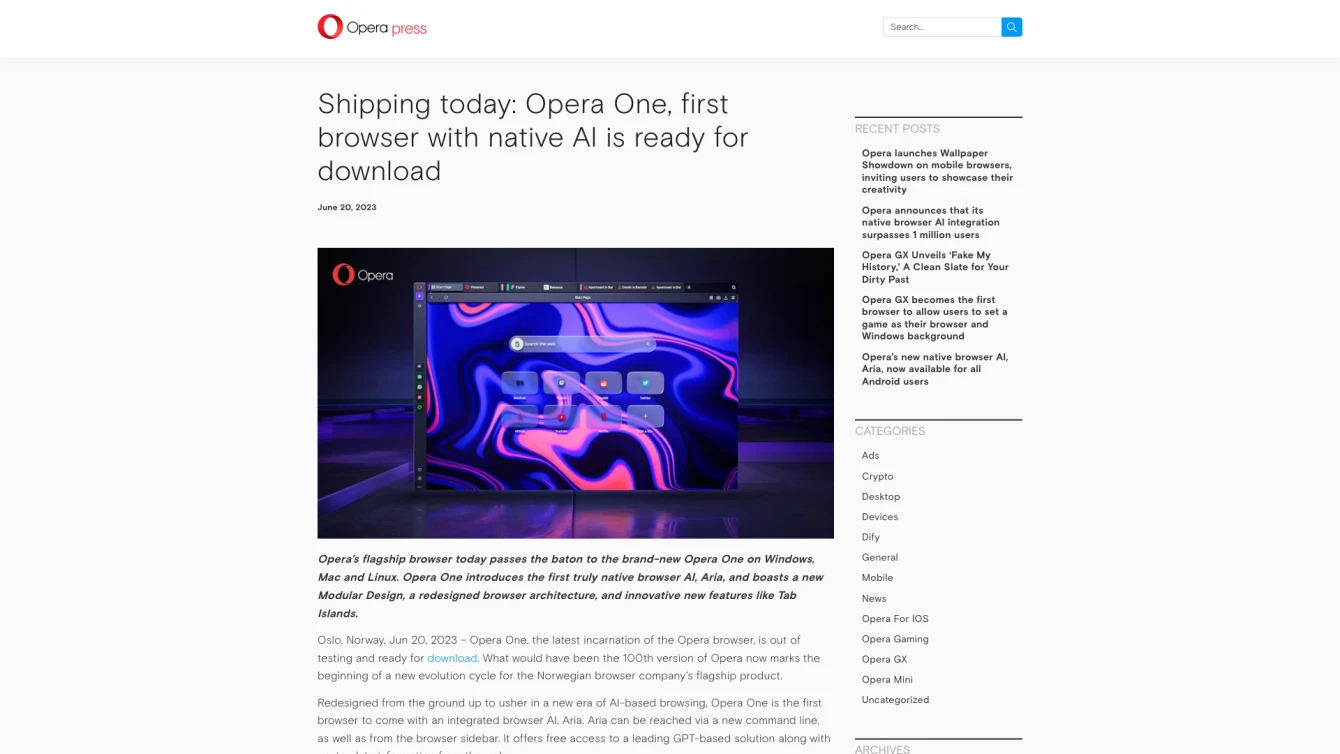 Revolutionizing browsing with integrated AI and intuitive tab management.
Product information and features
Introducing Opera One, a revolutionary browser equipped with an inbuilt AI named Aria, setting a new standard in the browser landscape. Its redesigned interface allows users to access Aria either through a command line or directly from the browser sidebar. This AI tool is backed by OpenAI's robust GPT-based solution, serving up-to-the-minute information from the web.
Opera One has been developed in collaboration with OpenAI. The unique feature of Aria is that it's fortified with additional capabilities, such as presenting live web results. It's proficient at scouring Opera's extensive database of support documentation and utilizes the company's current product knowledge to respond to user queries.
A unique aspect of the AI in Opera One is that it puts control in the hands of the user. Users have the liberty to engage with AI services or opt out of them. OperaOne.ai has also introduced Tab Islands, an innovative feature that organizes related tabs based on context, enhancing user interaction with their tabs. This feature makes it easy for users to differentiate between topics of interest and seamlessly switch between them.
The new modular design of Opera One, coupled with a multithreaded compositor architecture, allows for seamless navigation. The design philosophy empowers Opera to craft a more powerful and feature-rich browser, gearing it up for a generative AI-centric future.
In summary, Opera One is an avant-garde browser designed for those seeking an improved browsing experience. With a user-controlled AI and intuitive tab management, it offers a unique browsing experience. It's a powerful tool that combines AI capabilities with a robust browser, presenting users with a browser that's ready for the future of web browsing.
Tell the world Opera One has been featured on NaNAI.tools:
Opera One Reviews
What's your experience with Opera One?
There are no reviews yet.
Related AI tools to Opera One