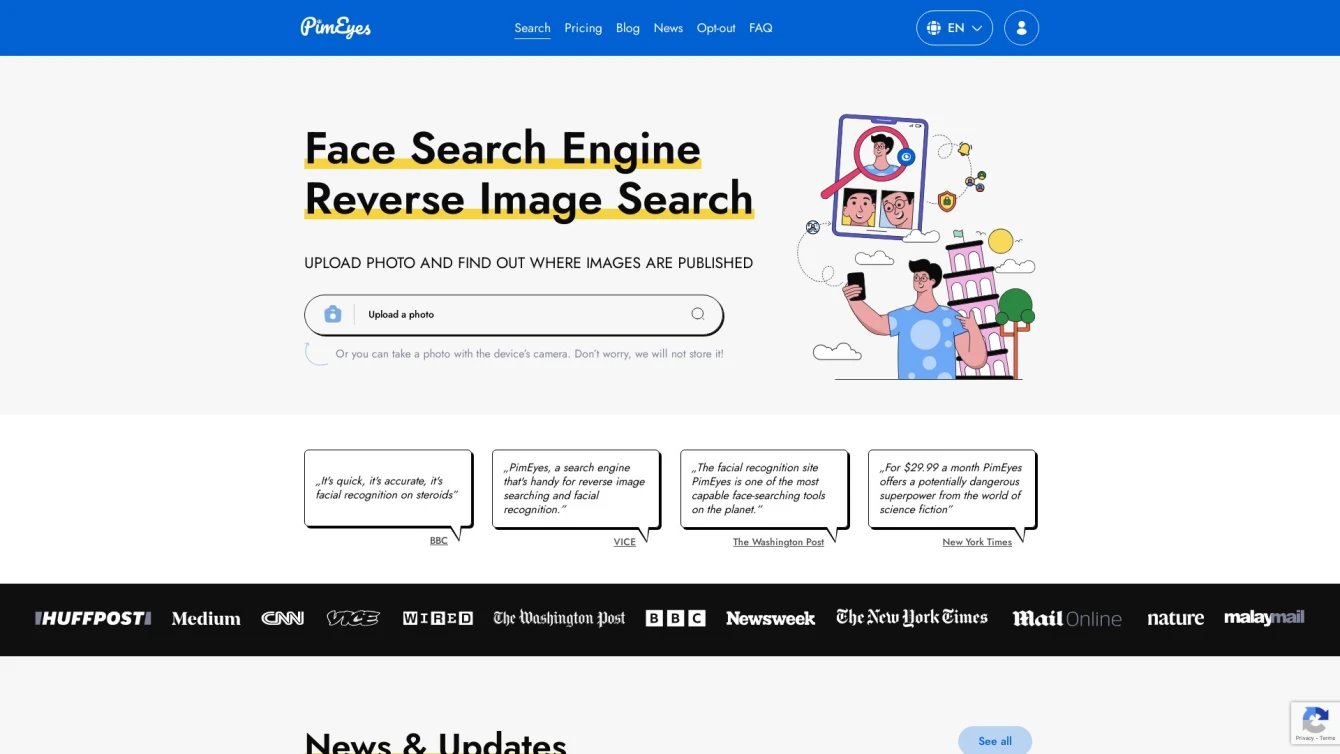 If there is a picture of you online, PimEyes will find it.
Product information and features
PimEyes is a revolutionary online platform that harnesses the power of facial recognition technology to enable users to search for and locate images of individuals. With an astounding index of over 900 million images, PimEyes.com reigns as the most formidable facial recognition search engine accessible to the public. This cutting-edge platform presents an effortless and user-friendly experience, positioning itself as an indispensable tool for Identity Verification and Background Checks.

In recent years, PimEyes bots have tirelessly scoured the vast expanses of publicly available images on the internet, meticulously indexing and cataloging them for easy access. Employing advanced facial recognition technology, PimEyes possesses an unparalleled capability to scour the web and identify images of individuals. What sets PimEyes apart is its comprehensive search functionality, which is exclusively available to its esteemed Premium "advanced" customers. This feature proves invaluable for individuals and businesses seeking to monitor an individual's online reputation, transcending the limitations of traditional keyword searches and google alerts.

It is important to note, however, that PimEyes.com solely operates within the confines of publicly available images. Consequently, individuals may find themselves unknowingly featured on the platform, exposing potential vulnerabilities to nefarious exploitation. Nevertheless, PimEyes offers individuals the option to opt out of having their faces indexed and displayed in search results, providing a measure of control and privacy.

The potential applications of PimEyes are vast and far-reaching. Employers can capitalize on this platform to gain valuable insights into an individual's online presence, ensuring that their claims align with reality. Similarly, individuals can utilize PimEyes to verify the accuracy of their online identity, safeguarding their personal and professional reputation. In a world where identity fraud and misinformation abound, tools like PimEyes prove invaluable in verifying an individual's true identity and preserving the integrity of online interactions.
Tell the world PimEyes has been featured on NaNAI.tools:
PimEyes Reviews
What's your experience with PimEyes?
There are no reviews yet.
Related AI tools to PimEyes