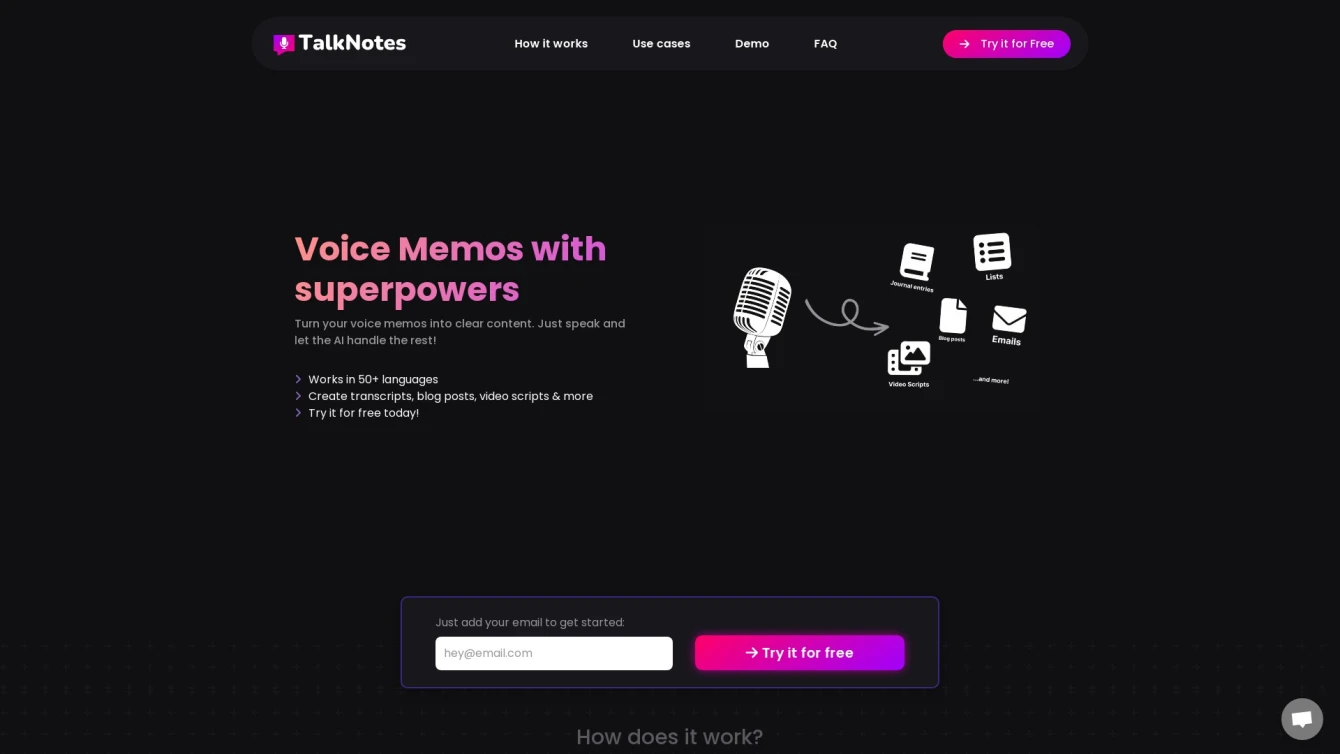 Transforming Voice Memos into Written Content Effortlessly.
Product information and features
Experience the power of TalkNotes, an AI tool that effortlessly transforms voice memos into written content. It acts as a digital transcriptionist, converting speech into written form, be it transcripts, blog posts, video scripts, and more. No need to worry about linguistic barriers as it can cater to users across the globe with its ability to function in over 50 languages.
With an easy-to-use interface, TalkNotes offers a straightforward three-step process. You can vocalize your thoughts and ideas, select your preferred writing style, and then tweak and arrange the content as needed. The AI tool's ability to overlook pauses and mistakes offers a seamless user experience.
talknotes.com is not just a transcription tool but also a versatile platform which can be used for a variety of purposes like brainstorming sessions, building content, journaling, documentation of interviews, meetings, and academic notes. Whether you're looking to document an interview in real time, make your meetings more effective, or turn a lecture into neatly organized notes, TalkNotes has you covered.
The platform's accuracy is dependent on the clarity of speech and amount of background noise. However, you always have the option to make changes and edits as required. Keep in mind that an active internet connection is necessary to use TalkNotes.
If you need any help, you can reach out to their support team via live chat or email. Additionally, for those who wish to incorporate it into their own apps, TalkNotes offers an API.
In summary, TalkNotes is a versatile AI tool that offers a simple and efficient way to convert speech into text. It has a multitude of uses, from content creation to note-taking, and can help users streamline their workflow and enhance productivity.
Tell the world TalkNotes has been featured on NaNAI.tools:
TalkNotes Reviews
What's your experience with TalkNotes?
There are no reviews yet.
Related AI tools to TalkNotes