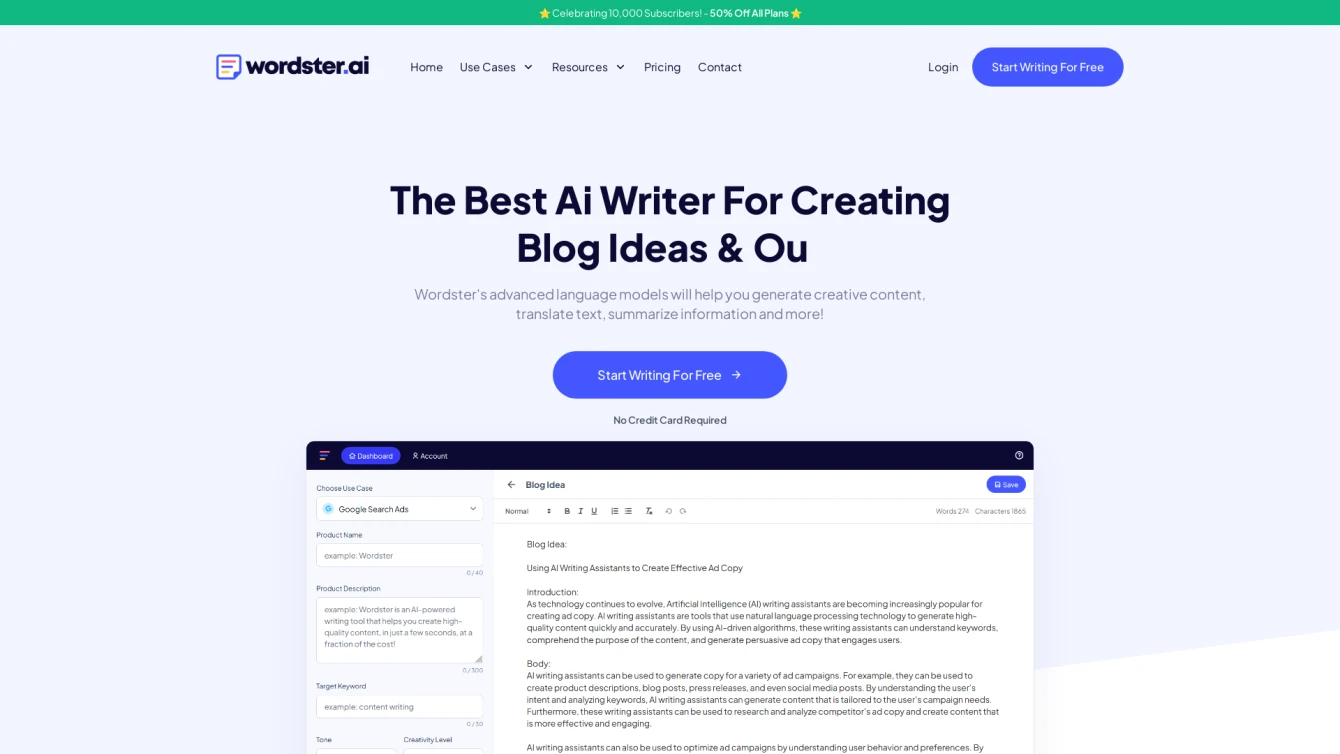 Transforming content creation with AI-powered efficiency.
Product information and features
Unlock the power of AI with Wordster, a robust content generation tool that empowers you to write more efficiently and effectively. This AI tool uses top-of-the-line language models to produce high-caliber creative content, giving you more time to concentrate on expanding your business.
Wordster.com serves a myriad of purposes. It can spark blog concepts and layouts, compose sections of blogs, conceive brand names, inspire business ideas, formulate cover letters, and create ad copy for social media. From designing unique Google search ads to drafting press releases, the possibilities are endless. It can also help you in developing appealing product descriptions, emphasizing product features, generating SEO-optimized meta descriptions and titles, and creating gripping social media posts and captions.
The process is as simple as 1-2-3. You select your preferred use case and input the necessary details. The AI engine of Wordster then scrutinizes the data and generates original and inventive content that meets your requirements. Once your content is ready, you can tweak, refine, and disseminate your work using Wordster's integrated editor.
With a range of pricing plans to choose from, you can select the one that fits your needs. There's a complimentary plan offering limited features, and paid plans that grant you varying word count limits, access to new features, training sessions, and a dedicated account manager. Wordster is the go-to tool for over 1,000 marketing teams, agencies, and freelancers.
In summary, Wordster serves as a comprehensive AI tool for all your content creation needs. Whether you're working on blog ideas, social media posts, ad copies, or SEO meta descriptions, it's got you covered. By leveraging Wordster, you can focus on growing your business while letting the tool handle your content creation tasks.
Tell the world Wordster has been featured on NaNAI.tools:
Wordster Reviews
What's your experience with Wordster?
There are no reviews yet.
Related AI tools to Wordster