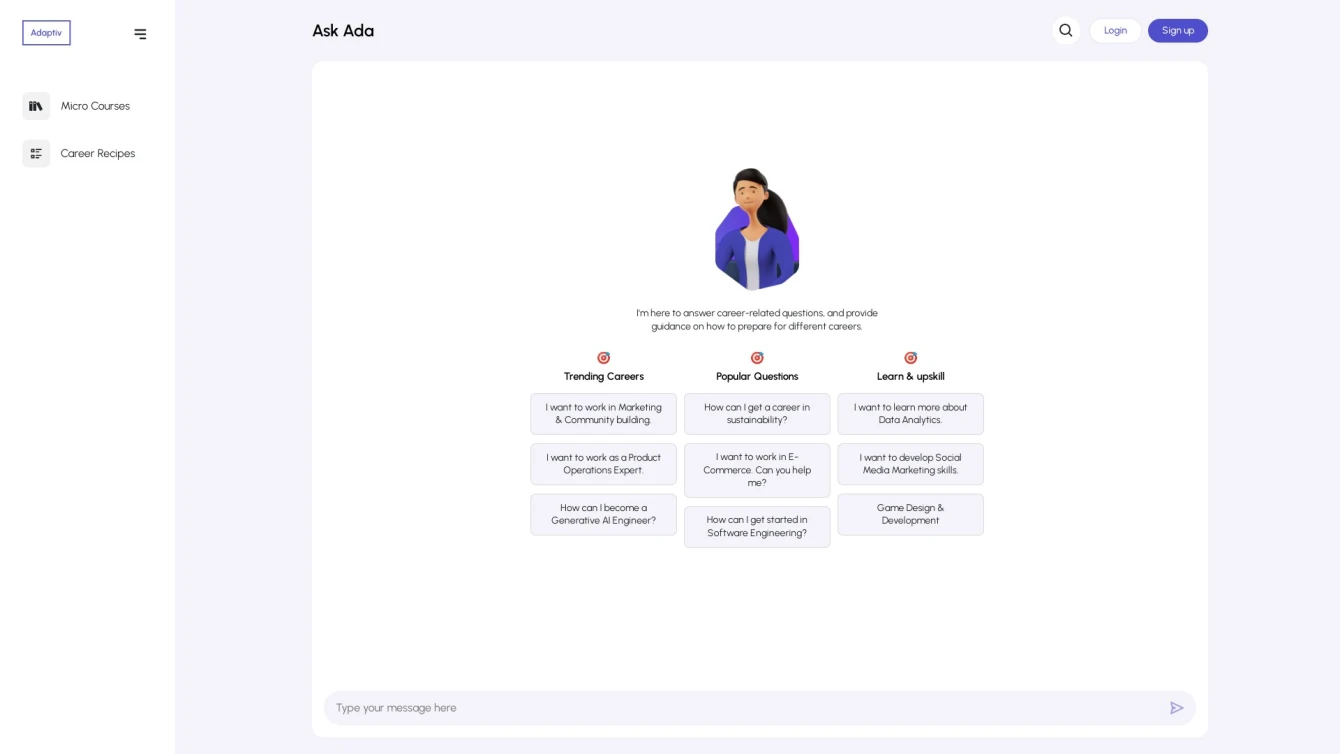 Empowering career advancement through personalized learning and blockchain technology.
Product information and features
Experience the power of AI with Ada, a tool delivered by app.adaptiv.me/app/ask-ada, designed to facilitate career advancement and skill enhancement. This AI tool offers daily lessons, tailored reminders, and the unique feature of a Non-Fungible Token (NFT) profile - a digital representation of your achievements stored securely on the blockchain.
Ada provides you with tailored lessons and timely reminders, keeping you on track with your professional development goals. The app also enables the creation of a digital portfolio - an innovative way to demonstrate your skills and accomplishments, stored as NFTs.
This tool not only assists in identifying job opportunities, but also significantly enhances your ability to showcase your skills to prospective employers. Moreover, Ada offers access to a community of seasoned experts and mentors. Their guidance can provide the necessary motivation and direction, helping you to achieve your career objectives.
Ada utilizes cutting-edge AI technology to provide a unique, user-centric experience designed to help you upskill and accelerate your career progression. The tool blends innovative technology with a user-friendly interface, making it a must-have for anyone seeking career advancement.
In conclusion, Ada stands out as a comprehensive AI tool offering unique features like tailored lessons, NFT-based digital portfolios, expert community access, and much more. This tool is perfect for individuals seeking to upskill, find new job opportunities, and showcase their skills and achievements effectively. Ada truly simplifies the journey towards career advancement.
Tell the world Ada has been featured on NaNAI.tools:
Ada Reviews
What's your experience with Ada?
There are no reviews yet.