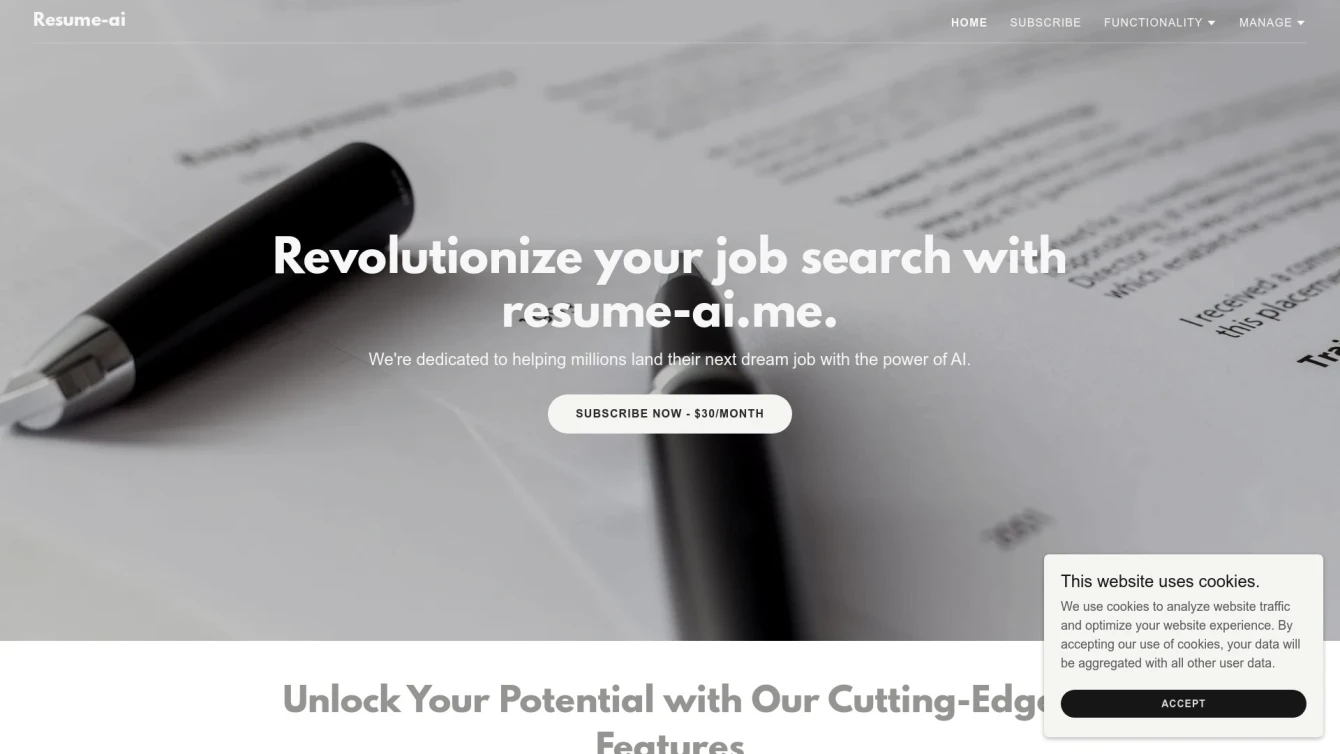 Revamp your resume with AI-powered precision and guidance.
Product information and features
Experience the power of artificial intelligence with Resume-ai, a web-based platform designed to offer personalized guidance for resume creation. By utilizing cutting-edge AI technology, this tool scrutinizes every aspect of your resume, from grammatical accuracy to sentence structure, ensuring it's optimized for Applicant Tracking System (ATS) compatibility.
With the promise of comprehensive feedback in a matter of minutes, you can repeatedly use this AI tool to polish your resume until it shines, without worrying about additional costs. But the offerings of Resume-ai.me aren't limited to resume refining alone. It also features a custom cover letter generator to further assist you in your job application process.
For a monthly subscription fee of $30, which becomes even more appealing with a 50% discount code EARLYTHANKS, you gain access to this advanced technology that aspires to make your resume stand out. Users of Resume-ai.me have applauded its effectiveness, crediting it for helping them secure their dream jobs. Additionally, the platform is set to launch an interview training tool, further expanding its utility.
Resume-ai.me is user-friendly, and its welcoming tone provides you with the confidence to seamlessly navigate the job application process. Simply log in, manage your subscription, and get started on enhancing your resume.
In summary, Resume-ai.me is an efficient AI tool that not only refines your resume but also assists in creating impactful cover letters. It's a platform that boosts your chances of job success by making your application stand out. With additional features like interview training coming soon, it's a comprehensive solution for job seekers.
Tell the world Resume-ai has been featured on NaNAI.tools:
Resume-ai Reviews
What's your experience with Resume-ai?
There are no reviews yet.
Related AI tools to Resume-ai