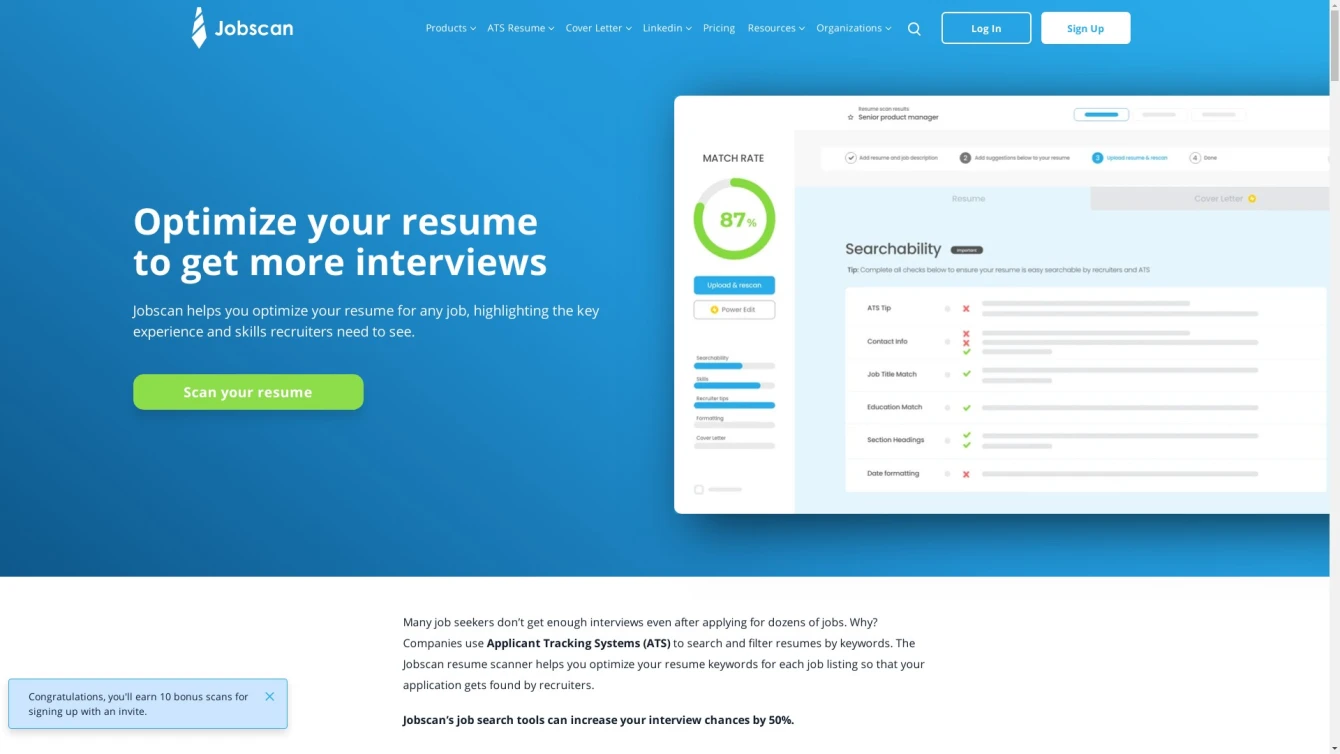 Optimizing your resume and job search with advanced AI.
Product information and features
Unlock the power of resume optimization with the AI tool, Jobscan. Located at jobscan.co, this innovative platform leverages advanced AI technology to supercharge your job search process. Jobscan takes your resume, compares it with desired job listings, and identifies key skills and experiences that recruiters are searching for.
But it doesn't stop there. Jobscan goes a step further, providing you with a comprehensive match rate report. This report guides you on how to fine-tune your resume to improve your chances of landing interviews. Jobscan's AI tool doesn't just help you create a better resume; it helps you create a resume that beats Applicant Tracking Systems (ATS). By tailoring your resume to meet ATS requirements, it ensures your application stands out from the crowd.
Jobscan isn't just about resumes. It also offers interactive job search tools. These include a resume builder, a cover letter optimization tool, and a LinkedIn profile enhancer. Each of these tools aims to give you an edge in the competitive job market.
Users of Jobscan have given it glowing reviews, praising it as an effective and efficient way to tailor their resumes to match job listings and boost their chances of getting hired. With Jobscan, you're not just sending out resumes; you're sending out optimized, ATS-beating, interview-landing resumes.
In summary, Jobscan is a multi-faceted AI tool that offers you a suite of job search tools, including an ATS resume checker, a cover letter optimizer, and a LinkedIn profile enhancement tool. It's not just about getting your resume noticed; it's about tailoring it to specific job listings, beating the ATS, and ultimately, landing more job interviews. If you're serious about your job search, Jobscan can be a game-changer.
Tell the world Jobscan has been featured on NaNAI.tools:
Jobscan Reviews
What's your experience with Jobscan?
There are no reviews yet.
Related AI tools to Jobscan