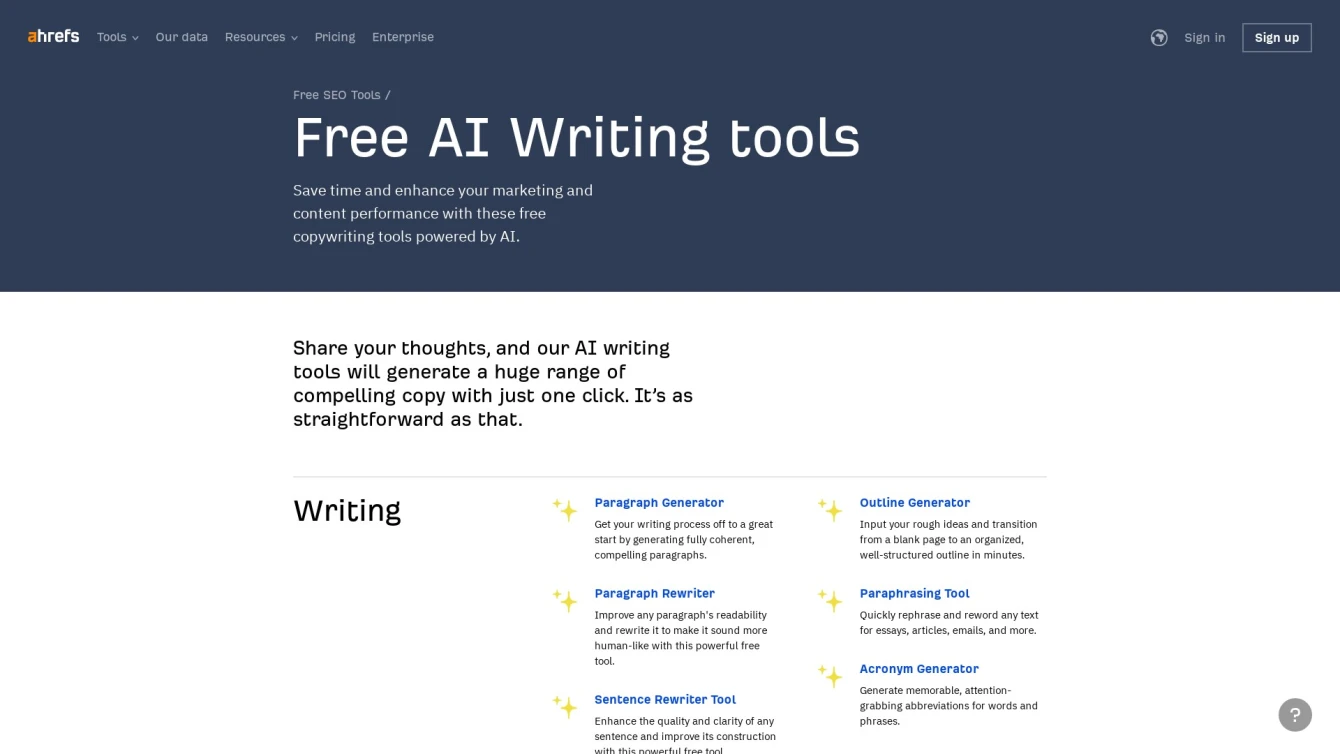 Fee AI-powered writing tools that help you save time and boost the effectiveness of your content. By Ahrefs.
Product information and features
Save time and enhance your marketing and content performance with the Ahrefs free copywriting tools powered by AI. These tools allow you to share your thoughts and generate a wide range of compelling copy with just one click. They are designed to enhance your writing process from the very beginning by generating fully coherent and persuasive paragraphs. Additionally, you can improve the readability of any paragraph and make it sound more natural and human-like with the help of a powerful tool.
Furthermore, these Ahrefs free tools allow you to enhance the quality and clarity of any sentence, improving its overall construction and making it more impactful. Whether it is for essays, articles, or emails, you can quickly rephrase and reword any text with ease. Not only that, but you can also input your rough ideas and effortlessly transition from a blank page to an organized and well-structured outline in a matter of minutes.

In terms of SEO, these tools offer various benefits. You can generate optimized titles that will increase your visibility on search engines, ultimately driving more traffic to your website. Moreover, crafting informative and SEO-friendly meta descriptions for your articles is made easy and efficient. This ensures that your content stands out and attracts readers.

Additionally, if you are seeking inspiration for your next piece of content, these tools can generate a vast variety of creative ideas to spark your creativity. Whether it is blog post titles or Instagram captions, you can generate engaging and SEO-friendly suggestions that will improve your social media performance and drive more traffic to your platforms. Moreover, you can boost your reach on Instagram by attracting more followers and likes with the help of the best range of hashtags.

In conclusion, these free AI-powered copywriting tools by Ahrefs offer a wide range of benefits to enhance your marketing and content performance. From generating compelling copy to improving sentence construction and search engine visibility, they prove to be invaluable in saving time and producing high-quality content. Whether you are a writer, marketer, or content creator, these tools will undoubtedly streamline your writing process and help you achieve your goals.
Tell the world Ahrefs AI has been featured on NaNAI.tools:
Ahrefs AI Reviews
What's your experience with Ahrefs AI?
Related AI tools to Ahrefs AI