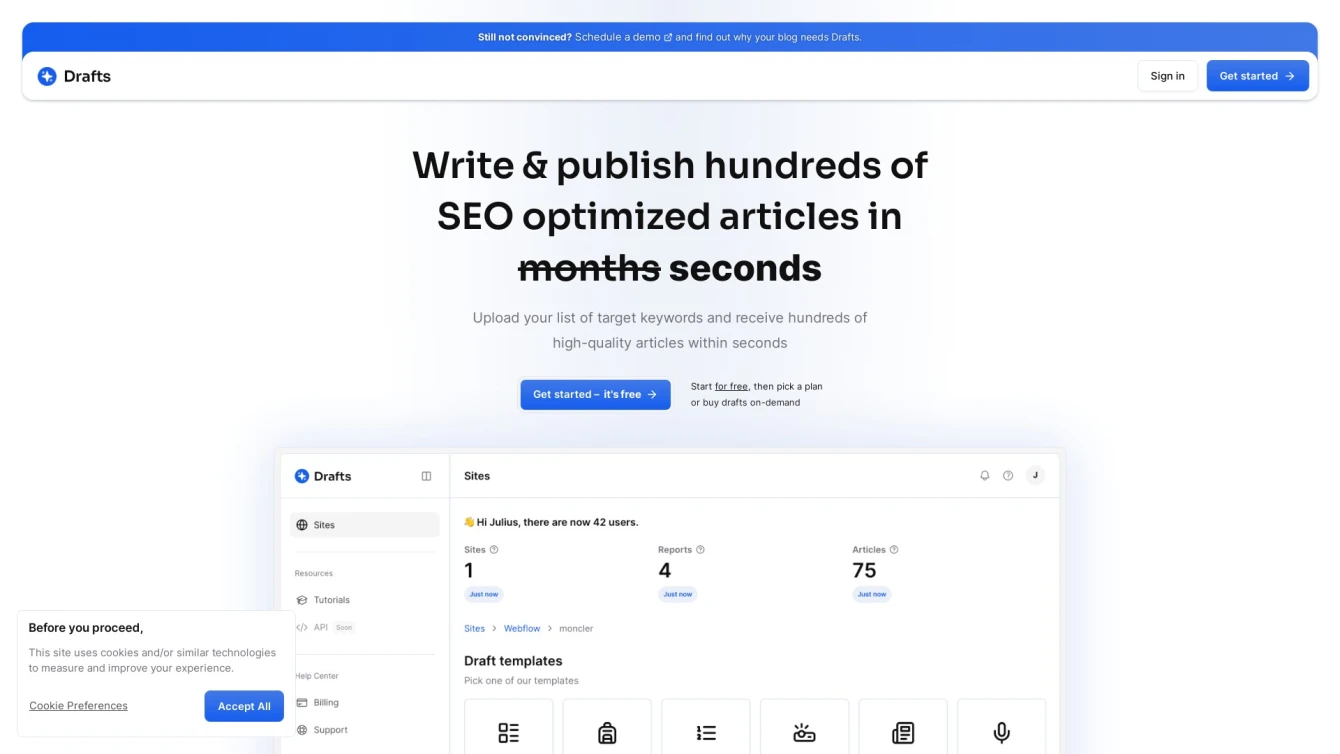 Streamlining SEO content creation with artificial intelligence.
Product information and features
Embrace the power of AI with Drafts AI, an AI tool that revolutionizes the process of crafting SEO-optimized articles for your website. Throw in your desired keywords, and in a blink, generate hundreds of superior quality articles. The simplicity and efficiency offered by Draftsai.com are unmatched.
Experience a hassle-free integration with top blog platforms, enabling you to publish your articles directly to your blog or CMS. You don't have to lift a finger!
With Drafts AI, you only pay for what you truly need. There are various pricing plans available. The free plan gifts you two articles per month in over 100 languages. The hobby plan lets you have 50 articles per month and prioritized email support. If you need more, the pro plan offers 150 articles per month and also prioritized email support.
On-demand articles are available for purchase at $1.99 per article for those with unique article requirements. For enterprise-level users, there's an enterprise plan that gives you unlimited articles, VIP support, a dedicated outcomes manager, and prioritized feature requests.
In summary, Drafts AI is a great tool that caters to the needs of those wanting to increase organic traffic to their websites. With its AI capabilities, you can create a large volume of SEO-optimized articles swiftly and efficiently. Its features make it suitable for a range of users, from hobby bloggers to enterprise-level organizations, and its flexible pricing plans ensure that you only pay for what you need.
Tell the world Drafts AI has been featured on NaNAI.tools:
Drafts AI Reviews
What's your experience with Drafts AI?
There are no reviews yet.
Related AI tools to Drafts AI