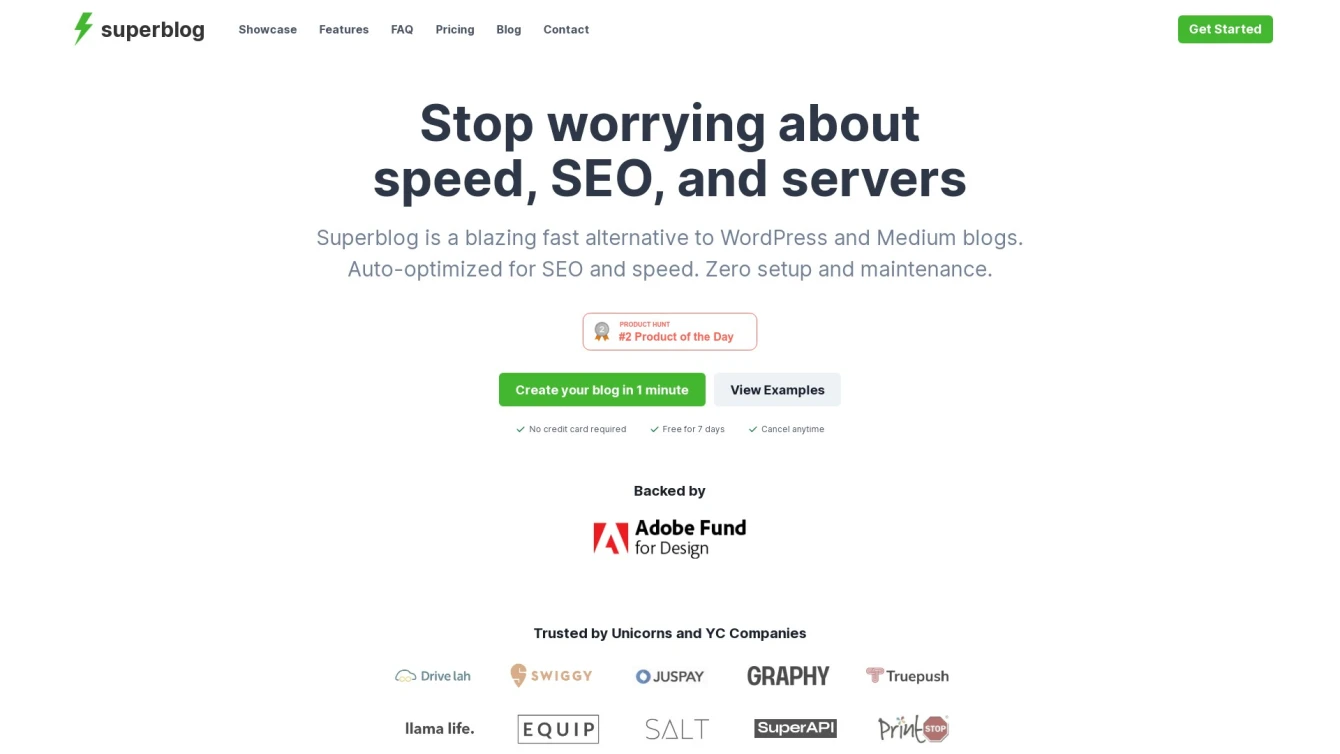 A blazing fast alternative to WP and Medium blogs. Auto-optimized for SEO and speed. ZERO setup and maintenance.
Product information and features
Superblog is not just your average blogging platform - it's a creative haven for bloggers who want their content to shine. With its beautiful design, carefully selected fonts, and perfectly spaced text, Superblog ensures that your blog looks like a work of art. But the best part? You don't need to be a design expert to achieve these gold standards. All it takes is a few simple steps: choose a layout, pick your brand color, and connect your domain. No need to break the bank by hiring professionals - Superblog has got you covered.

But Superblog is not just about aesthetics. It's also about functionality. If you're worried about optimizing your blog for search engines, fret not. Superblog automatically optimizes your content to score 95+ in SEO. It's like having a personal SEO expert at your fingertips. And the features don't stop there. Superblog has everything you need to run your blog smoothly, without any hassle. Their intelligent editor helps you write better content, providing real-time hints and suggestions. And if you're worried about on-page SEO errors, Superblog fixes them automatically. It's like having a team of experts working tirelessly behind the scenes.

But perhaps the most impressive aspect of Superblog is its speed and convenience. With best practices built-in, you don't need to worry about SEO audits or managing your server. Superblog takes care of it all, allowing you to focus solely on writing your content. It's a blogging platform that truly understands the needs of bloggers and takes care of the technicalities, so you can unleash your creativity without any distractions. And if you're wondering about migrating from other blogging platforms, Superblog makes it a breeze. You can easily connect your own domain, whether it's mysite.com/blog, blog.mywebsite.com, news.mysite.com, or any other variation you desire. Superblog gives you the freedom to make your blog truly yours.

So why settle for mediocrity when you can have Superblog? It's the blogging platform that not only provides a stunning design and effortless functionality but also takes care of the technical aspects that often burden bloggers. With Superblog, you can let your imagination run wild and watch as your content reaches new heights. So, say goodbye to the stress of design and SEO, and say hello to Superblog - your creative sanctuary in the world of blogging.
Tell the world Superblog has been featured on NaNAI.tools:
Superblog Reviews
What's your experience with Superblog?
There are no reviews yet.
Related AI tools to Superblog